Disturbing Details About R. Kelly And Aaliyah Come To Light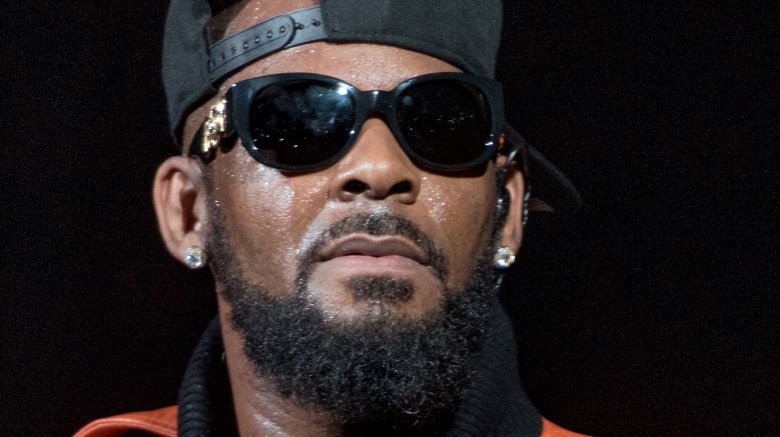 Getty Images
Artist R. Kelly, the self-proclaimed King of R&B, is facing some major allegations in a new Lifetime documentary and in a disturbing People magazine interview — specifically about his relationship with the late singer Aaliyah.
R. Kelly, who was born Robert Sylvester Kelly, is no stranger to bad press and disturbing rumors — notably, he's been accused of controlling women by running a sex cult —  but the "Trapped in a Closet" crooner is now making headlines again for his alleged past with Aaliyah. Kelly and Aaliyah (full name Aaliyah Dana Haughton) were rumored to have married when she was just 15 years old.
In an interview with People, eight individuals who claim to have either been controlled by Kelly or have known people who have been spoke with the magazine about their experiences with the singer. The magazine's article come shortly before Lifetime premieres their new six-part docuseries about Kelly called Surviving R. Kelly, in which the celebrity's family, friends, and colleagues share past interactions with the singer.
Jovante Cunningham, a former backup singer, opened up about her memories of Kelly with Aaliyah, whom he'd reportedly mentored. "Aaliyah [was] very tom-boyish, glasses, braces, no swag," Cunningham recalled of the then-12-year-old singer. "She truly was a beautiful young lady. We used to sneak Aaliyah out of the hotel room and take her all over the place."
She noted, "Those were the good old days, but those are the things that also make you cry."
Cunningham remembered once touring with Aaliyah when the artist was 15 years old after the singer had released her 1994 album, Age Ain't Nothing But a Number, according to BET. "We were out on the road with Aaliyah," she began. "On a tour bus, there really aren't many confined spaces. When you get on the bus there are bunks and so these bunks have little curtains you can pull at night if you don't want anybody to see you sleeping."
She continued, "So it just so happened we were all laying in our bunks and the curtains are open, everybody's communicating, laughing. ... When the [room] door flew open on the bus. Robert was having sex with Aaliyah." Kelly was reportedly 27 years old at the time.
When asked to describe what she allegedly witnessed, Cunningham said, "Things that an adult should not be doing with a child." She added, "I can't stress to you how people are still suffering behind things that went on 20 years ago."
However, Cunningham wasn't the only one to recall Kelly's relationship with Aaliyah. Kelly's former personal assistant Demetrius Smith also opened up about what he saw during his time with the singer. He claimed that he witnessed Kelly and Aaliyah's wedding and helped get false documents so that an underage Aaliyah could wed.
Smith recalled Kelly approaching him when they were in Miami, Fla. and telling him that he got Aaliyah "in trouble," believing that he'd gotten her pregnant. "That broke my heart right there because I really believed him when he said that he wasn't messing with Aaliyah...Once he told me that I was at a loss for words," Smith said.
He further admitted, "I was in the room when they got married. I'm not proud of that. I had papers forged for them when Aaliyah was underaged. It was just a quick little ceremony, she didn't have on a white dress he didn't have on a tux. Just every day wear. She looked worried and scared."
According to reports, Kelly and Aaliyah's marriage was annulled just a year later. "Her parents had the last say," Smith stated.
Aaliyah later passed away when she was just 22 years old, after a plane she was in crashed after leaving the Bahamas (via People).
Kelly's alleged relationship with Aaliyah wasn't the only time he was accused of engaging in sexual acts with a minor. A video allegedly showing just that with a woman who may have been as young as 14 caused him to be indicted in 2002, as noted by People. Kelly and the woman believed to be in the footage denied the people in the recording were them. Kelly was later found not guilty on 21 counts of child pornography in 2008.
In 2017, BuzzFeed News reported that Kelly, 51, kept women at his properties in both Chicago and Georgia, who are allegedly ordered to fulfill his wishes and are emotionally and physically punished if they do not follow his commands.
Kelly denied the allegations made against him in the report.
Surviving R. Kelly premieres at 9 p.m. on Lifetime on Thursday, Jan. 3, 2019. The docuseries will air in three parts, with its final segment airing on Saturday, Jan. 5.