Chris Pratt Announces Engagement To Katherine Schwarzenegger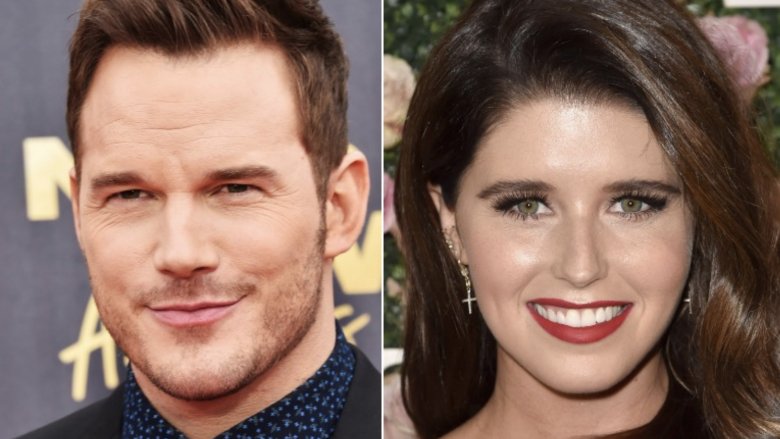 Getty Images
Guardians of the Galaxy star Chris Pratt is engaged to Katherine Schwarzenegger.
Early on Monday, Jan. 14, 2019, the actor took to Instagram to reveal that he'd asked Schwarzenegger, daughter of Arnold Schwarzenegger and Maria Shriver, to marry him. Sharing a sweet photo of himself with his lady love in a tender embrace — with a sizeable engagement ring on Schwarzenegger's finger — Pratt wrote in the caption, "Sweet Katherine, so happy you said yes! I'm thrilled to be marrying you. Proud to live boldly in faith with you. Here we go!"
Pratt, 39, and Schwarzenegger, 29, were first spotted together in June 2018, when they had a picnic together in a Santa Barbara park on Father's Day (via People). The two reportedly committed to one another fairly quickly, as, by January 2019, a source had told People magazine that the celebs are "both serious about the relationship and hopeful for the future." The insider added, "Chris doesn't just date to date, and neither does Katherine. She's very excited."
According to People, Pratt's romance with Schwarzenegger was his first relationship since divorcing Mom actress Anna Faris, with whom he shares 6-year-old son Jack. Pratt and Faris announced their separation back in August 2017. In their official statement revealing their split, the stars said, in part, "We tried hard for a long time, and we're really disappointed. ...We still have love for each other, will always cherish our time together and continue to have the deepest respect for one another."
They officially filed for divorce that December, and the divorce was finalized in October 2018.
While Pratt has dated Schwarzenegger, Faris has moved on with cinematographer Michael Barrett, whom she reportedly met while filming Overboard.
Pratt and Faris have, of course, remained focused on raising their son. "Chris and I work really hard [to co-parent] because we have Jack. That is sort of the long game idea and making sure Jack is really happy, which makes us really happy," Faris, 42, shared on her Unqualified podcast in January 2019, as reported by Entertainment Tonight. She noted, "We have sort of the luxury of circumstance," explaining that both she and her ex-husband "are both in other loving relationships."
Congratulations to Pratt and Schwarzenegger on their engagement!