Nicole Kidman Was 'Mortified' After Golden Globe Snub Went Viral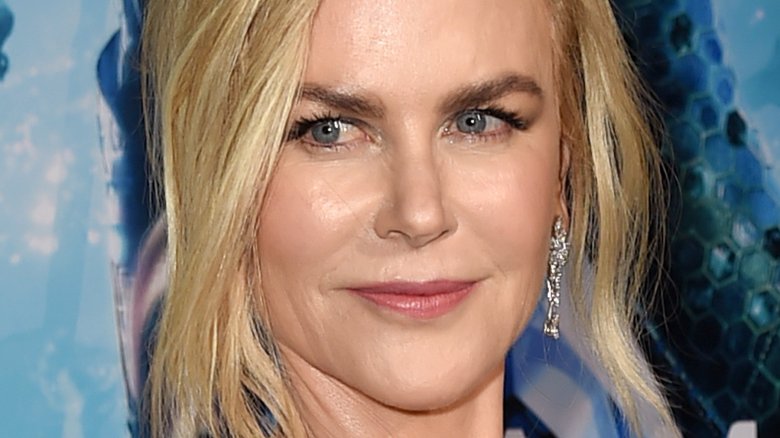 Getty Images
Big Little Lies star Nicole Kidman is finally breaking her silence on the awards show faux pas that had everybody talking last week.
While walking the red carpet at the 2019 Critics' Choice Awards on Sunday, Jan. 13, 2019, the veteran actress opened up to Entertainment Tonight about accidentally snubbing Bohemian Rhapsody star Rami Malek on air at the 2019 Golden Globes just one week ago.
"We're really good friends ... I just did not feel his hand on my back," Kidman told the media outlet while attending the star-studded event at the Barker Hangar in Santa Monica, Calif. Admitting that she was "mortified" over the matter, the movie star added, "I love that man. He's so gentle and softly spoken. He's a darling."
Readers may already be aware that the incident in question occurred after the top honor of Best Motion Picture — Drama went to Bohemian Rhapsody. Kidman, who presented the award, noticeably had her back turned away from Malek while the Queen biopic's cast and creative team rushed on stage to accept the coveted trophy — but inadvertently failed to notice when he tried to get his famous pal's attention.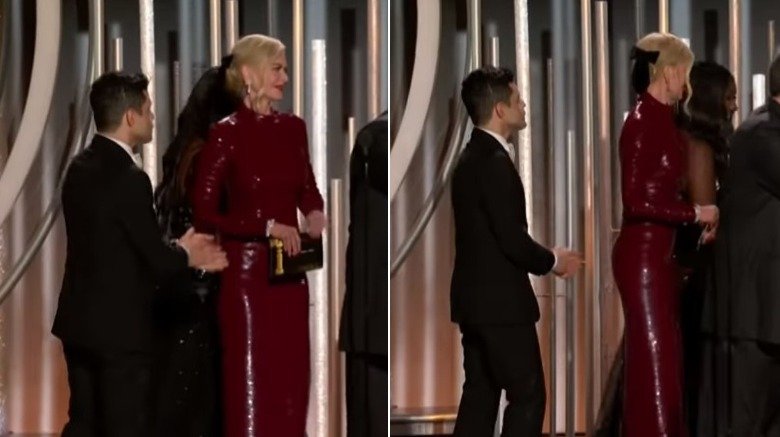 YouTube
The cringe-worthy moment immediately went viral on social media. However, as awkward as it was for viewers to watch, it was an undeniably #Relatable moment for a number of Twitter users. "Rami Malek trying to talk to Nicole Kidman is like me trying to talk to my crush," one person tweeted, while another wrote, "Rami Malek awkwardly and unsuccessfully trying to have a moment with Nicole Kidman is me trying to insert myself in groups and conversations at social events."
For her part, Kidman recently emphasized that despite their mutual embarrassment over the situation, there's thankfully no bad blood between herself and Malek. "He sent me an email. I sent him an email," she told ET, adding, "We were laughing, actually, we were both in a bit of a daze."
This, of course, isn't too surprising considering the hustle and bustle of the moment, as well as the fact that both Kidman, 51, and Malek, 37, were up for major awards of their own that night. As Nicki Swift previously reported, Kidman scored a nomination in the Best Performance by an Actress in a Motion Picture — Drama category for her role in Destroyer. While she ultimately lost out to The Wife's Glenn Close, Malek triumphed in the Best Performance by an Actor in a Motion Picture — Drama category for his portrayal of the late LGBTQ+ icon Freddie Mercury.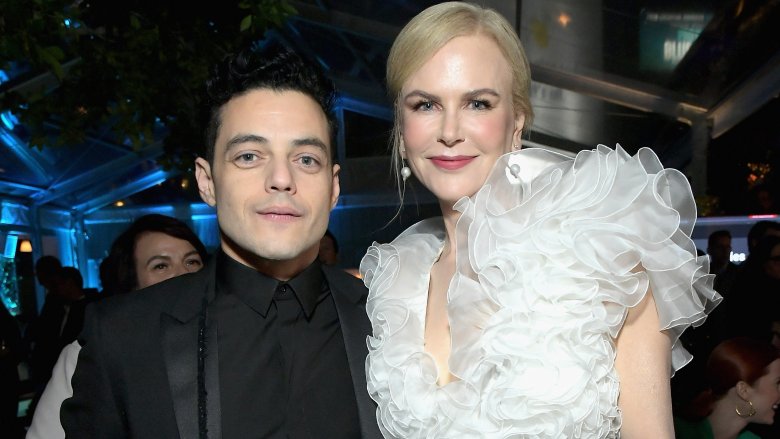 Getty Images
For his part, Malek previously addressed Kidman's apparent cold shoulder during his Wednesday, Jan. 9, 2019, appearance on Jimmy Kimmel Live! "I've known her for many years, despite as it may seem from that video," the embarrassed actor said after the titular late-night host played the clip. "So I thought I could easily go up and say hi, but in a moment like that ... very awkward. I have a feeling this is probably haunting me on the internet." Noting that he later got some love from Kidman's country music star husband Keith Urban, Malek concluded, "It's alright."
However, regarding the ongoing drama surrounding the now-infamous matter, Malek later told Entertainment Tonight, "The whole thing I find absolutely ridiculous and hilarious, but I'm having a laugh about it all." He added, "It's a human moment ... I got up there, and I was in such a daze I don't even know how I put together a collection of words that sounded coherent ... So the fact that I knew Nicole [was there] ... I was like, 'Oh, here's a bit of safety.' And then, of course, she didn't see me, and it was as simple as that."
As for how the press surrounding the unlikely duo might affect the rest of awards season, the Mr. Robot actor playfully hinted, "We may or may not have something planned out already." 
With comedian Kevin Hart officially out of the running to host the 2019 Oscars following his past homophobic tweets controversy, and the Academy's reported decision to go without a host this year amid the fallout, here's hoping we'll see Nicole Kidman and Rami Malek reunite on stage at the 91st Annual Academy Awards next month. In the meantime, the Australian actress might take solace in the fact that she's certainly not the only celeb to suffer an unfortunate embarrassment at an awards show.