What Angelina Jolie Has Said About Reconciling With Her Father Jon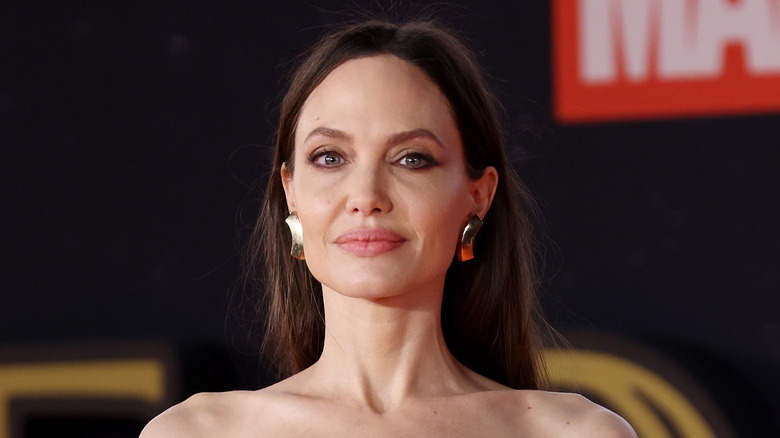 Vittorio Zunino Celotto/Getty Images
Fame and fortune runs in the Voight family. Angelina Jolie, born Angelina Jolie Voight, is the daughter of fellow famous actor Jon Voight. You might assume the two had a glamorous and fun-filled relationship, but it was quite the opposite. The "Mr. and Mrs. Smith" actor has had a complex relationship with her father over the years.
According to E! News, Jolie's mother, Marcheline Bertrand, split from Voight when the actor was just two. After the divorce, Jolie hardly saw her dad. Bertrand reportedly raised Jolie and her brother on her own as the "Midnight Cowboy" star only provided financial support for his kids. While the divorce may have caused tension between Jolie and her father, it only worsened as time passed. In 2002, Voight publicly stated that his daughter needed to "get help" because of her "serious mental problems," according to The Hollywood Reporter. This comment ended whatever relationship the two had. Jolie told The London Evening Standard (via THR), "I am hoping my relationship with my father will be more private in the future... At the end of the day, we both wish the best for each other and we'll try to start communicating in some way." For years, the two lived separate lives. 
It took nearly 10 years for the two to reconcile, but they eventually did, per E! News. It hasn't been easy, but Jolie and Voight have formed a solid father-daughter bond. Here's everything the "Maleficent" actor has said about their reconnection.
Angelina Jolie has rules for her relationship with Jon Voight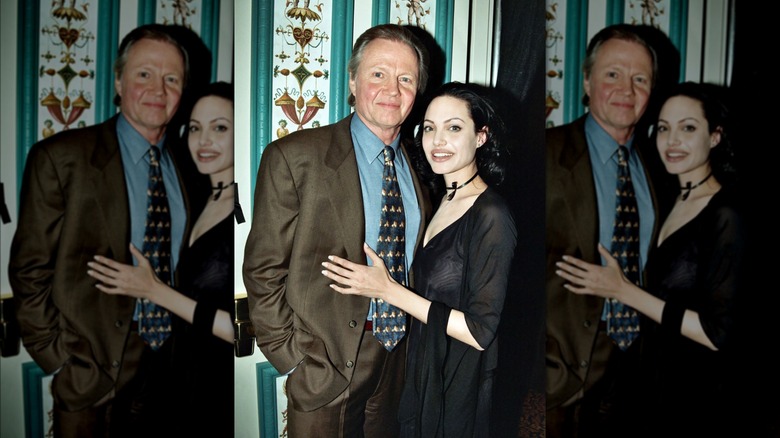 Jeff Kravitz/Getty Images
Angelina Jolie and Jon Voight's reconciled relationship didn't happen overnight — it was years in the making. In 2010, the "Eternals" actor hinted to Parade that she and her father were working on rebuilding a relationship. A year later, Voight joined Jolie on the red carpet for her directorial debut film, "In the Land of Blood and Honey," per E! News.
In 2012, Jolie discussed with Marie Claire (via E! News) how she and Voight were trying to mend their relationship. She shared, "He's met the kids and they've met him, and I think that's important that they can do that." While Jolie may have been willing to open up to her father a little more, there were still rules she put in place. She told the outlet, "We're in each other's lives, but we don't, as a rule, discuss the past."
In her interview with Marie Claire (via E! News), the "Salt" actor even detailed the last time they spoke before she decided to give her relationship with Voight another go. She shared, "When my mother passed, I had to be the one to call him and tell him. I was going to write it in a letter because I hadn't spoken to him in six years, but I realized that I had to make a phone call." Jolie recalled it being a "very brief conversation." Now, the father-daughter duo are on a better track in their relationship.
Angelina Jolie's kids helped her relationship with Jon Voight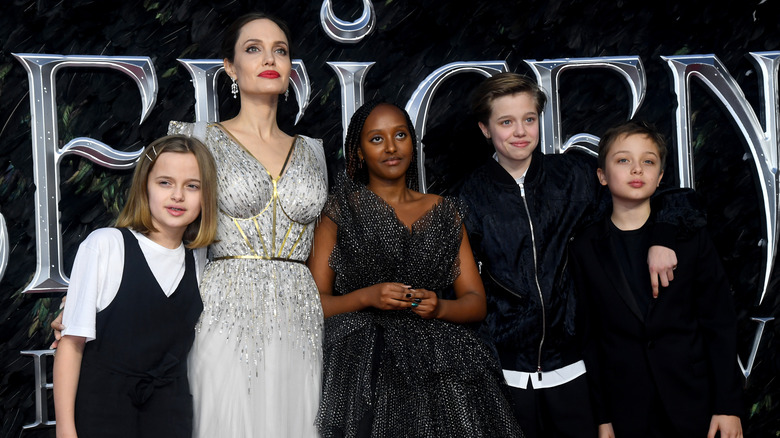 Dave J Hogan/Getty Images
Jon Voight took on a new role as a grandpa when Angelina Jolie and Brad Pitt began welcoming kids into their lives. However, the "Midnight Cowboy" actor's relationship with his grandchildren didn't start great. In 2008, when Jolie and Pitt welcomed new additions to their family with the birth of Knox and Vivienne Jolie-Pitt, Voight told E! News he had not met any of his grandchildren and wouldn't until he was asked. He shared, "If I'm asked, I'll find a way. But I haven't been asked." Although it took some time, Voight eventually met Jolie's kids after the two repaired their relationship.
In 2017, Jolie revealed that she and her father have worked on their relationship thanks to her kids. She told the "Awards Chatter" podcast, "Jon and I have gotten to know each other — through grandchildren now, we're finding a new relationship, and it's very, very nice."
Jolie further detailed her reconnection with Voight and her kids with Vanity Fair, sharing how the actor understands how to take on the role of a grandfather. She explained, "He's been very good at understanding they needed their grandfather at this time... He knows kind of the rule — don't make them play with you. Just be a cool grandpa who's creative, and hang out and tell stories and read a book in the library." From estranged father to hands-on grandfather, Jolie and Voight's relationship has come far.