Why Jonathan Majors' Accuser Won't Face Prosecution After Her Assault Arrest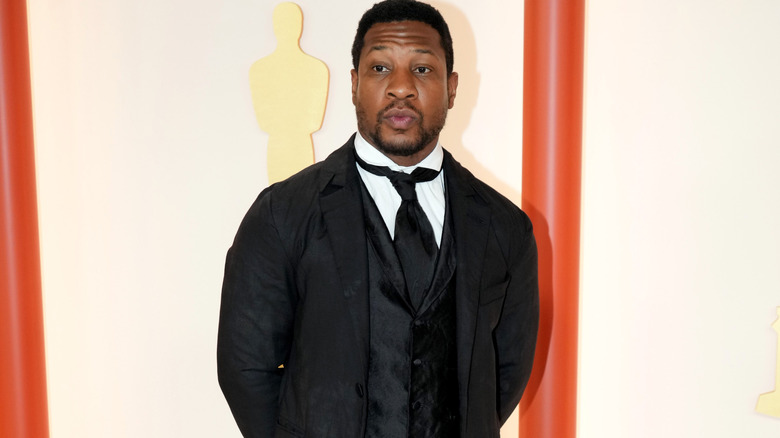 Jeff Kravitz/Getty Images
The following article includes allegations of domestic violence.
Grace Jabbari, the woman who has accused Jonathan Majors of assault has been arrested by the police but surprisingly won't be facing any charges. As a refresher, Majors was arrested back in March 2023 after an alleged domestic dispute with an unidentified 30-year-old woman. "The victim informed police she was assaulted. Officers placed the 33-year-old male into custody without incident. The victim sustained minor injuries to her head and neck and was removed to an area hospital in stable condition," the New York Police Department told People at the time. 
However, despite being charged with several counts of assault in the third degree, the "Creed III" star maintained that he was innocent. In a statement released to People, Majors' attorney Priya Chaudhry explained that they had evidence proving the actor's innocence, adding that they expected the district attorney to drop all charges. In the weeks that followed, Majors continued hammering on his innocence, as he grappled with the effect of his legal woes. By April, Majors' had been dropped by his talent manager Entertainment 360 and PR firm, The Lede Company, as reported by Deadline at the time. Additionally, the actor was dropped from two major film projects including "The Man in My Basement" and an unnamed biopic about Otis Redding. 
In June, things took a turn when the "Loki" star filed a counter lawsuit, accusing Jabbari of assaulting him and causing him to bleed. But while Jabbari has now been arrested, it appears she might not be facing any legal consequences.
If you or someone you know is dealing with domestic abuse, you can call the National Domestic Violence Hotline at 1−800−799−7233. You can also find more information, resources, and support at their website.
The District Attorney has no plan to press charges
On October 25, Grace Jabbari was arrested by the New York Police Department on charges of assault and criminal mischief. In a statement obtained by People, Jabbari's lawyer, Ross Kramer, described the arrest as "unwarranted," adding that facts and evidence pointed to his client's innocence. "Before we walked into the police precinct, the DA's Office made clear that they would not be charging Ms. Jabbari with any offense," Kramer continued. "It is unfortunate and re-traumatizing when a survivor of intimate partner violence is forced to endure an arrest, but Ms. Jabbari is an extremely strong and resilient person who is determined to move forward." But while she might not be facing prosecution, Jabbari is still expected to make a court appearance to address the new charges.
The recent arrest comes only shortly after Judge Michael Gaffey, presiding over a New York City courtroom, denied Majors' motion to have the lawsuit against him dismissed. Consequently, Majors' case is expected to go to trial which is slated to begin on November 29, per People.