The Scandalous Love Life Of Monica Bellucci's Ex-Husband Vincent Cassel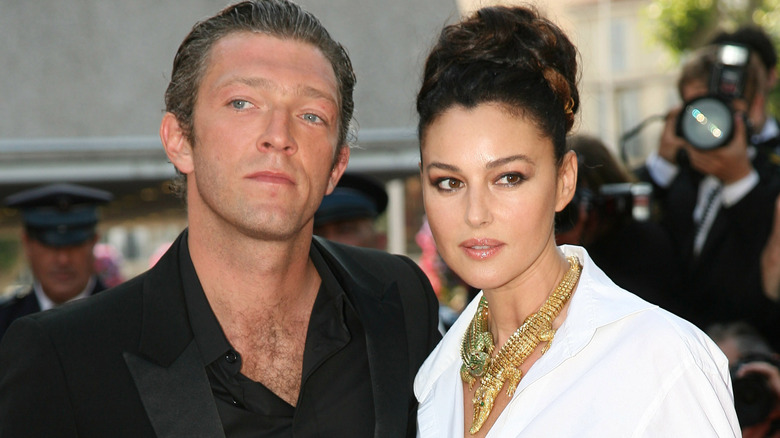 Daniele Venturelli/Getty Images
Prior to marrying Monica Bellucci in 1999, Vincent Cassel had trouble settling down in a relationship. "I was an active young man, jumping from one girl to the next, but never with anyone for more than three or four months," he told The Guardian in 2009. "Monica was my first real love." Unfortunately, that romance came to an end as he and Bellucci filed for divorce in 2013. In the years that followed their split, Cassel made headlines for dating a much younger woman.
In 2016, Cassel was romantically linked to model Tina Kunakey. The romance made headlines as there was a 30-year age gap between the "Black Swan" actor and his rumored new girlfriend. Later, the two were officially dating and Kunakey opened up about their first meeting. "It was a magical moment — we were in the same place at the same time," she told Paris Match in late 2016. However, Kunakey was unfamiliar with her boyfriend's work when they first crossed paths. "Prior to our acquaintance, I did not hear anything about Vincent Cassel and did not know who he was until we were surrounded by paparazzi," she added.
The following year, Kunakey spoke about the backlash she received for dating a famous actor and how it came with the territory of being in the public eye. "I'm only 19 years old but I already understood some things," the model told Vogue Italy in 2017. The couple went on to make headlines again when they tied the knot.
Vincent Cassel started a new family with Tina Kunakey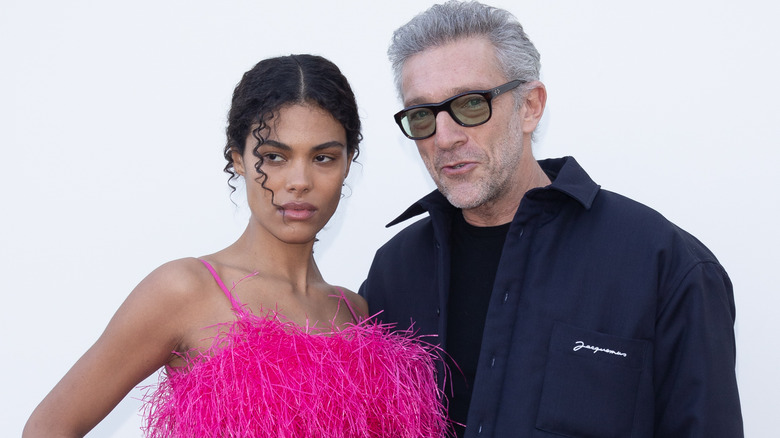 Marc Piasecki/Getty Images
After two years of dating, Vincent Cassel married his second wife, Tina Kunakey, in a small ceremony in August 2018. That same month in an interview with The New York Times, the "Ocean's 12" star spoke about the difference between how Americans viewed dating compared to the French. Cassel also discussed how society had an unfair double standard. "There is a cruelty built into the difference between the sexes," he told The Times. "At any age, men have this ability to start a new life. Women do not. I'm very conscious of that." That remark belied a bit of foreshadowing for Cassel's future love life. 
In 2019, Cassel and Kunakey announced they were expecting a child. It was the "Underwater" actor's third, as he shared two daughters with his ex, Monica Bellucci. To celebrate the occasion, both Cassel and Kunakey took to Instagram, with the model showing off her baby bump in a spicy half-nude pose on the beach. Kunakey gave birth to their daughter named Amazonie in April of that year.
The couple appeared happy and would often post loving photos of each other on Instagram. They attended red carpet events together where their outfits often perfectly complemented one another, as was the case at the Jacquemus Spring '23 show in Paris in December 2022. However, it seems their relationship came to an abrupt end only months after that event. 
Vincent Cassel's rumored new girlfriend is Narah Baptista
While they had showered each other with affection on social media in the past, Vincent Cassel and Tina Kunakey removed all the posts of one another from their accounts in April. According to the Daily Mail, the pair had broken up. "They separated weeks ago. Tina is heartbroken," the publication reported at the time. However, there was no official word from either camp.
By October, Cassel made headlines once again as he was romantically linked to model Nara Baptista. Similar to Kunakey, outlets noted that there was a 30-year age gap between Cassel and his rumored girlfriend. There was no official word, but the duo packed on the PDA while visiting Rio de Janeiro together. The "Irreversible" star posted a snap from the trip to Instagram, and Baptista replied, "Amor," per the Daily Mail. Days later, Cassel and Baptista were spotted going out for dinner to celebrate the model turning 27 years old.
Once the news broke that Cassel had a potential new girlfriend, some fans showed up to Baptista's Instagram to share their disapproval. "Dear Narah, no babies, please. No more baby mamas for Vincent," one Instagram user wrote. Meanwhile, another fan went to Kunakey's Instagram to point out a pattern in Cassel's behavior. "I find it extremely weird that her ex-husband found a new gf that looks so much like her," they commented on Kunakey's post.