What Taylor Swift's Now That We Don't Talk Is Really About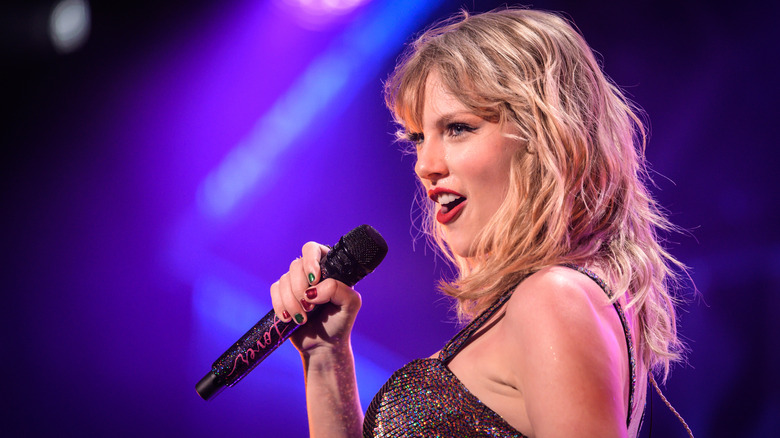 Brian Friedman/Shutterstock
Taylor Swift is renowned for laying her heart bare — and allegedly dissing her ex-boyfriends — in her songs. So, it's no surprise that Swifties pour over any new tracks that drop in the hope of gleaning insight into their idol's world. On Friday, Swift released "1989 (Taylor's Version)," and one of the vault tracks, "Now That We Don't Talk," has sent her fans into speculation overdrive as they attempt to guess who the song's subject is.
The list of potentials is narrowed by the fact that Swift always sticks to what she knows best: her past relationships. Swift's dating history has proved to be a rich source of musical inspiration, with John Mayer, Harry Styles, Joe Jonas, and Cory Monteith among the alleged exes who are forever immortalized in her tracks.
Swift's now rumored to be dating Travis Kelce, but it's a given that her previous relationships play a starring role in the vault tracks on "1989 (Taylor's Version)." We're diving into "Now That We Don't Talk" to unravel one of the mysteries of who it's about.
The ex factor
"Now That We Don't Talk" is Taylor Swift's shortest song at two minutes, 26 seconds. Still, what it lacks in length, it makes up for in shade. In true Swift style, "Now That We Don't Talk" is about a painful breakup. In the song, Swift seeks comfort from her mom after discovering that her ex-boyfriend has moved on to new pastures and left her behind. "Now that we don't talk / I call my mom, she says that it was for the best," she sings.
So, who is the ex that left Swift sobbing into her cell phone? All the evidence points to Harry Styles. The opening verse lyrics, "Did you get anxious though, on the way home?" seem to refer to Styles flying home from the British Virgin Islands following their split in 2013. To add further credence, Swift later sings, "You grew your hair long, you got new icons, and from the outside, it looks like you're tryin' lives on." Buzzfeed notes that Styles let his hair grow out after they broke up before cutting it short again in 2016.
The final clue is in the outro. Swift sings, "I don't have to pretend I like acid rock / Or that I'd like to be on a mega yacht / With important men who think important thoughts / Guess maybe I am better off now that we don't talk." Styles regularly draws inspiration from acid rock and psychedelic bands in his solo music.
She just can't quit him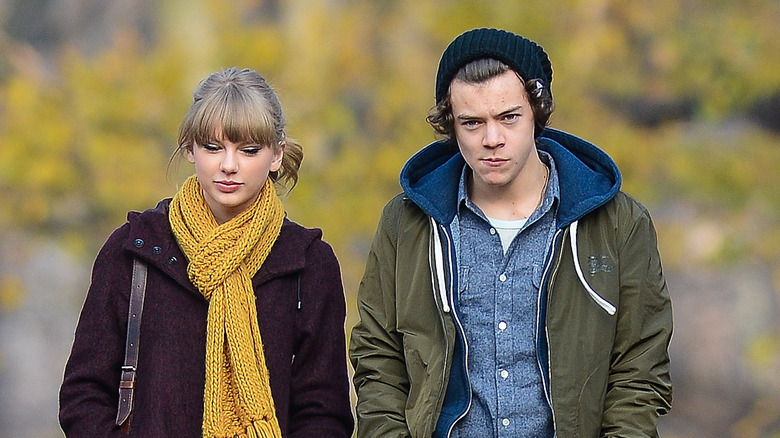 David Krieger/bauer-griffin/Getty Images
Taylor Swift and Harry Styles only dated for a few months in 2012 and 2013, but for a hot minute, they were music's power couple. When photos of them strolling hand in hand through Central Park in 2012 were released, they immediately went viral, propelling the two singers to even greater heights of fame. Following their split, Styles admitted that he struggled to deal with the intense media coverage they were subjected to. "When I see photos from that [day in Central Park], I think: Relationships are hard, at any age. Adding in that you don't really understand exactly how it works when you're 18, trying to navigate all that stuff didn't make it easier," he told Rolling Stone in 2017. "[I just] wanted it to be a normal date," he continued.
Sadly, being Swift's boyfriend doesn't allow for any "normal" dating. People claimed Swift's stardom contributed to Joe Alwyn's decision to end their six-year relationship. "Joe has struggled with Taylor's level of fame and the attention from the public," a source told the outlet in April. "The differences in their personalities have also become harder to ignore after years together. They've grown apart."