A Look At Matthew Perry's Relationship With His Mom Suzanne Morrison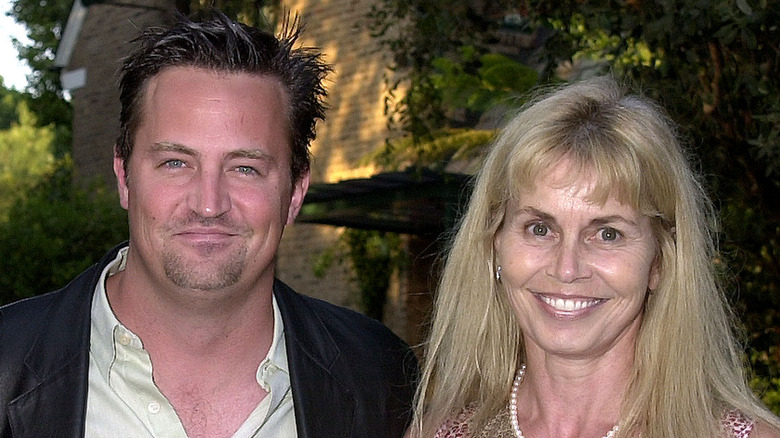 Gregg Deguire/Getty Images
On October 28, the world lost a beloved "Friend," Matthew Perry, when he died of apparent drowning in his hot tub. Following his death, his family stated to People, "We are heartbroken by the tragic loss of our beloved son and brother. Matthew brought so much joy to the world, both as an actor and a friend. You all meant so much to him and we appreciate the tremendous outpouring of love."
A few hours after Perry's death, the Daily Mail reported that his family was seen rushing to his Los Angeles house. Among his father and stepfather was his mom, Suzanne Morrison, who was seen looking somber as they arrived. Although Perry was best known for his role in the hit sitcom "Friends," as well as in movies such as "Serving Sara" and "The Whole Nine Yards," his mom had a respectable career in her own right. As reported by Today, Morrison used to work as a press secretary to the former prime minister of Canada, Pierre Trudeau. In his memoir "Friends, Lovers, and the Big Terrible Thing," Perry opened up about growing up with a working mom and how he felt about her demanding job, which often took her time away from him.
Matthew Perry had to share his mom with her career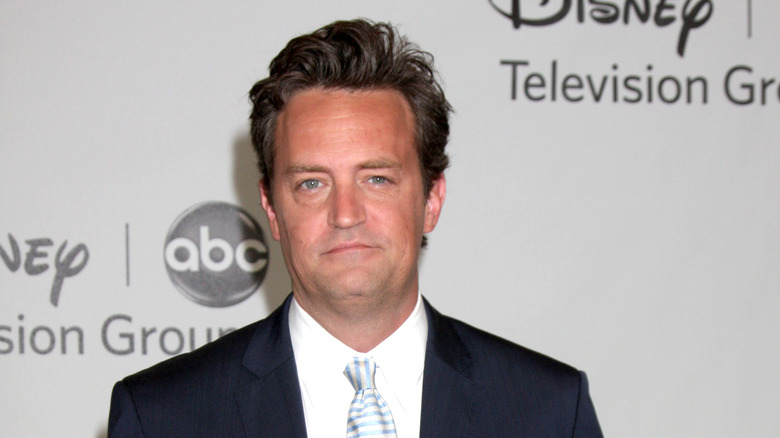 Kathy Hutchins/Shutterstock
Matthew Perry's parents divorced when he was just a year old and the family left their home in Massachusetts. At the age of five, the actor got shuttled back and forth from Los Angeles, where his dad lived, to Ottawa, Canada, his new home with his mom, Suzanne Morrison. After the move, Morrison got a job working for Pierre Trudeau, which sometimes meant having to work around the clock. In Perry's memoir, he recalled watching "Annie Hall" with his mom and Trudeau calling their home phone, per Ottawa's City News Everywhere. "That is my absolute favorite childhood memory — sitting with my mom and watching that movie. But now the prime minister of Canada was calling, so I was about to lose my mom again," he wrote. "As she took the call I heard her turn on her professional, spinmeister-y voice; the voice of a different person, of Suzanne Perry in fact, not my mom," Perry continued.
Morrison remarried when Perry was 12 and he remembered giving her away as she walked down the aisle, Diane Sawyer stated during her interview with the late actor, per ABC News. Although Perry was surrounded by stepparents and siblings, he still felt lonely growing up and used humor to get through the tough times.
Matthew Perry loved making his mom laugh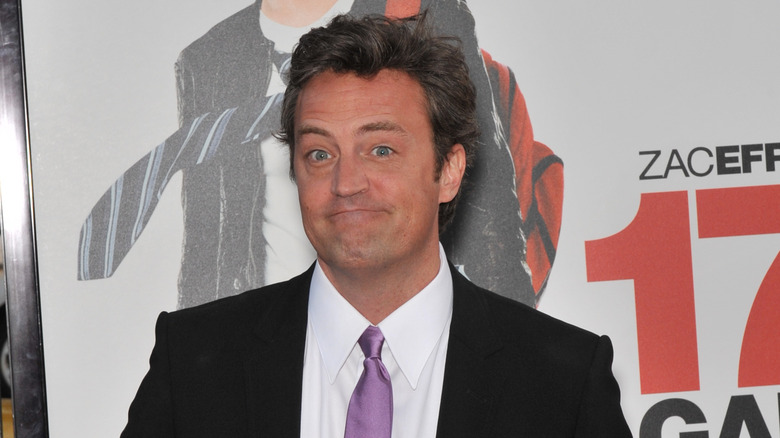 Jaguar PS/Shutterstock
Matthew Perry's parents' divorce affected him greatly. In "Friends, Lovers, and the Big Terrible Thing," he referred to himself as a "latchkey kid" who "spent a great deal of time alone" because of his mom Suzanne Morrison's career working for then-prime minister Pierre Trudeau (via BBC). He acknowledged that Morrison's job was stressful and tried to make her laugh so that she could relax and make dinner for the two of them.
Perry's loneliness got worse after his mom remarried "Dateline" correspondent Keith Morrison and went on to have four more kids together. Although he stated in his memoir that he loved his siblings, he felt like an outsider in his family. "There was a family growing up around me, a family I didn't really feel part of ... That's when the bad behavior started," he shared, as reported by Page Six. "Emily arrived, and she was blond and cute as a button. And just like [my other sister] Caitlin, I loved her instantly. However, I was so often on the outside looking in, still that kid up in the clouds on a flight to somewhere else, unaccompanied," Perry wrote, referring to the time his mom sent him on a plane at 5 years old to visit his dad. He recalled to People in 2022 feeling "terrified" as a kid but when he saw the lights while landing, he felt comforted and shared, "That's why views of the ocean or city lights have always given me a feeling of safety."