Patrick Mahomes' Girlfriend Addresses The Chiefs' AFC Championship Loss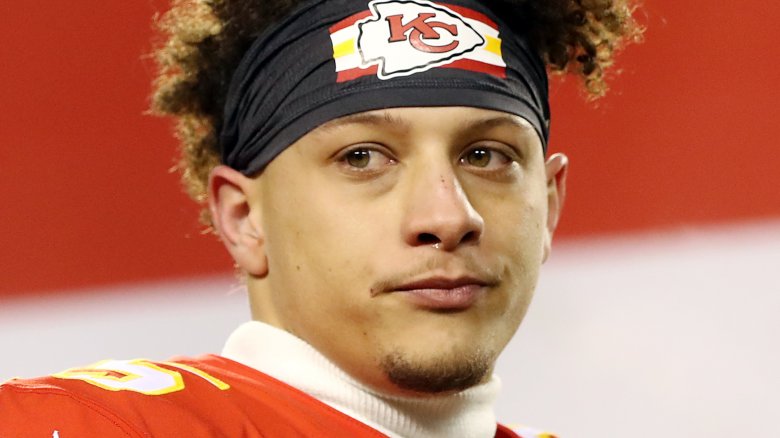 Getty Images
Kansas City Chiefs quarterback Patrick Mahomes and his loved ones are looking toward the future.
On Sunday, Jan. 20, 2019, the NFL star's girlfriend, fitness trainer Brittany Matthews, took to Instagram to address the team's 37-31 defeat in overtime against the New England Patriots during the AFC Championship game.
"Many more years of success for this team #chiefskingdom," Matthews wrote to her 78,800 followers, captioning multiple photos of herself at the game in question.  In a follow-up post, she shared a sweet video of the couple embracing on the field. Alongside red and yellow heart emojis, she wrote to her footballer boyfriend, "You're the best in my eyes and that will never change #MVP."
For his part, Mahomes has since expressed gratitude to the team's loyal fanbase on Twitter. "Thank you #ChiefsKingdom," he wrote to his 341,000 followers. "This hurts now but we will be back love y'all for y'alls support." 
The MVP candidate, who was drafted to the Chiefs in 2017, ended the 2018-2019 season with an impressive 50 touchdowns and a dozen interceptions (via The New York Post). According to Yahoo! Sports, the Patriots' star quarterback Tom Brady made it a point to visit Mahomes in the Chiefs' locker room after the duo battled it out for the AFC Title this weekend. "I just wanted to say hello. I didn't get to see him on the field," Brady, 41, told the media outlet, adding, "He's a great player. He played a great game."
Readers may already be aware that Mahomes and Matthews, both 23, are high school sweethearts who hail from Texas. An accomplished college soccer player in her own right, Matthews previously told her alma mater, the University of Texas at Tyler, that the pairing "feed off of each other." She continued, "He's an incredible leader and player and I've learned a lot from him. We give each other advice and he is always being positive with me to motivate me when I need it. I'm constantly letting him know that he's not the only one breaking records. We're having a great time with everything that is going on in our lives. He's doing big things right now and so I am."
Sadly, the longtime couple, who share a pit bull named Steel, made headlines in mid-November 2018 when Matthews' stepfather, Paul Massey, passed away after collapsing at a Chiefs' game. "Today is a day I will never forget!" the fitness guru wrote on social media at the time. "Directly after this picture I sprinted to the front entrance to see my step dad passed out! He did not come back from this and he was called to heaven today!" She added, "I KNOW 100% he is so happy up there with his kids looking down on us cheering loud that his chiefs won today! Thank you everyone for the prayers and sweet text! We will miss you Paul So So So Much! I will take care of mom for you!"
For his part, Mahomes told Yahoo! Sports, "I didn't know about it until after the game. Coach [Andy] Reid actually told me in the tunnel after the game and it was shocking." The football star added, "He was a great man and he was a great stepdad for Brittany. She's back home now with her mom and her family. I'm still sending my prayers to them and I'll be here during the week."
Gearing up to face off against the New England Patriots at the 2019 Super Bowl next month are the Los Angeles Rams (via ESPN). As Nicki Swift previously reported, legendary singer Gladys Knight will perform the National Anthem on Super Bowl Sunday. Meanwhile, Maroon 5 is set to headline the halftime show alongside rappers Travis Scott and Big Boi of Outkast (via Rolling Stone). 
However, the above-mentioned artists have faced their fair share of backlash over their decision to perform at football's biggest event. According to E! News, a number of musicians, including Rihanna and Pink, reportedly declined to take on the coveted halftime show gig out of support for free agent quarterback Colin Kaepernick. The former San Francisco 49ers player was essentially "blacklisted" from playing in the NFL after peacefully protesting police brutality and racial injustice in the United States by "taking a knee" during the National Anthem in 2016.
For her part, the Empress of Soul recently commented on the controversial matter. "It is unfortunate that our National Anthem has been dragged into this debate when the distinctive senses of the National Anthem and fighting for justice should each stand alone," she told Variety in part, adding, "I am here today and on Sunday, Feb. 3 to give the Anthem back its voice." Meanwhile, PJ Morton of Maroon 5 told People that "there was a lot" that went into the band's decision to accept the job. "We can support being against police brutality against black and brown people and be in support of being able to peacefully protest and still do our jobs," he continued. "We just want to have a good time and entertain people while understanding the important issues that are at hand."
The 2019 Super Bowl will kick off at 6:30 p.m. at the Mercedes-Benz Stadium in Atlanta, Ga. on Sunday, Feb. 3 on CBS.