Barron Trump's Height May Be Behind His Rumored Feud With Donald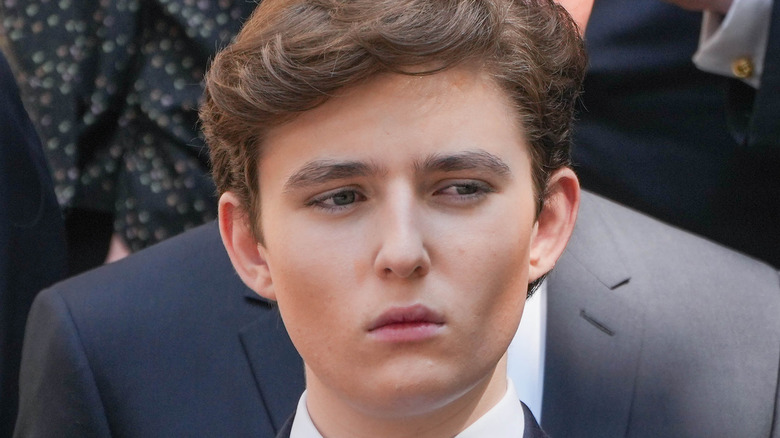 Jni/star Max/Getty Images
Donald Trump is no stranger to feuding. He has a well-documented history of turning on a dime, a lesson that his former allies turned enemies have learned the hard way. Still, Donald's children have always managed to stay out of his crosshairs — until now. Proving that there's room for only one Trump Tower in his life, Donald is allegedly feuding with his youngest son, Barron Trump, over his 6 feet 7 inches of height.
Donald's relationship with his daughter, Ivanka Trump, and sons Donald Jr. and Eric Trump, is tight. The three are all involved in the family business, and they were by their father's side during his presidential campaign and four-year term in office. However, less is known about Barron and Donald's relationship. The teenager stayed out of the spotlight during Donald's time in the White House. And he ha kept out of the media glare since the family relocated to Mar-A-Largo. Per PolitiFact, Barron is enrolled at the Oxbridge Academy in Palm Beach, Florida, until 2024.
However, there's no mystery about Barron's relationship with his mom, Melania Trump. The former model clearly adores her only son and they have an extremely close bond. In fact, according to People, Melania is so focused on Barron that she has no time for making friends and socializing. "She is a doting mother to Barron and very protective of him," a source said. "Barron has always been a first priority in [Melania's] life," they continued, adding, "She has always put him first." Donald, though? Not so much (supposedly).
Trump's tall tales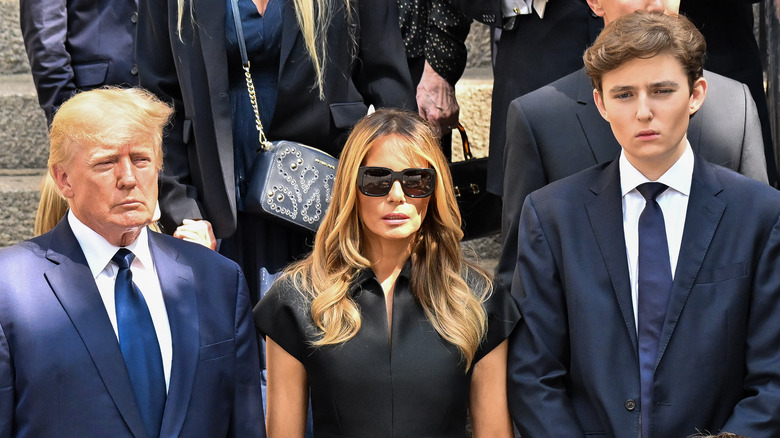 James Devaney/Getty Images
Donald Trump's hatred for being put in the shade has reportedly spilled over into his family life. In "Siege: Trump Under Fire," Michael Wolff claims that in addition to having a strained relationship with Barron Trump, Donald's also resentful of his height. Wolff suggests that the disgruntled dad is so insecure about Barron eclipsing him that he refuses to be pictured next to him.
During an appearance on "The Last Word with Lawrence O'Donnell," Wolff spilled more tea by the foot. "[Donald] is jealous of everyone's height," he said. "He never lets himself be in a photograph with someone taller than he is. Height is one of his techniques. He uses his height — and, remember, Donald Trump is a very large man."
Height is clearly a very touchy subject for The Donald, and few people are aware of how tall or short he actually is. The Washington Post reports that when he was arrested after arriving at the Fulton County jail in Atlanta in August, the measurements he gave on his booking record raised more than a few eyebrows. Donald claimed that he's 6 feet 3 inches tall and weighs 215 pounds, placing him in the same ballpark as Tom Brady, who's 6 feet 4 inches and 225 pounds. The Post notes that Donald's last White House physical listed him as being 25 pounds heavier, coming in at 240 pounds. Meanwhile, the septuagenarian has seemingly grown an inch taller since 2012. Politico obtained a copy of Donald's driver's license, which states he's 6 feet 2 inches tall.
The shady stats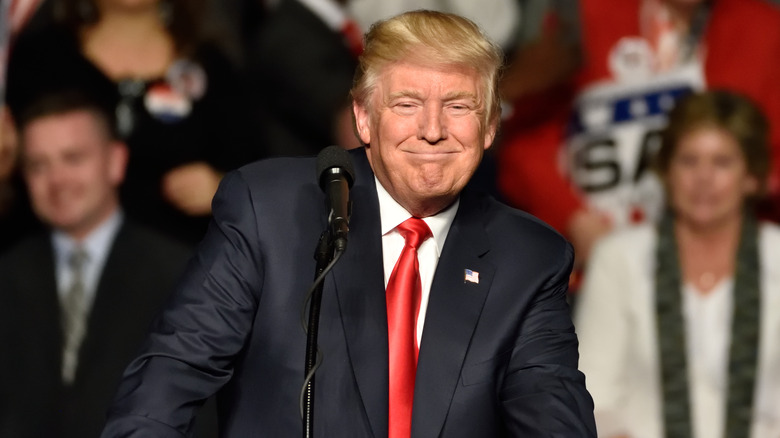 Evan El-Amin/Shutterstock
If Donald Trump feels overshadowed by Barron Trump, he's not letting on. In an interview with Megyn Kelly, Donald claimed he and Barron "actually get on very well" and then boasted about his height — all while possibly adding an extra inch. "Barron's very tall — about six-eight. And he's a good kid. He's a good-looking kid. He's a great student, very good student," Donald said.
Trump's love of playing fast and loose with height and weight stats hasn't gone unnoticed by TV political pundits. Joe Scarborough made digs at Donald on "Morning Joe" (via The Wrap). "I've stood next to him many times. I'm about 6′ 4″. Maybe he's 6′ 1″, maybe he's 6′ 1.5″, 6′ 2″. He's a good bit shorter," Scarborough claimed. "But his staff reported him at 6′ 3″ and in a fighting weight of 215. That would be like if my staff reported me: 'Describe Mr. Scarborough's appearance.' 'He looks a lot like Robert Redford in 1974."
Meanwhile, being a target for jabs over his height and weight hasn't stopped Donald from scorning others. In 2020, he took aim at Michael Bloomberg, referring to him as "Mini Mike Bloomberg" in a rant posted to X. Donald's stature obsession runs so deep that he's been accused of "weaponizing height." The Washington Post notes that he repeatedly disparages adversaries by using height-related nicknames. The paper lists "Little Marco," "Little Katy," "Little Rocket Man," "Liddle' Bob Corker," and "Liddle' Adam Schiff" as examples.