Kate Beckinsale Hospitalized After Cyst Ruptures
Pearl Harbor star Kate Beckinsale revealed that she was hospitalized with a teary-eyed post on Instagram.
On Saturday, Jan. 26, 2019, Beckinsale shared photos of herself from a hospital bed on Instagram, appearing visibly shaken. In the post's caption, the actress revealed that she'd suffered a ruptured ovarian cyst. She wrote, "Turns out a ruptured ovarian cyst really hurts and morphine makes me cry. So thankful to everyone who looked after me." She added the hashtag "#wobbly" and a red heart emoji.
According to the Mayo Clinic, ovarian cysts are "fluid-filled sacs or pockets in an ovary or on its surface." While most ovarian cysts are painless, "harmless," and go away on their own in time, others can cause serious pelvic pain, in addition to other symptoms, and may require medical intervention. If a cyst ruptures, it can cause "severe pain and internal bleeding."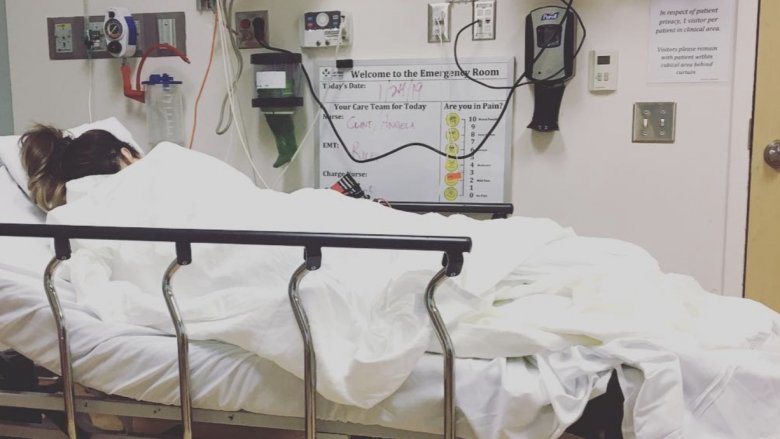 Instagram
As could be expected, Beckinsale's post sparked concern from fans and famous friends alike, as reported by E! News. "Are you okay?" fellow actress Isla Fisher asked in a comment. "Sending you so much love."
Comedian Sarah Silverman, who dated Beckinsale's ex Michael Sheen, wrote, "OMG!!!!"
However, there was at least one social media user who took Beckinsale's post as an opportunity to criticize her for taking a "selfie" while in the hospital. But Beckinsale didn't just sit back and accept the judgement. Instead, she replied, "It's actually not a selfie. My mum took it." She went on, "I would not have posted it if we had not noticed someone in a car taking a photo of me leaving the hospital in a wheelchair," adding that she uses Instagram, in part, to "have my own honest narrative and not have to always be ambushed by stories that come out that are invented."
"I agree, it's not a normal impulse," Beckinsale shared. "But it's not normal to be photographed in vulnerable situations by people you don't know either."
The 45-year-old concluded, "Thank you so much to everyone who has wished me well and lots of love to the girls here who have been through similar or worse," noting, "Love to all x."