How Josh Swickard Felt About His Wife Lauren Joining Him On The Cast Of General Hospital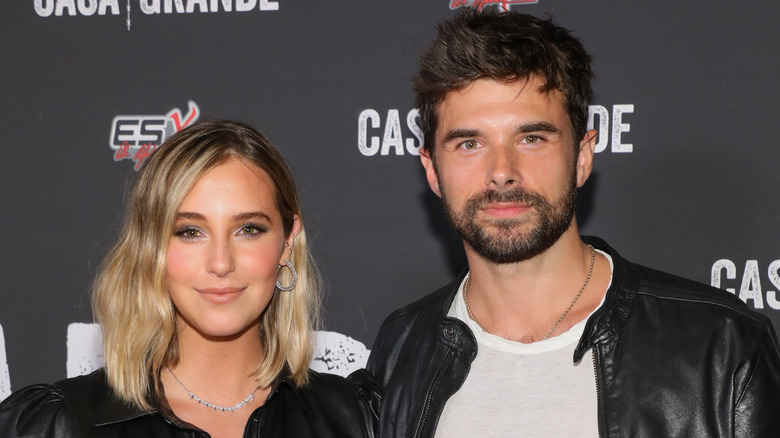 Paul Archuleta/Getty Images
Josh Swickard has become a familiar face to television viewers for his role as Detective Harrison Chase on the long-running soap "General Hospital." He became part of the cast in 2017 after auditioning for the role of Peter August, and as a replacement for departed cop Nathan West, according to Soap Opera Digest. "Chase" marked Josh's first foray into daytime drama after working as a fashion model and acting in shows like "Live and Maddie" and "K.C. Undercover." On joining the soap, he told TVMusic Network, "I was ecstatic, obviously... GH has such a history. That you can talk to anyone in the world and say 'General Hospital,' and they go, 'Oh yeah, yeah, I know that show!' That was awesome."
Five years after making his debut on "GH," SOD reported that his wife, Lauren, would be joining him on the soap for a short story arc as new character Janice Jo. At the time, Lauren expressed her excitement to work with the show's cast and crew, saying, "I've loved everybody there for years now. I love the producers, and some of the cast members are actually my best friends." Meanwhile, Josh admitted that he was quite nervous for his wife as it marked her first soap opera role. While noting how tough it is to shoot a soap opera, Josh explained that Lauren has mostly been focused on feature films which is "just a completely different flow." But Lauren, to his surprise, fit right in. "I was blown away by how calm and composed she was," he told SOD.
Josh and Lauren Swickard have worked together on several projects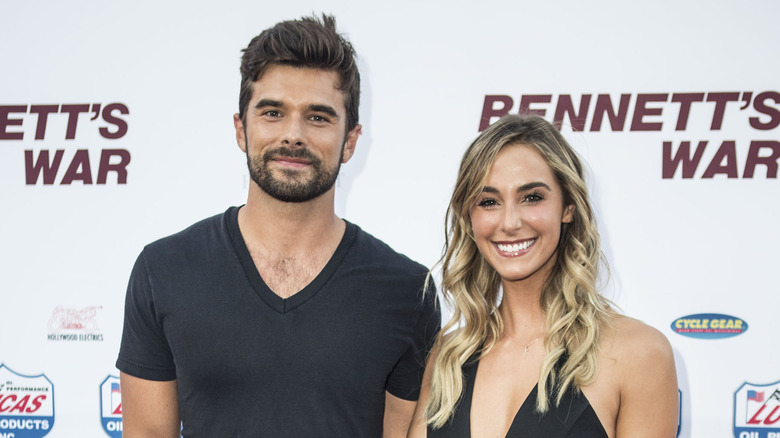 Harmony Gerber/Getty Images
Josh Swickard and Lauren Swickard are no strangers to each other on-screen. The pair, who has been married since 2019, have worked together on a number of acting projects in recent years. The first time was in 2018, when they played love interests Colton and Tracy in the Netflix film "Roped." Speaking to Metro in 2020, Lauren revealed that Josh almost didn't get cast as his leading man in the project as he wasn't actually the first choice for the role. "The other person didn't know how to ride horses so they ended [up] taking Josh, and I'm so thankful about that," she said. While they quickly developed feelings for one another, it wasn't until filming wrapped that the two started going out, according to Josh. "I think we both just felt it is smarter to keep work as work," he said. "But obviously we felt that connection so afterwards we started to hang out."
Since then, the two have shared the screen in Netflix's "A California Christmas" and "A California Christmas: City Lights" which Lauren also wrote and produced. Chatting with BEONDTV's Lisa Remillard, Josh and Lauren opened up about the challenges of working together as a married couple. "I think the only thing that makes it harder would be we're super honest with each other," Lauren said. "But it actually just makes us work harder, because of that transparency in our work." Josh agreed, saying that they always help each other out on-set. Fortunately, both he and his wife know to set aside their ego whenever they work together, he added.
Inside Josh and Lauren's happy marriage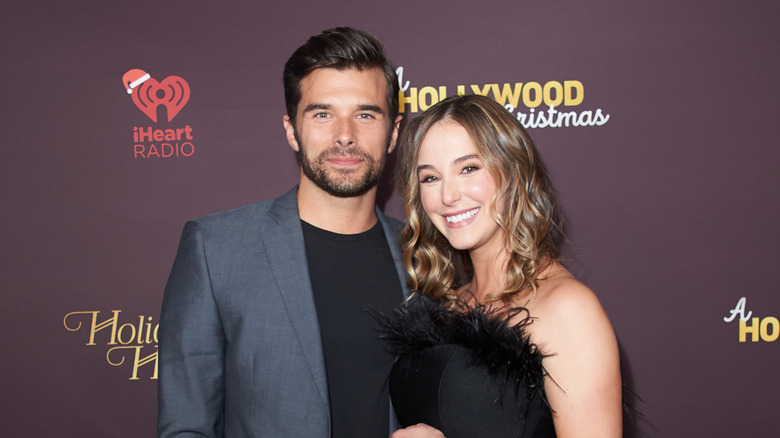 Unique Nicole/Getty Images
After less than a year together, Josh Swickard popped the big question to his wife while on vacation in Avon, Colorado in December 2018. The pair tied the knot in a private ceremony in July 2019 and have since welcomed two kids together. After giving birth to their daughter Savannah Kaye in April 2021, Lauren and Josh welcomed a new addition to their family with the birth of their son Arthur on February 26. Announcing the arrival of their baby boy on Instagram, Josh honored his wife for all her sacrifices as a mother to their children. "Lo I'm truly in awe of you. Thank you for all your sacrifices to grow our family," he said. The proud dad also gushed about baby Arthur. "You are so loved already!!!" he wrote. "We pray for courage and strength over you, and that God will lead you all of your days!"
Despite the challenges of having kids, Josh and Lauren said they are relishing their roles as new parents in their interview with BEONDTV in 2021. "It's very fun," Lauren said of parenthood, to which Josh said they were having a blast. The actor also said that being a father has changed his life in the best possible way. "[It] has changed my world," he said, adding that he has grown to love his wife even more. "It also [made me] realize how selfish [I was] beforehand," he laughed. "So that's probably better for me as a man also."