What Really Happened Between Odell Beckham Jr. And Zendaya?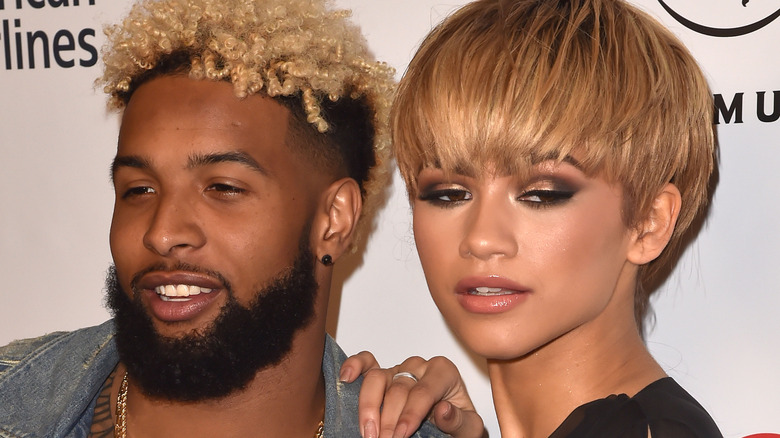 C Flanigan/Getty Images
Some athletes are thrust into new stratospheres of fame when they date celebrity A-listers and Baltimore Ravens wide receiver Odell Beckham Jr. is one of them. From Khloé Kardashian, to Amber Rose, to Zendaya, it feels like the NFL player's love life has been in the headlines just as much as his touchdown passes. And with the exception of model Lauren Wood, Beckham Jr. didn't seriously date any of the aforementioned ladies, according to Page Six.
While it makes a lot of sense that OBJ was once linked to reality stars like the KarJenners and Rose, Emmy-winner and fashion icon Zendaya is in a totally different category. The actor is one of the biggest young stars in the industry and was first linked to Beckham Jr. in 2016 when she was 20 years old. When the pair was spotted leaving a Grammy party together, Zendaya's father, Kazembe Coleman, hilariously shut down speculation she and the football player were dating. "What relationship? There is no relationship," Coleman told paparazzi (via TMZ). He added that he was 'supervising' his daughter and Beckham Jr., explaining, "When you see my daughter out on a date without me, [then] it's a relationship. [This is] like an audition ... it's an interview."
We can assume that Beckham Jr. didn't end up nabbing the job at said "interview" because he and Zendaya fizzled soon afterwards.
Zendaya shot down romance rumors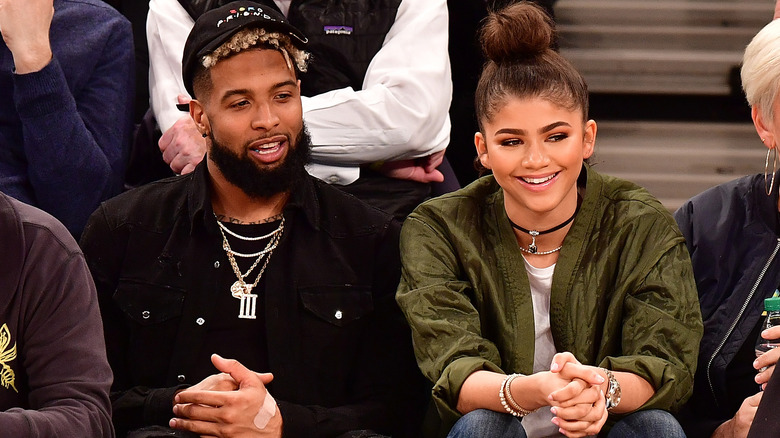 James Devaney/Getty Images
Pictures of Zendaya and Odell Beckham Jr. at the Grammys after-party may have originally fueled dating speculation, but the pair kept the gossip mill churning when they sat together at a New York Knicks basketball game. Per Seventeen, Zendaya and Beckham Jr. were papped fist-bumping, whispering in each other's ears, laughing, and (possibly) holding hands. It was all very flirty, so Zendaya confused fans by taking to Snapchat to claim she bumped into Beckham Jr. at the game by accident. Later, she clarified to Extra, "It happens all the time. Literally if I show up anywhere with anyone [the romance rumors] automatically happen." She continued, "It's funny because I didn't go there with [Odell], actually; he just happened to be there, as well. I didn't know he was going to be there. Immediately when I saw him I was like, 'Oh, dang it!'"
Later, Zendaya reiterated her stance that she and Beckham Jr. were just friends, according to TMZ. After asking if she would be interested in going on a date with Golden State Warriors basketball star Klay Thompson, the paparazzi noted she'd been spotted with an athlete before. "[Odell] was just my homie," Zendaya clarified. "We [hung] out one time and it became a lot. But it's fine." The revelation was disappointing to Z's fans, including Gabrielle Union, who tweeted that she was "here for all this goodness," when pictures of the "Dune" star with Beckham Jr. first made the rounds on the Internet.
Who are Zendaya and Odell Beckham Jr. dating now?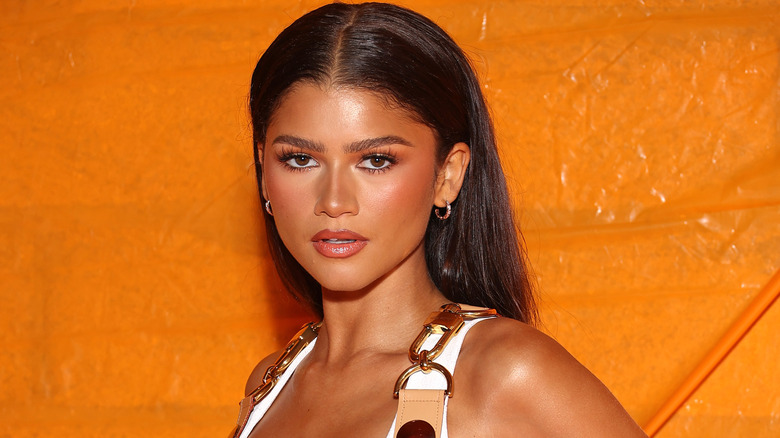 Marc Piasecki/Getty Images
We can't know for sure why things with Zendaya and Odell Beckham Jr. didn't work out, but maybe it had something to do with her father? After Kazembe Coleman first told paparazzi that he was "chaperoning" his daughter's time with the NFL star, Zendaya confirmed that anyone she's with has to get his seal of approval first. "Even if [a relationship] does progress, you gotta go through my dad first," she told 92.3 AMP Radio (via Teen Vogue). "Just because you're in the NFL, you killin' stuff, that doesn't mean you get to skip past pops. He's not going to allow that to happen."
And this situation seems to be a case of all's well that ends well because Zendaya and her current boyfriend, Tom Holland, have been happily dating for several years. Though they were first linked as far back as 2016, they didn't go Instagram official until 2021 (via People). As of November 2023, fans think they might be engaged.
Meanwhile, Beckham Jr. has been single since splitting from Lauren Wood in September, and he was subsequently linked to Kim Kardashian. "Kim and Odell are friends and have a lot of mutual friends in common," a source told E! News in September. "She's not seriously dating anyone at the moment but open to finding love again if she meets the right person." No news since then probably means said relationship has gone the way of Beckham Jr. and Zendaya's.