Dark Secrets Marilyn Monroe Tried To Hide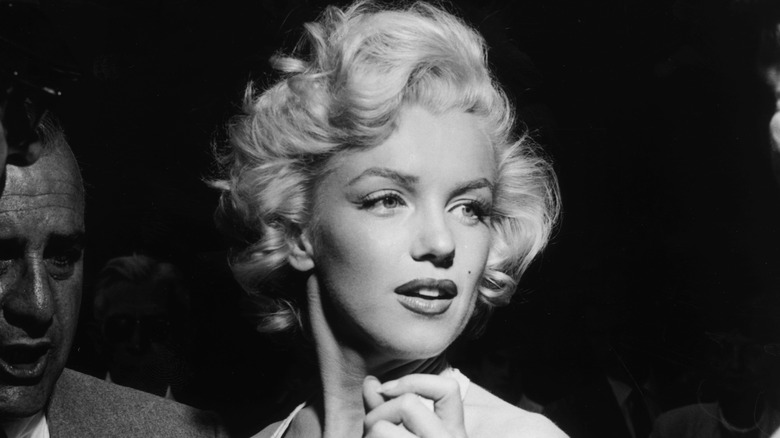 M. Garrett/Getty Images
The following article includes allegations of addiction, mental health issues, sexual assault, and domestic abuse.
Marilyn Monroe, born in 1926 as Norma Jeane Mortenson, is widely considered to be one of the most iconic and beautiful women that ever graced Hollywood. She adopted her mother's last name Baker, going by Norma Jeane Baker, before ultimately becoming Marilyn Monroe. She changed her name due to her budding modeling career; Monroe was the last name of her grandmother. She was discovered by a photographer when she was just 16 years old while working in a factory, and thus her modeling career began. However, Monroe became famous for being a talented actor, singer, and captivating personality, with a vulnerability and sensuality that appeared to fascinate men and women alike. She starred in popular films, like "Gentlemen Prefer Blondes" and "How to Marry a Millionaire," before going on to pursue more serious roles. 
Her difficult childhood coupled with her struggles in adulthood made Monroe's untimely passing at the age of 36 devastating for her friends, family and fans. Despite her success, she unfortunately had some dark secrets behind closed doors, and her troubles sadly started long before her international and inter-generational fame. Abusive marriages, addiction, and depression; her life was far from shiny and glamorous.
Marilyn Monroe had an unstable childhood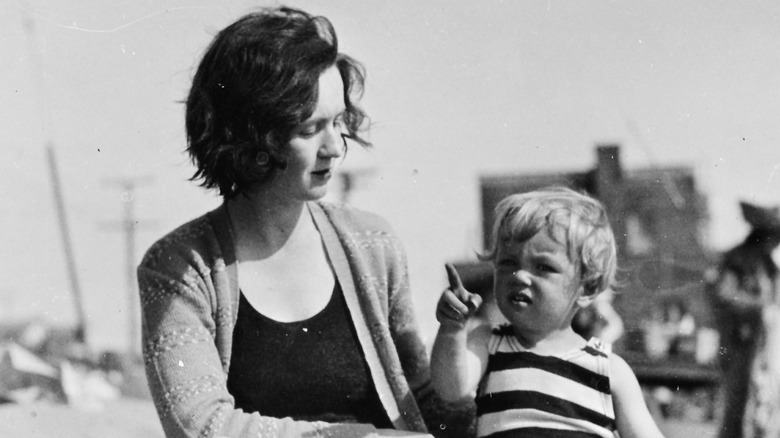 Silver Screen Collection/Getty Images
Marilyn Monroe was born to Gladys Baker, who was twice divorced and had two children from her previous relationships. Monroe's father was Charles Stanley Gifford, a man that Baker met at the film laboratory where they both worked. Her father was absent throughout her life, and being a single mother proved difficult for Baker, who moved she and young Monroe around Los Angeles, California, and in and out of foster homes. When Monroe was 7 years old, Baker was able to take care of her daughter herself and build a life for themselves, but their situation would soon become fractured again.
When Baker received news that her grandfather had committed suicide and her son from her previous marriage had also tragically died, the news caused her to be grief-stricken, be diagnosed with paranoid schizophrenia, and become institutionalized. Monroe was eventually taken to live at the Los Angeles Orphans' Home, while also being able to visit her mother's best friend and Monroe's then-legal guardian, Grace Goddard. This began a long string of different homes Monroe lived in throughout her childhood, where she would at one point be sexually assaulted, as she later revealed. This, along with a lack of parental love and care caused a terrible sense of abandonment and confusion for the young girl.
She was only 16 when she got married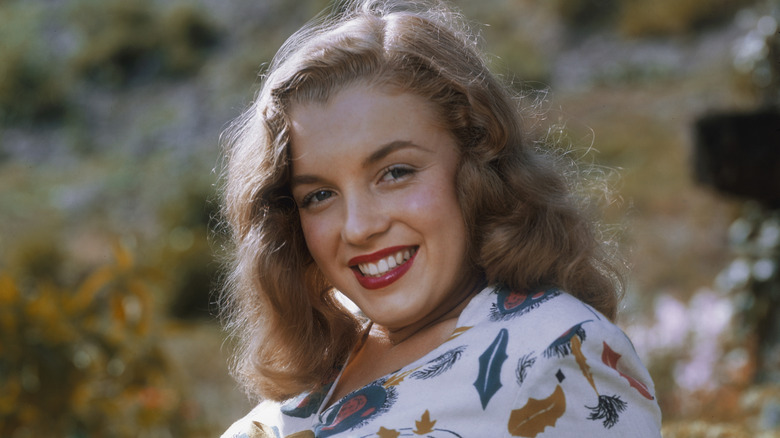 Donaldson Collection/Getty Images
After being faced with the brutal reality of having to live in another foster home, 16-year-old Marilyn Monroe met her first husband. 21-year-old policeman James Dougherty lived next door to her foster parent, Grace Goddard's, family. As the story goes, the Goddards were set to move out-of-state, which would have sent Monroe to another home. Though she was young, Dougherty was taken with Monroe, and offered to marry her in order to keep her out of the orphanage or foster care system.
"She would have gone back to an orphanage or another foster home, so her foster mother suggested I marry her," Dougherty explained in a 1990 interview with UPI. "I thought she was awful young, but I took her to a dance. She was a pretty mature girl and physically she was mature, of course. We talked and we got on pretty good. We decided to get married to prevent her from going back to a foster home, but we were in love."
The couple wed in 1942. Dougherty worked at Lockheed Aircraft at the time, but enlisted in the Merchant Marines shortly after, leaving Monroe at home on her own. Not soon after that in 1946, Monroe was discovered by the aforementioned photographer and began her modeling career. She and Dougherty divorced that same year. It's been speculated that the two divorced so the starlet would have the freedom to pursue her career in Hollywood. 
She was allegedly abused by second husband Joe DiMaggio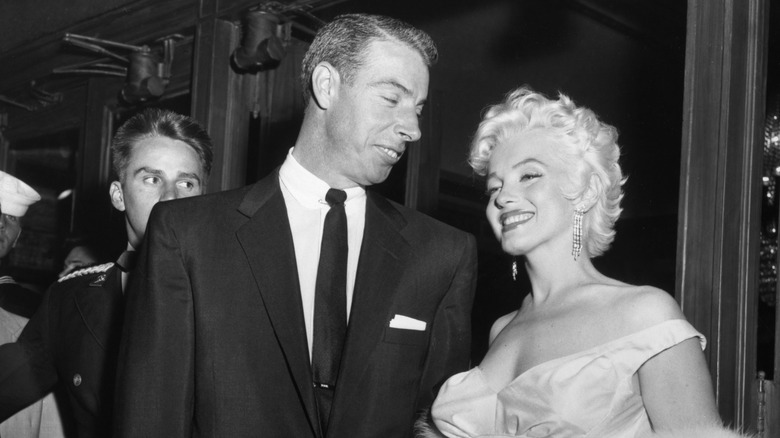 Bettmann/Getty Images
By 1952, Norma Jeane Baker had changed her name and transformed into the beautiful Hollywood actor we know as Marilyn Monroe. Monroe's career was starting to blossom when she met legendary New York Yankee Joe DiMaggio. DiMaggio was ending his career as a baseball player, and had time on his hands to properly court the blonde bombshell. DiMaggio was known to be hot-headed and jealous, however, he attempted to tone those tendencies down while dating the sought-after actor and model.
On January 14, 1954, the couple officially tied the knot. Unfortunately, DiMaggio could no longer hide his controlling and temperamental ways; He was angry over the way Monroe dressed (claiming everything she wore was too skimpy), and wanted to approve each and every film role she was offered. The baseball player then allegedly became physically abusive. According to DiMaggio's son from a previous marriage, Joe Jr. (via the New York Post), he awoke one night to find his father dragging Monroe by the hair back into the house after an argument. The continued abuse caused Monroe to begin drinking regularly and taking sedatives, and the marriage ended about nine months after it began. In the divorce filing, Monroe pointed to "mental cruelty" as the reason for separation.
Arthur Miller cheated on his first wife with Marilyn Monroe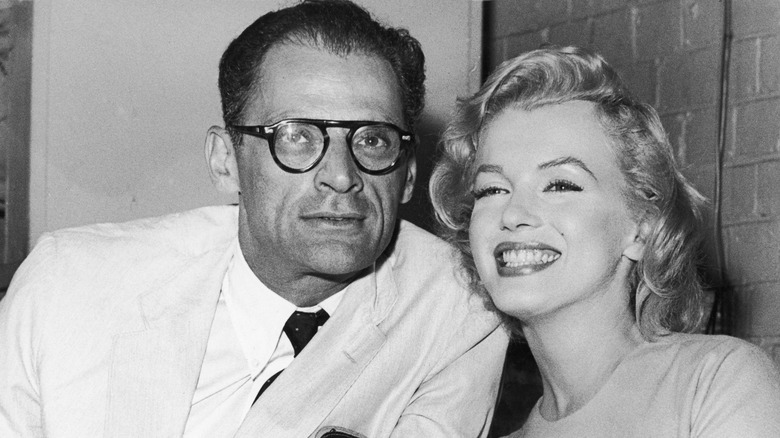 Fox Photos/Getty Images
Playwright Arthur Miller and Marilyn Monroe had met each other only a couple times in the throes of show business before they began a relationship. The two appeared to be opposites; Miller being a renowned writer who penned plays like "Death of a Salesman" and "The Crucible," and Monroe being a glamorous Hollywood sex symbol. After being introduced at a party, there was an immediate connection. Miller was married to Mary Slattery, and Monroe was twice divorced and single. The two began exchanging letters that then became a passionate affair. Though Miller was hesitant to leave his wife, he admitted that he didn't think he could live without Monroe as they were head over heels in love. The two were married in 1956, resulting in Monroe's longest marriage lasting almost five years.
Though it was her longest marriage, it was indeed challenging. Miller's involvement in politics included accusations of being a communist, which was problematic to the couple's image, but she supported him regardless. The two were able to collaborate on a film together, however that ended in disaster (more on that later). It was also alleged that Monroe found hateful notes in Miller's journal about her, and she felt like a failure for being unable to give him children. They filed for divorced in 1961.
She suffered multiple miscarriages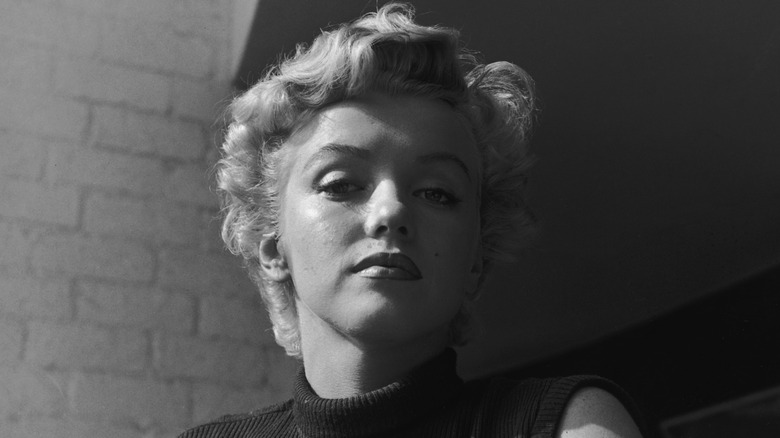 Hulton Archive/Getty Images
It's no secret that Marilyn Monroe's personal life was tough; especially with her fertility struggles resulting in multiple miscarriages. These deeply personal and painful experiences added to the layers of her depression, mental health, and, unfortunately, substance abuse. Monroe desperately wanted to start a family, yearning to do so with her third husband, Arthur Miller. During her marriage to Miller, Monroe had suffered three miscarriages. Her first pregnancy tragically ended abruptly in 1956, then in 1957 she became pregnant again. Sadly, this pregnancy resulted in yet another miscarriage as it was ectopic, meaning the fertilized egg had planted itself outside of the uterus and was unviable.
In 1958, she became pregnant again, and once again, resulted in her third miscarriage during the shooting of the film, "Some Like It Hot." The director took note that Monroe appeared to be struggling and depressed on set. Monroe was believed to have endometriosis, a painful condition that "causes the cells lining the interior of the uterus to grow outside of the uterus," per the Mayo Clinic. In the 2022 film "Blonde," Monroe was suggested to have had an abortion, though there is no evidence that has ever supported that claim.
Her life was spiraling while making her last film, The Misfits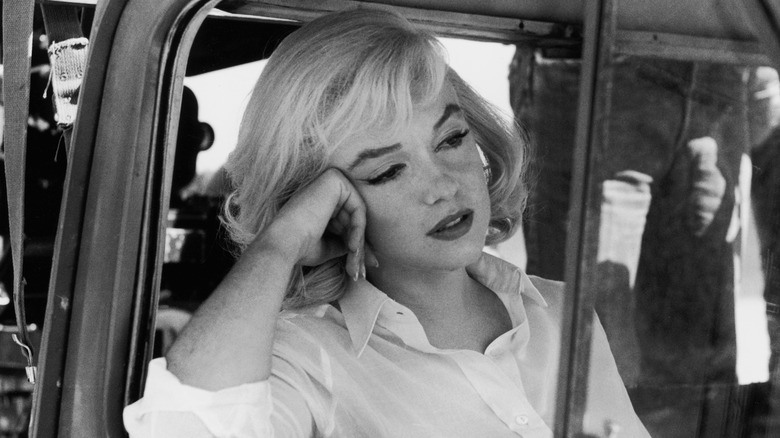 Ernst Haas/Getty Images
Before Marilyn Monroe and Arthur Miller officially divorced, they had a messy collaboration on what would be Monroe's last completed film before her death. "The Misfits, " written by Miller, directed by John Huston, and starring Monroe and Clark Gable, was a film about a divorced former showgirl who falls in love with a much older cowboy. By the time they started filming in Reno, Nevada in 1960, Monroe and Miller's marriage was hanging on by a thread. Monroe was self-medicating while fighting her mental anguish, and Miller was falling in love with another woman on the set. The other woman was Australian photographer Inge Morath, who would become Miller's wife in 1962 for 40 years until her death in 2002.
The filming process for "The Misfits" was also said to be grueling as the desert temperatures reached over 100 degrees, causing everyone to be on edge. It was said that Monroe was also difficult to work with on set, and grappled with the ever-changing lines and some of the emotional scenes. Mere days after filming wrapped, Monroe's co-star Clark Gable would suffer a heart attack that would kill him twelve days later. Monroe would also die within the next couple of years, making the film overall have a looming darkness around it, as it was known as both Gable and Monroe's last film before they passed away.
She allegedly had quiet affairs with both Robert and John F. Kennedy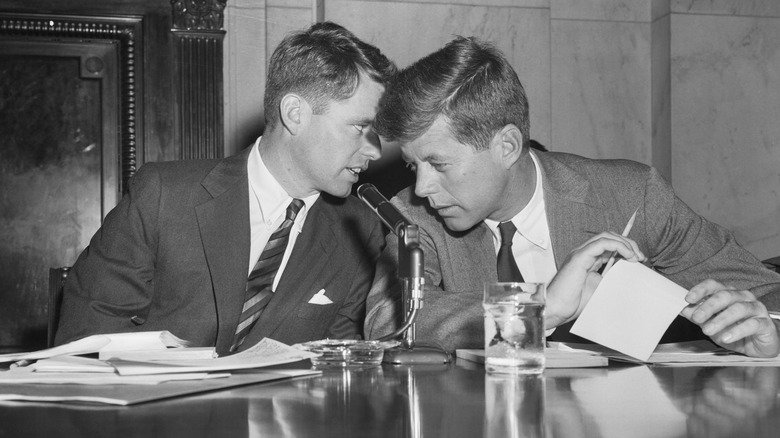 Bettmann/Getty Images
One of Marilyn Monroe's most iconic pop culture moments was when she sang "Happy Birthday" to President John F. Kennedy at Madison Square Garden in New York City on his 45th birthday in 1962. Monroe's alleged affair with President Kennedy has been a topic of intrigue and speculation since the 1960s, and it's believed their alleged sexual relationship lasted for a few months before she died in 1962. It was also speculated that Monroe also had a sexual relationship with his brother, Senator Robert F. Kennedy.
There was never any concrete proof of either affairs, though Monroe's former housekeeper gave an interview in the 80s to the BBC (via UPI) claiming she helped hide the relationship with Robert. There is also eerie conspiracy that the brothers were involved in her untimely death in 1962, believing that maybe she "knew too much," though no such evidence exists. In 2010, White House photographer Cecil Stoughton released an image of Monroe and the Kennedy brothers attending a party together after the famous "Happy Birthday" rendition. He held onto this photo for decades, and it's the only photo that exists of the three of them.
"The whole lot of Kennedys were lady-killers, and they always got away with it," Monroe's ex-husband Joe DiMaggio recounted for the 2017 book, "Dinner with DiMaggio: Memories of an American Hero" (via Country Living). "They'll be getting away with it a hundred years from now. She told me someone would do her in, but I kept quiet.'"
Monroe battled with depression and addiction, once landing in a psych ward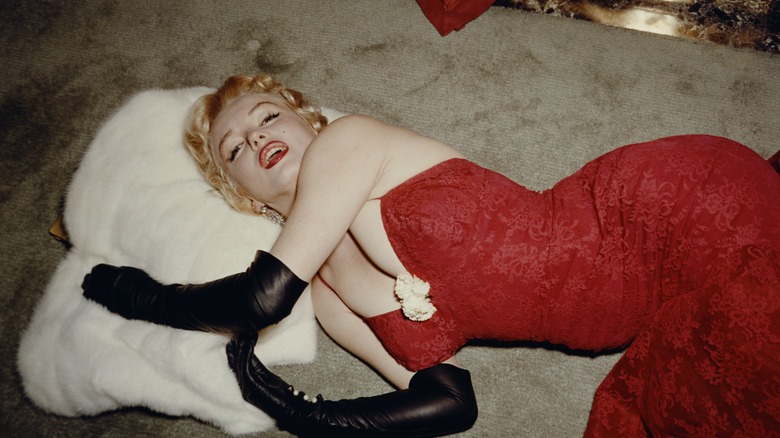 Gene Lester/Getty Images
Though she was stereotyped as a "dumb blonde" on screen for many films, Marilyn Monroe was a truly complex woman. With her failed relationships, inability to start a family, and turbulent childhood; Monroe struggled with substance abuse issues throughout her life to attempt to ease her pain from her depression. She reportedly had difficulty sleeping and used alcohol and prescription medications, like pain killers, as a means to cope with her emotional pain. She attempted to kick her insomnia with a combination of a Nembutal capsule, a chloral hydrate tablet, and would finish them off with a glass of champagne. 
After her divorce from Arthur Miller, her mental health issues became so crippling that her doctor admitted her to the Payne Whitney Psychiatric Clinic in New York for treatment. She was only there for four days before her ex-husband Joe DiMaggio made the staff release her early. After she departed from the clinic, she described in letters to her psychiatrist that her time in the hospital was one of the worst experiences of her life. "There was no empathy at Payne-Whitney — it had a very bad effect ... I felt I was in some kind of prison for a crime I hadn't committed. The inhumanity there I found archaic," she penned (via Vanity Fair).
Professionals today believe she may have had borderline personality disorder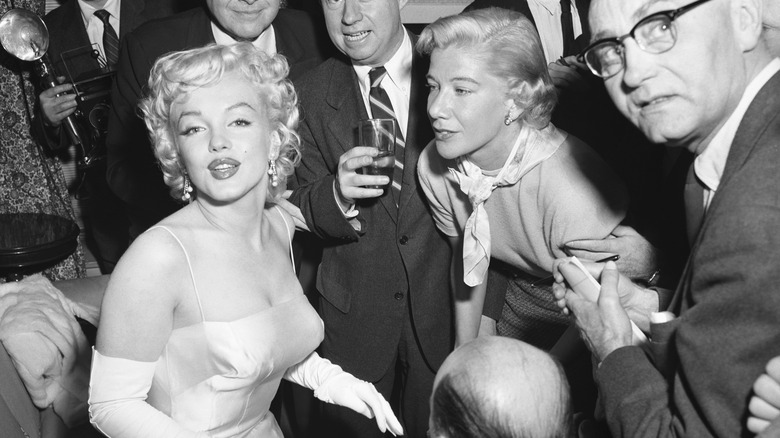 Bettmann/Getty Images
Marilyn Monroe's severe depression and mental health has caused medical professionals to look deeper into her true diagnosis decades later. It was a well-known fact that Monroe's mother, Gladys Baker, also suffered from mental health issues and was in and out of institutions. Psychiatrists never gave Monroe an official diagnosis during her lifetime, but according to the Lehigh Research Center, all signs pointed to her having borderline personality disorder. 
According to Lehigh, the symptoms of BPD are — but not limited to — "identity issues, addictive behavior, and suicidal ideology." Additionally, BPD can be triggered by childhood abandonment issues, which Monroe also battled growing up in orphanages and foster homes coupled with never really knowing her biological father. However, one of Monroe's doctors, Dr. Hyman Engleman, later stated in an interview, "We knew that she was manic-depressive, which is now called bipolar personality." Mental health was considered a taboo subject in the 1950s and 1960s, and people like Monroe were sadly forced to self-medicate and simply live with their unbearable pain.
Her death still remains a mystery to some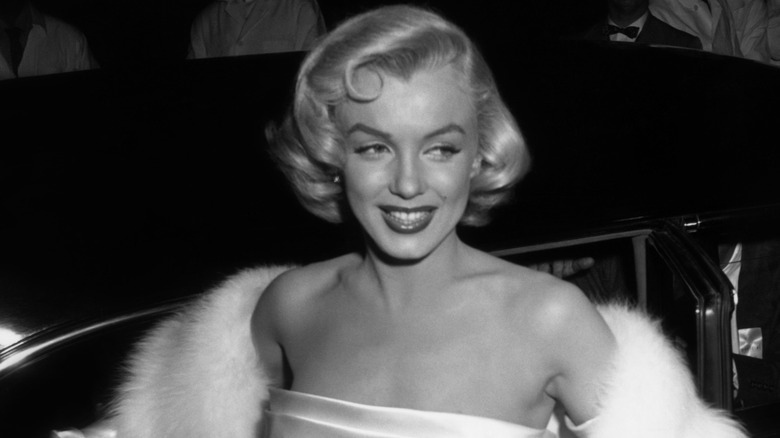 M. Garrett/Getty Images
The death of Marilyn Monroe still evokes mystery and intrigue to this day. Almost three months after she sang "Happy Birthday" to John F. Kennedy in 1962, she was found deceased in her bed in her Los Angeles home. Next to her was a night stand cluttered with over 10 prescription pill bottles, mainly sleeping pills. Police immediately believed it to be a suicide, but Monroe's closest friends were skeptical, as they said she appeared to be very happy in those last few days of her life. Monroe's autopsy results were released two weeks later, citing "acute barbiturate poisoning due to ingestion of overdose."
Dr. Theodore Curphey, who was the medical examiner, agreed with the autopsy findings. "It is my conclusion that the death of Marilyn Monroe was caused by a self-administered overdose of sedative drugs and that the mode of death is probable suicide," he stated to the Los Angeles Times. 
Many people still believe that Monroe's death was not a suicide; There have been many conspiracy theories surrounding the fact that she was allegedly murdered by one of the Kennedy brothers (though no one has concrete facts to back up the theory). Additionally, decades later, the liaison to the Los Angeles County Medical Examiner-Coroner claimed in an essay for the Los Angeles Times that Monroe's stomach contents had "disappeared," making theorists question the outcome of the autopsy. Regardless, Monroe lived a mysterious and tragic life.
If you or anyone you know needs help with addiction issues, with their mental health, been the victim of sexual assault, or is dealing with domestic abuse, contact the relevant resources below: