The Truth About Marilyn Monroe And Joe DiMaggio's Marriage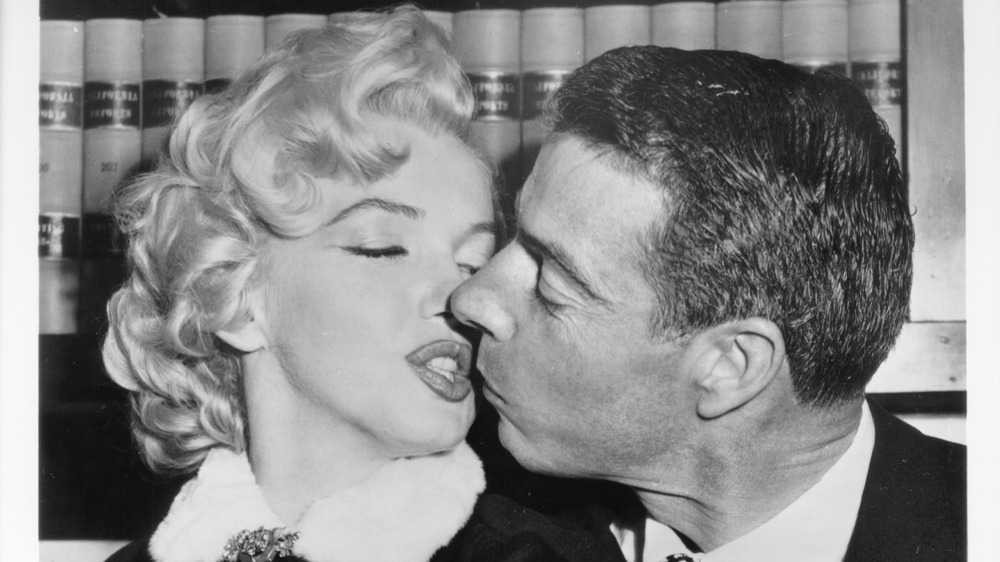 Michael Ochs Archives/Getty Images
In The Seven Year Itch, Marilyn Monroe stands above a subway grate as a warm gust sends the white skirt of her dress swirling around her like smoke. It was a cultural moment that not only intensified Monroe's own star power, but also transmuted a common and otherwise embarrassing collision of meteorological and sartorial elements into the more glamorous "Marilyn moment." Even so, the moment reportedly destroyed Monroe's marriage to baseball center fielder Joe DiMaggio.
According to Biography, tension had marked their marriage since it began in 1954, as Monroe traveled for work and DiMaggio wanted a demure, domestic housewife. DiMaggio had insisted Monroe must remain fully clothed at all times and break out of her "dumb blonde" typecasting, per the New York Post. As early as their honeymoon, he felt he was losing control of her and reportedly took to beating her. Monroe later said that "exposing my legs and thighs, even my crotch [in The Seven-Year Itch] — that was the last straw." Nine months into their marriage, Monroe tearfully announced her divorce from DiMaggio, citing "mental cruelty."
"I love you and want to be with you," DiMaggio wrote in a letter to Monroe after seeing the announcement (via Biography). "There is nothing I would like better than to restore your confidence in me ... My heart split even wider seeing you cry in front of all those people." Though DiMaggio resented Monroe when she was sexually or professionally empowered, he warmed to her when she was in pain.
Marilyn Monroe and Joe DiMaggio reportedly loved each other till their deaths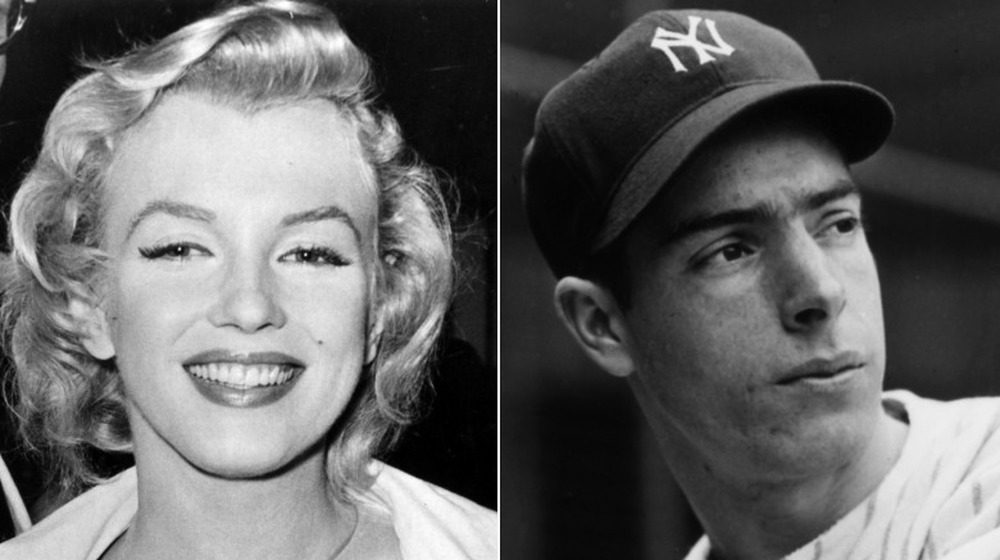 Evening Standard, Photo File/Getty Images
In 1961, following her five-year marriage to playwright Arthur Miller, Marilyn Monroe was admitted to the Payne-Whitney Hospital Psych Ward. According to Biography, Joe DiMaggio secured her release and brought her to the Yankees training camp to rest. The ex-spouses remained friends as Monroe battled anxiety, depression, insomnia, low-self esteem, and addictions to alcohol, amphetamines, and barbiturates. On Aug. 4, 1962, she committed suicide by taking a lethal overdose of various pills.
"I remember being called to the mortuary," DiMaggio is quoted as saying in the biography Dinner With DiMaggio. "She always said that she wanted me to make sure that she was dressed up right when she died." He reportedly barred his former friend Frank Sinatra and the Kennedy family from attending Monroe's funeral, due to her rumored affair with then-president John F. Kennedy and the fact that Sinatra introduced them, per Biography.
"I'll go to my grave regretting and blaming myself for what happened to her," DiMaggio is quoted as saying in Dinner With DiMaggio. "Sinatra told me later that Marilyn loved me anyway, to the end." DiMaggio never remarried, and he arranged to have roses delivered to Monroe's grave three times a week for 20 years.
DiMaggio died on Aug. 9, 2000. According to his lawyer, Morris Engelberg (via ABC News), the baseball player's parting words focused on Monroe as he allegedly whispered, "I'll finally get to see Marilyn again."