A Deep Dive Into Below Deck's Natalya Scudder's Messy Love Life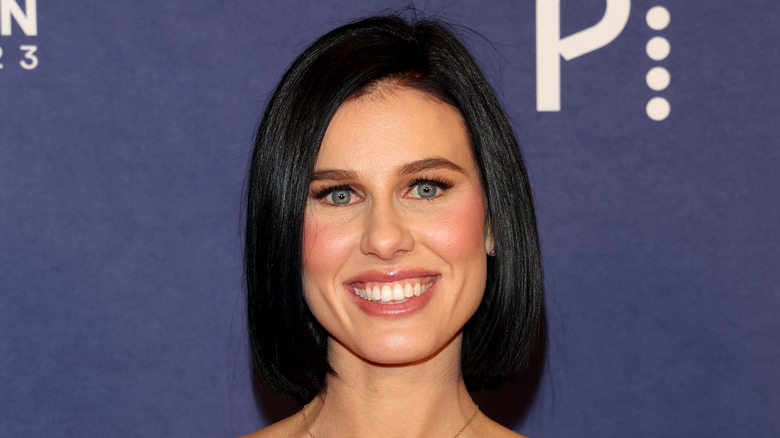 Gabe Ginsberg/Getty Images
Since Natalya Scudder joined "Below Deck Mediterranean" in Season 7, she's been rocking the boat with a lot of drama. The second stew bumped heads with not just the chief stew Natasha Webb, but also with her fellow stew Kyle Viljoen. When Scudder came back for Season 8, things looked promising between her and Viljoen, but they soon clashed yet again. The temporary chief stew recreated history when Tumi Mhlongo came aboard the superyacht Mustique to take over as the head of the interior after getting delayed by immigration, and the two quibbled over how things were organized.
Adding to the tension on the boat was Scudder's relationship with her boyfriend. She revealed on camera that the two were in an open relationship, which she wasn't completely comfortable with. As she struggled to navigate her jealousy and uncertainty, she also flirted with another crew member, and things just went downhill from there.
Natalya Scudder's relationship with her boyfriend didn't look too promising
Natalya Scudder came to "Below Deck" Season 8 in a situationship that was messy from the start. The yachtie shared that she and her boyfriend had been dating for four months and she had fallen in love with him before he told her that he wanted to sleep with other people. She told cameras that she felt "unsure" in the situation and added, "But every guy I've been with has cheated. So, I'd rather be in an open relationship from the start." This prompted Scudder to flirt with bosun Luka Brunton and she stated, "I'm half okay with it and half working on trying to be okay with it so with Luka, there's no problem having a flirt, looking is fine, touching is a no-go."
As the season progressed, Scudder went from doubting her boyfriend to having fun flirting with Brunton. When the two castmates kissed, the stew told chef Jack Luby, "I hate myself," per Bravo. It seems that Scudder's relationship with her boyfriend didn't last, as she told Us Weekly during BravoCon 2023 that she is "single AF." As for Bunton, Scudder is still friends with him, but if her previous boat romance in Season 7 is any indication, she is no stranger to getting messy in the workplace.
Natalya Scudder's boatmance with Storm Smith was not a Below Deck fan favorite
"Below Deck Med" Season 7 was full of messy romances, including the one between Natalya Scudder and Storm Smith. The two constantly went back and forth between cuddling and bickering, but despite the rocky relationship, Smith wanted more of a commitment than Scudder was willing to give. Her hot and cold attitude frustrated him — and "Below Deck" fans felt the same. One tweeted, "I feel like Natalya is constantly nit picking Storm & any time something goes beyond surface level, she freaks out. Girl needs to get it together." Another fan wrote, "why does Natalya treat Storm like crap? I'll date him if u don't want him!"
It seemed as if Scudder knew things wouldn't work out with her and the bosun. She told So Dramatic! that she thought yacht romances were "fake" given that the crew are forced to live together in such close quarters, but when they leave together, things aren't so rosy. "You realize it wouldn't actually work in real life if it's not on the yacht working. You kind of depend on that person to vent to when they reach out to you. But if you put it in a real-world situation, like Storm and me, it wouldn't really work," she shared. Despite the drama, there are no hard feelings between the two, and Smith shared in an Instagram Q&A (via Monsters & Critics) that he and Scudder had mended fences.