The Truth About Adam Sandler And Rob Schneider's Friendship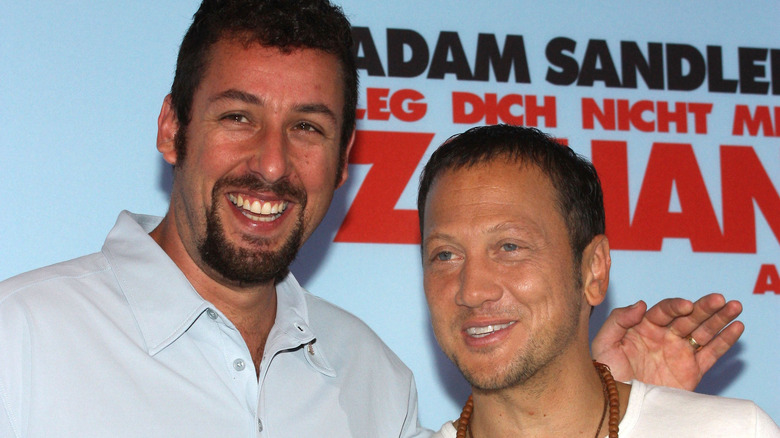 Anita Bugge/Getty Images
Adam Sandler and Rob Schneider are two of the funniest and most down-to-earth comedians and actors in the business. We'll never forget Schneider chanting, "You can do it," in Sandler's 1998 film, "The Water Boy" from the bleachers. The two men share a rare and special friendship that has lasted over 30 years. The actors' camaraderie dates back to the late 80s when they first met as struggling stand-up comedians attempting to make a name for themselves in the comedy circuit in Los Angeles. Schneider was said to have noticed Sandler's set, and was immediately drawn to him. The two went on to star on NBC's "Saturday Night Live" together, as well as over 15 films.
Schneider told Fatherly in 2021 how he and Sandler remained close friends amid working together all these years. "I think it's making each other laugh. We still surprise each other, in how we can make each other laugh. It's always a challenge. There's a lot of trust. When you're making a movie, you need to trust the people. Trust is there. You want to be around people who know you and don't ask too many questions," Schneider stated. We truly hope these two stay friends for as long as humanly possible as they've been making us belly laugh since we can remember.
They were close on Saturday Night Live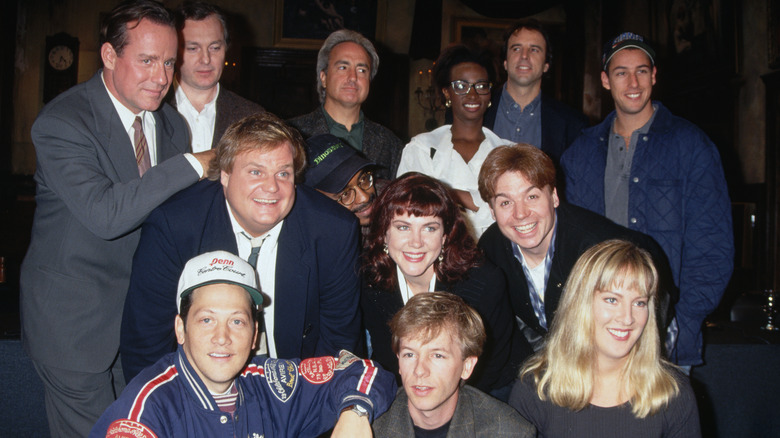 Mitchell Gerber/Getty Images
Rob Schneider and Adam Sandler shared the stage on "Saturday Night Live" during the 90s, and some would argue that SNL's best talent was present during their tenure. Mike Myers, Chris Farley and Phil Hartman to name a few. Schneider and Sandler had great chemistry on the show, making them fan favorites and paving the way for many successful films together.
Sandler joined SNL as a writer in 1990, then later as a cast member in 1991-1995. Schneider became an SNL writer in 1988 and joined the cast in 1990-1994. Both quickly became popular for their hilarious characters and memorable sketches. One sketch in particular that always makes us "LOL," takes place during the 18th season of the show. Sandler plays Grandma to guest star Michael Keaton, and regular cast member Chris Farley, who's also one of our favorites. Sandler as a Grandma is hilarious in itself, however towards the middle of the skit, Schneider shows up as a sleazy fake salesman who is about to swindle Grandma out of $500. 
"Good afternoon, ma'am, your name has been selected to appear in a special WHO'S WHO volume of retirees. You can pre-order an introductory copy for the special price of $500," sneers Schneider, as he tries not to break character and laugh while looking at Sandler in a messy grey wig. What we'd give for an SNL reunion with Sandler, Schneider, and the other 90s all-stars.
They both mourned the loss of Chris Farley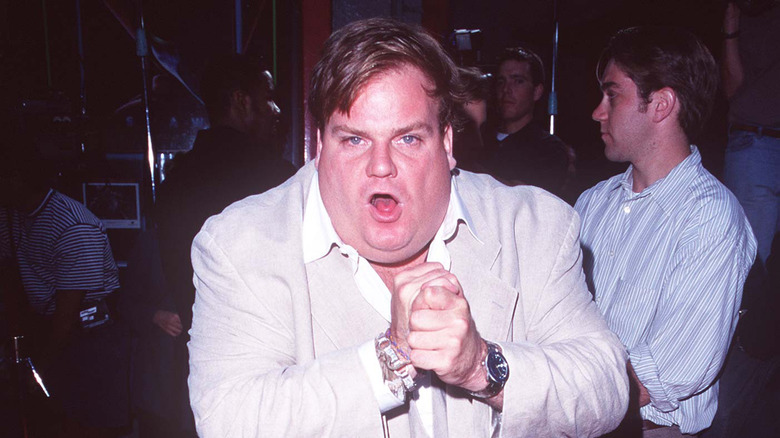 Steve Granitz/Getty Images
Both Adam Sandler and Rob Schneider shared a sweet bond and friendship with fellow comedian Chris Farley who was known for his larger-than-life personality both on and off the stage. Their friendship with Farley began during their time on "Saturday Night Live" and extended far beyond the show. Unfortunately, Chris Farley's sudden passing in December of 1997 left a major void in their lives, as well as the film, television and underground comedy community.
Sandler, Schneider, and Farley formed a tight-knit threesome during their years on SNL, arguably creating some of the best characters that the show has ever seen. We can't forget Sandler and Farley as the elderly "Hank and Beverly," or the classic song and skit, "Lunch Lady Land."
Chris Farley's funeral was held on December 23, 1997, at Our Lady Queen of Peace Catholic Church in Wisconsin. Besides Sandler and Schneider, comedians and actors like Tom Arnold, Chris Rock, Dan Akroyd, and John Goodman gathered to mourn Farley's passing. Sandler performed a heartfelt tribute to Farley in his 2018 Netflix special, "100% Fresh."
They were both hated by Bill Murray while on Saturday Night Live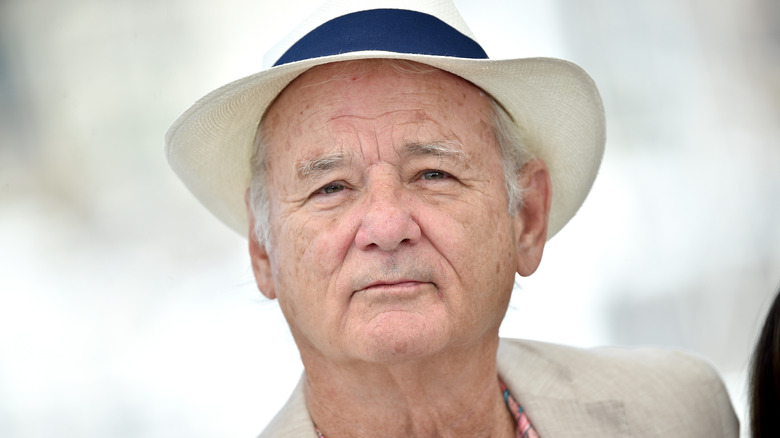 Lionel Hahn/Getty Images
It's no secret that the entertainment industry is highly competitive, which could potentially create riffs between actors and comedians all vying for the same role or gig. Many people were shocked in 2022 when Rob Schneider gave an interview on SiriusXM's Jim Norton & Sam Roberts Show, claiming that when veteran actor Bill Murray hosted "Saturday Night Live" in the 90s, he "hated" Schneider, Sandler and Farley. Murray was actually a cast member himself in the late 70s. "He wasn't very nice to us. He hated us on Saturday Night Live when he hosted. Absolutely hated us. I mean, seething," Schneider told Norton and Roberts (via Entertainment Weekly).
Schneider went onto speculate that Murray most likely hated Farley as he tried to be a lot like Murray's deceased friend John Belushi, and perhaps Murray didn't like to be reminded of his dead companion. He also explained via EW, " [Murray] really hated Sandler too ... He just wasn't into that groove of it, you know? And Sandler was just committed to it, and just like ... as soon as he would get on, you could see the audience just ate him up, you know?"
Schneider also noted that while Murray appeared to be difficult to work with on set, he was always nice to his fans. Come on, Bill! How could anyone hate funny guys like Farley, Sandler and Schneider?
Adam Sandler has cast Rob Schneider in over 15 of his films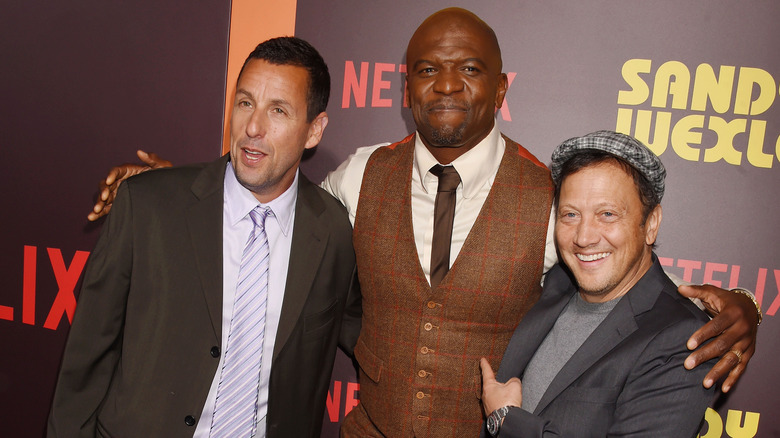 Jeffrey Mayer/Getty Images
Since the beginning of his career, Adam Sandler has always been loyal to his pals, especially Rob Schneider. Some might call it favoritism, but we call it a genius move. All of Sandler's friends are hilarious and Schneider is no exception. Over the years, Schneider has been a constant presence in a multitude of Sandler's movies.
Their film collaboration spans over 15 movies, making him a fan favorite in the world of "Sandler Cinema." We often wonder if their friendship and familiarity with one another is what makes them so successful together in films. 
Some of Schneider's most notable Sandler films are "The Water Boy", "Big Daddy," "Little Nicky," "Mr. Deeds" and "Happy Gilmore." Obviously, these represent only a fraction of the movies they've worked on together. It's clear the two have a mutual respect and share the same goal of making the audience laugh.
They've been there for each other's big milestones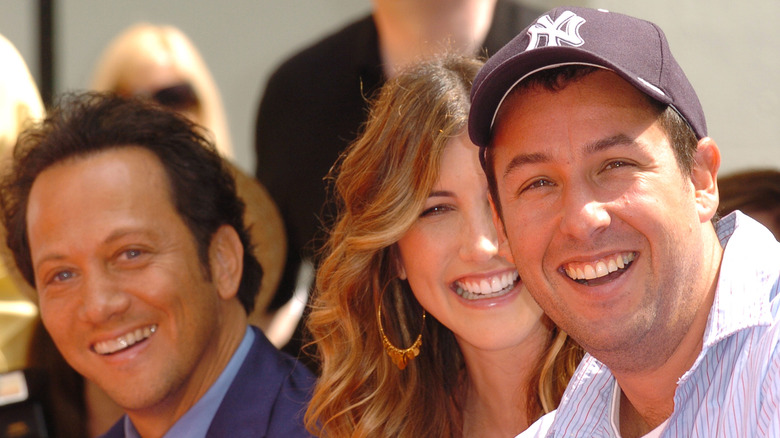 Steve Granitz/Getty Images
Being friends for over 30 years, Adam Sandler and Rob Schneider have been there for some huge milestones in each other's lives; weddings, kids, divorces and more. Adam Sandler and Jackie Sandler (formerly Titone) were married on June 22, 2003, after meeting on the set of "Big Daddy." Schneider, who was also in "Big Daddy," was of course present with bells on for the two's nuptials. Unfortunately, Schneider wasn't the best man, he lost out to Sandler's bulldog! Sandler went on to have two daughters, Sadie and Sunny, and Schneider remained a steadfast part of their lives. 
The two have also been there for one other through the hard times as well, like the death of Sandler's father Stan in September of 2003. Fans may remember Stan at the beginning of all Sandler's films as the face of "Happy Madison" productions. Schneider also publicly thanked Sandler for being there for him during his divorce from his first wife, London King, in 1990. 
"I'm happy that he's had this wild success because no one has ever been kinder to me. When I was going through my divorce and being reclusive, he was the one guy who reached out and refused to let me just crawl into my cave. He would call me all the time to check up on me. I've never had that kind of kindness from another guy, outside my dad," Schneider gushed about his friend.
Schneider once teased he knew all Sandler's secrets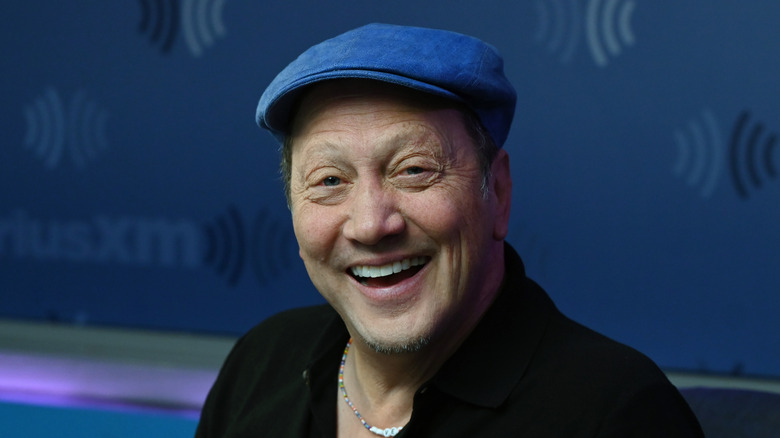 Slaven Vlasic/Getty Images
Hollywood can be dark, and the secrets of Hollywood can be even darker. Rob Schneider and Adam Sandler have never actually thought of themselves as "Hollywood" actors, and have always come across to fans as relatable and approachable. When Schneider gave an interview to Fox News in 2019, promoting the film "Murder Mystery," he stated that he would "destroy" Sandler if given the chance.
Besides the glaring fact that he was promoting a film about a literal murder mystery, Schneider clarifies in the article that it was all a joke. "I know all of Adam's secrets for 30 years and that's why he'd like nothing more than to lock me away for a crime he'd like to commit: taking away Kevin James' Happy Meal!"
In the same interview, Sandler also got his turn to clap back at Schneider, claiming he wouldn't mind seeing him behind bars one day. "It would be fun to hurt him. It would be fun to see him behind bars. And I would visit him every 10-15 years and say, 'I'm sorry I did this to you,'" Sandler joked. Gosh, we love this bromance so much.
Rob Schneider is open about his political affiliations and some wonder if Sandler shares the same views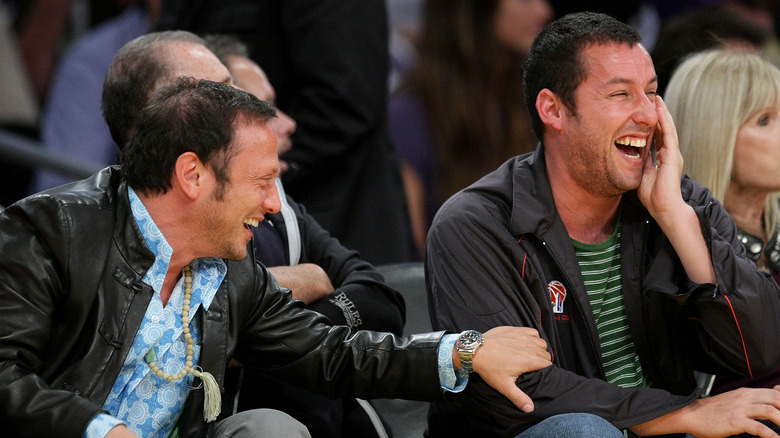 Noel Vasquez/Getty Images
Rob Schneider has been very vocal about going from a "lifelong Democrat" to becoming a Republican in 2013, and now a registered Independent as of 2023. In 2022, he told Glen Beck on his podcast, "I don't care about my career anymore. I care about my children and the country they're going to live in." 
During an interview with "Fox and Friends" (via Mediaite), Schneider claims that Governor of California, Gavin Newsom, made him switch parties. "I really feel like I don't want the Democratic Party trying to run my life. And there's not one aspect of your life that they don't want to interfere with," he said.
Schneider also hinted that he knows a lot of fellow actors and friends in Hollywood who feel the same way that he does, but are afraid to come forward as it may affect their career, thus remaining silent on the political front. "They're just scared of it because it really is like a mob of ideologues that just will attack you," he explained. Whichever way these comedians "lean," one thing remains steadfast; their lifelong friendship, and we are here for it.