How Michael Jackson Once Helped O.J. Simpson At A Critical Point
Pool/Getty Images
This article includes a discussion of sexual assault allegations.
O.J. Simpson and Michael Jackson are two pop culture icons who both had infamous court cases but also happened to have a surprising connection.
On the 10-year anniversary of the King of Pop's death, Simpson paid homage to Jackson by posting a video to X, formerly Twitter. "Rest In Peace Michael," Simpson wrote in June 2019. In the clip, the former NFL running back explained how Jackson helped him out of a jam once, though he didn't say exactly when this happened. "My house was under siege by the media ... Michael found out, he called me, he said, 'O.J.! You've gotta take the kids up to Neverland Ranch," Simpson said in the clip filmed while he sat in a golf cart.
This trip likely happened around the time that Simpson was acquitted of the murder of his ex-wife Nicole Brown and her friend Ron Goldman in October 1995. Simpson said he brought his children to Neverland Ranch to celebrate his daughter turning 10 years old, and she would've marked that milestone on October 17, 1995. "They were so excited. It was all they could talk about," a family friend said about the kids at the time, per the Chicago Tribune.
Afterward, Neverland Ranch became a destination that Simpson frequented with his kids and their friends through the years, as he told the Buffalo News in 2018. "This place was incredible, like being at the zoo and amusement park at the same time," he said.
O.J. Simpson and Michael Jackson were both Johnnie Cochran clients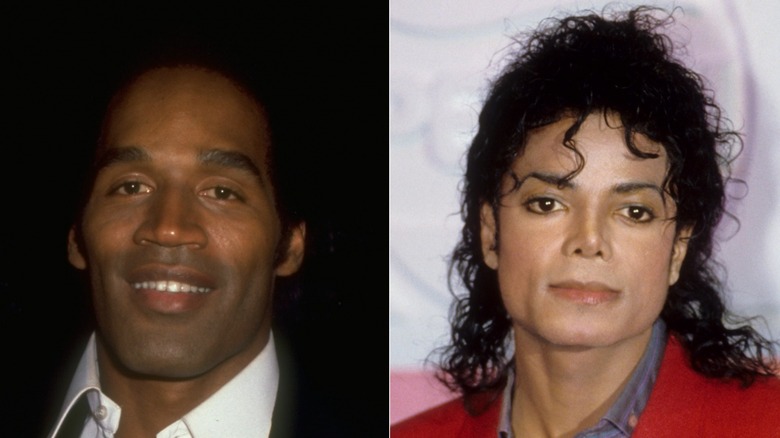 Michael Ochs Archives & Robin Platzer/Getty Images
The link between O.J. Simpson and Michael Jackson predates the time the "Thriller" artist invited Simpson and his kids to Neverland Ranch. According to the former Buffalo Bills star, he lived near the Jackson compound and his children became friends with Jermaine Jackson's children. "I've known the family for many many years. Michael's always been into his dancing and music," Simpson said in a 2007 interview with MN1. 
During that interview, Simpson said he originally reached out to Jermaine in 1995 and that was who contacted Michael about the Simpsons visiting Neverland Ranch. "I'm still very good friends with Jermaine Jackson," the "Naked Gun" actor added. Jermaine even attended Nicole Brown's funeral in 1994.
A decade after Michael opened up his estate to Simpson, the two also connected at the funeral of Johnnie Cochran in 2005. The singer and football player were clients of the famed lawyer. "O.J. Simpson owes Johnnie Cochran a life! Michael Jackson owes Johnnie Cochran a life back from that 1993 case that was settled," Rikki Klieman, a friend of Cochran, told CBS after seeing the pair at the funeral. 
Simpson spoke about his relationship with Michael shortly afterward. "I talk to his brother a lot, sent [Michael] a couple of messages, and of course [I saw him] at Johnnie's funeral," he told ESPN in 2005.
In addition to those connections, Simpson and Michael started a charity together.
Why O.J. Simpson defended Michael Jackson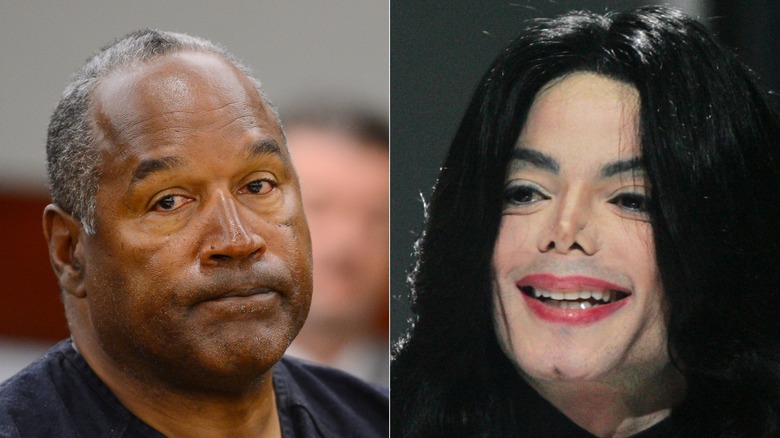 Dave Hogan & Ethan Miller/Getty Images
Michael Jackson once helped O.J. Simpson and a few other celebrities start a charity for sick children. "Back in the '70s, Michael, myself, Dustin Hoffman, Neil Diamond, we started a camp called Camp Good Times for kids with cancer," Simpson told ESPN in 2005. 
As Simpson recalled, Hoffman had a nephew who had cancer and had trouble finding a camp that would take a sick child, so the celebrities started one themselves. "Mike has always been involved with helping kids, especially kids with cancer, and I know that firsthand," Simpson said.
 Seeing Jackson display this generosity made Simpson doubt the sexual assault charges levied against the singer, which were later documented in "Finding Neverland." During his 2007 interview with MN1, Simpson spoke about the allegations. "I always thought Michael was more asexual than anything. I just refuse to believe it," the Pro Football Hall of Famer said.
When Jackson died in 2009, Simpson was behind bars. "It hurt me," he told the Buffalo News in 2018 when discussing his friend's death. Simpson said he was forced to bite his tongue at the time as many inmates had unkind words about Jackson. "Then when he dies, you can't get into an argument because some guy is cracking on Michael," Simpson added.
If you or anyone you know has been a victim of sexual assault, help is available. Visit the Rape, Abuse & Incest National Network website or contact RAINN's National Helpline at 1-800-656-HOPE (4673).