Why Selling Sunset's Bre Tiesi And Chelsea Lazkani Can't Stand Each Other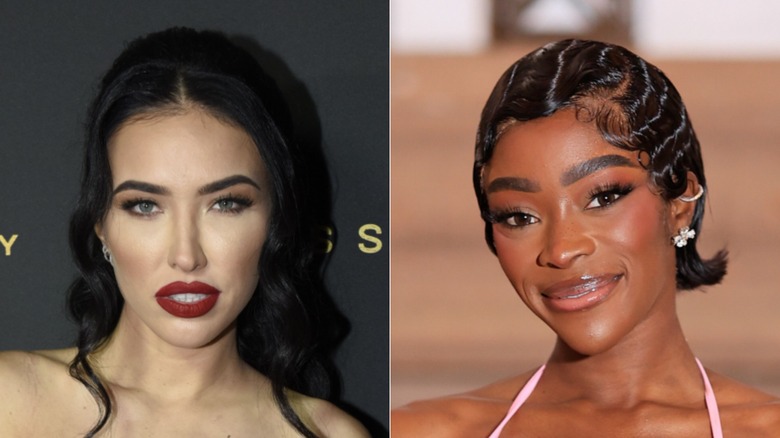 Vivien Killilea & Rachpoot/bauer-griffin/Getty
Bre Tiesi and Chelsea Lazkani are not sold on each other. 
Ever since "Selling Sunset" premiered, people have been grabbing their popcorn buckets and sitting on the edge of their seats to watch real estate agents go head to head — oh, and sell houses too. From Christine Quinn and Chrishell Stause's drama to Stause and Nicole Young battling it out, the show has had some iconic feuds. However, these feuds have had nothing on Tiesi and Lazkani. Ever since Tiesi joined "Selling Sunset," the two agents have been clashing non-stop.
Lazkani was the first to make a splash on the Netflix reality show when she joined the cast in Season 5. Quickly making friends with ex-castmate Christine Quinn, Lazkani was not shy about sharing her opinions on work and other agents. In 2022, the real estate agent shared with Vogue, "I'm intentional with the words that come out of my mouth. Some people may find that obnoxious or cocky, but it's not that at all. It's about embodying confidence that I think is going to translate into positive energy." 
While the other agents have seemed to become used to Lazkani's direct demeanor, there's one new agent who has fought back. Tiesi joined the "Selling Sunset" just one season after Lazkani. Unlike many of the other real estate agents, some fans may have recognized Tiesi as she and Nick Cannon, who famously has several kids, welcomed a child together. Tiesi's ties to Cannon mean many people have preconceived notions about her, and Lazkani was definitely one of them.
Bre Tiesi hated how Chelsea Lazkani spoke about her family
Bre Tiesi's style of living didn't sit well with Chelsea Lazkani, and no, we are not talking about their houses. Tiesi has close ties with Nick Cannon, with whom she welcomed a baby in July 2022. They seem like a picture-perfect family, but Cannon is not known for exclusivity as he famously has had several kids with different women. However, even if Cannon's other romantic affairs don't bother Tiesi, it definitely irked Lazkani.
When Tiesi joined Season 6 of "Selling Sunset," Lazkani wasn't afraid to share her thoughts about her new colleague's lifestyle. "I find Nick Cannon and Bre's relationship rather off-putting," Lazkani said on the show (via People). "Ultimately the way I live my life is very different to her, as a Christian, so I don't know if we will ever be super, super close friends."
Already writing Tiesi off, Lazkani even went as far as to say that Cannon was a "master manipulator" creating "broken homes." Being that "Selling Sunset" is filled with drama and gossip, what Lazkani said got back to Tiesi, of course, who was offended.
"It goes a little too far in my personal opinion," Tiesi said in an interview with People. "We're on a show; we're here to make TV. I get it. But also, this is my real life and not everything is as someone tries to make it seem." Tiesi said she was happy with her life and hoped that Lazkani could move on from the drama.
Things heated up between Bre Tiesi and Chelsea Lazkani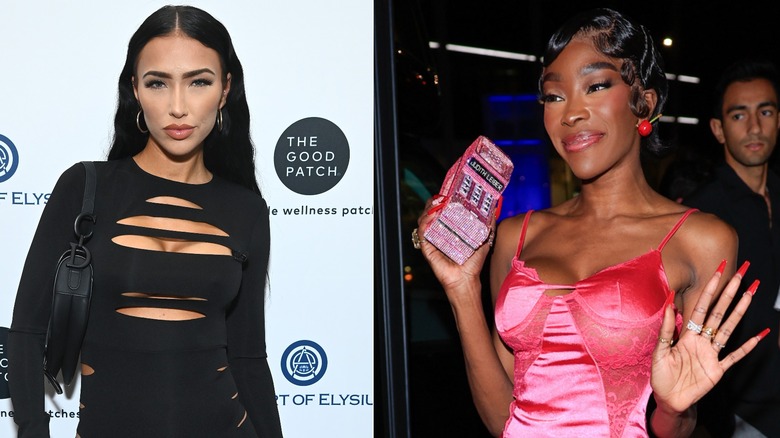 Rachpoot/bauer-griffin/Getty Images
Season 7 of "Selling Sunset" dropped in early November 2023, bringing some new drama and reigniting some old. Bre Tiesi and Chelsea Lazkani's ongoing feud was brought to light once again this season, although Lazkani did show a bit of remorse for what she said in the past. 
Lazkani reflected on her past comments toward Tiesi, telling The Messenger, "I watched it back, and I was like, 'That's not the Chelsea that I've evolved to be.' Why was I so triggered in those moments?" Lazkani had a change of heart that led her to apologize to Tiesi in Season 7, although it wasn't accepted. "Sometimes you give an apology without any expectations on the backend," Lazkani told The Messenger.
Tiesi and Lazkani's relationship worsened when Chelsea befriended fellow real estate agent Cassandra Repstad. Repstad made several appearances in the latest season of the Netflix hit show, including the finale when Tiesi blew up on her and said she was "done" with everything, per US Weekly. 
Tiesi's abrupt exit has many fans wondering if she will return for Season 8, and — spoiler — there's a chance she might not. "I'm definitely taking a break from the [Oppenheim Group]," she told the Daily Mail. "I'm just reevaluating, and I'm going to take a step back and see how I feel after I have a little time." So it looks like Lazkani and Tiesi's feud may lead her to leave the show completely.