This Dodgeball Star Is Gorgeous Once You Remove Her Fake Teeth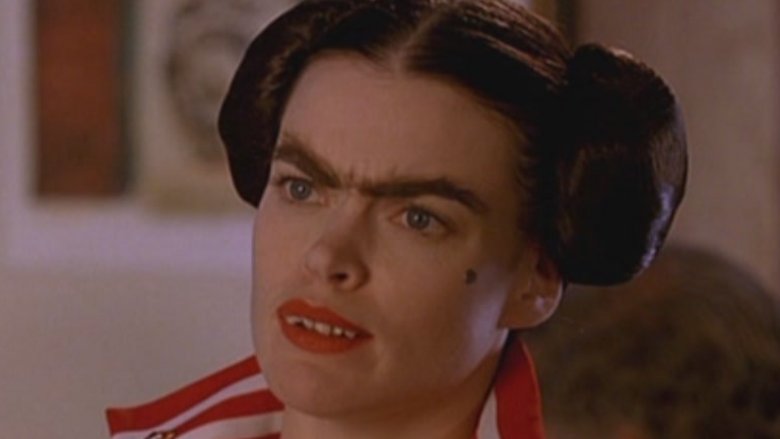 20th Century Fox
Dodgeball: A True Underdog Story joined the ranks of other beloved sports comedy films like Caddyshack, Kingpin, and The Sandlot in 2004. Led by movie stars Vince Vaughn and Ben Stiller, this flick boasted an impressive cast of other famous faces, including an unrecognizable Missi Pyle as Fran Stalinovskovichdavidovitchsky.
This mid-2000s classic centers on Peter LaFleur's (Vaughn) Average Joe's Gym and its ongoing rivalry with the neighboring fitness chain Globo Gym, owned by Stiller's White Goodman. When Average Joe's faces foreclosure and demolition, Peter enters the Dodgeball Championships in Las Vegas with a team full of misfits to earn enough money to save his business from White. Standing in Peter's way is White's team of elite players, including the "Romanovian" dodgeball champion Fran.
Even those readers who can quote Dodgeball word-for-word may not have recognized the gorgeous actress behind Fran, who underwent a major transformation in her portrayal of the scene-stealing character via brunette side buns, a fake mole, a unibrow, and bad teeth. However, in real life, Pyle is a blonde bombshell and prolific on-screen talent, so chances are you've seen her other work.
As a major player in film and television, 46-year-old Pyle is a hilarious, go-to character actress in Hollywood. According to her IMDb page, she's accumulated an astounding 170 credits to her name over the last two decades. Pre-Dodgeball gigs notably included supporting roles in movies like Galaxy Quest, Big Fish, and Anchorman, as well as appearances on the small screen in Friends, Frasier, Aly McBeal, and Mad About You. 
Since battling it out on the dodgeball court 15 years ago, Pyle has continued to score dozens of eclectic on-screen roles in a variety of projects, like Charlie and the Chocolate Factory, Gone Girl, and the Oscar-winning The Artist. She's also guest-starred on shows like Pushing Daisies, Grey's Anatomy, and Inside Amy Schumer. As of this writing, 2019 will see her return to the big screen with six different projects, such as Deported, Ma, and Ghosting.
During an interview with The A.V. Club in 2016, Pyle revealed that she went the whole nine yards when auditioning for her fan-favorite Dodgeball character. "I drew on eyebrows and didn't wear any makeup, just bright red lipstick. I think I drew a mole on," she said, adding, "I looked so ridiculous." Her unrecognizable appearance was so shocking that "the casting assistant was like, 'Oh my God'" when she showed up. 
While the filming experience was "a lot of fun," Pyle went on to admit that her costume made her feel self-conscious about her looks. "I was also so unattractive in that movie," she said. "I had the fake teeth. It was hard because all those dodgeball tournament scenes — you know, getting extras for a scene like that — a lot of extras were from halfway houses or work-release programs where you have to put in hours. Every time I'd come out, people would be like, 'Ugh!'"
The uncomfortable realities of movie magic aside, Pyle not only looked nothing like Fran in real life, she also unfortunately lacked the character's mad dodgeball skills. On the first day of practice, the actress got "pounded in the face with a dodgeball" and threw out her neck. "I've always considered myself an athletic person, but I think I'm just somebody who likes to try athletics," she went on. "Because I'm tall, so you'd think I'd be better than I am, but I'm not necessarily that great."
Dodgeball was a commercial and critical success. Grossing $167.7 million worldwide (via Box Office Mojo), the film scored a 70% rating on Rotten Tomatoes. "Proudly profane and splendidly silly," the site's general consensus read, "Dodgeball is a worthy spiritual successor to the goofball comedies of the 1980s."
While rumors of an upcoming long-awaited sequel have been circulating since 2013, the future of Dodgeball 2 unfortunately remains unclear at the time of this writing (via Metro). However, comedy fans were treated to a surprising reunion of sorts in June 2017, when multiple cast members —including Stiller, Vaughn, Justin Long, and Christine Taylor — joined forces for a charitable competition through Omaze to benefit the Stiller Foundation. According to its website, the charity "seeks to promote the well-being of children worldwide through initiatives that support education." Also reprising her popular on-screen alter ego was Missi Pyle herself as Fran.
As the sage Dodgeball saying goes, if you can dodge a wrench, you can dodge a ball ... and apparently deliver a stand-out performance in disguise.