Inside Adam Sandler's 20 Year Marriage To His Wife Jackie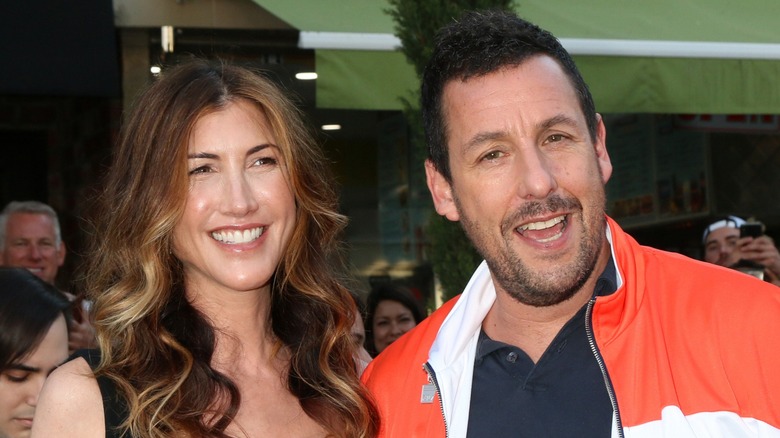 Kathy Hutchins/Shutterstock
At this point in time, happy, healthy, and long-lasting relationships are pretty hard to find, especially in the entertainment industry. However, some relationships, or marriages, are predestined to last longer than other ones, or for a lifetime. One such marriage we have witnessed growing and blossoming over the last 20 years is that of actor Adam Sandler and his wife, Jackie. Now parents to two teenagers, the couple got married in 2003 and has been seemingly going strong ever since.
Even though Adam and Jackie don't typically keep their personal lives away from the public eye, there is still a lot even the craziest Adam Sandler fan may not know about the couple. Irrespective of whether you like the comedian or not, his love story will restore or strengthen your faith in love without fail. Scroll down and take a look inside Jackie and Adam Sandler's 20-year-long marriage through their very own words.
The duo met on the set of 1999's Big Daddy
Born Jacqueline Samantha Titone in 1974, Jackie Sandler hails from Coral Springs, Florida. Shortly after making a name for herself as a young fashion model, Jackie landed her debut movie role in the 1999 film "Deuce Bigalow: Male Gigolo," starring Rob Schneider. Schneider, impressed by Jackie's portrayal of the character Sally in the movie, referred her to his friend — none other than Adam Sandler. Soon, Adam helped Jackie get cast as a briefly-appearing waitress in 1999's "Big Daddy." All it took the couple to apprehend their love for each other was one eye lock on the set, and the rest is history.
As evident from a 2020 Instagram post to the comedian, the date of his first encounter with his now-wife is not only significant, but it's also worth celebrating and letting the world know. Sharing what seems to be a really, really old photo of the couple, Adam wrote in the caption, "22 years ago today we locked eyes and fell deep. Look forward to the next 22, young lady."
Jackie converted to Judaism the same year they were rumored to have broken up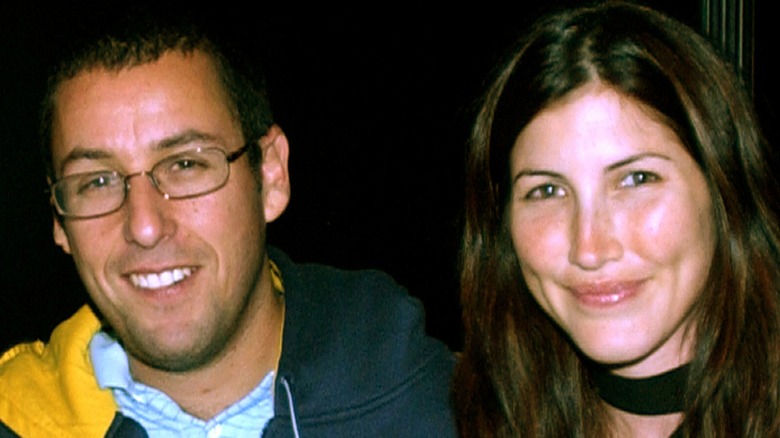 Denise Truscello/Getty Images
In April 2000, the Sun Sentinel reported that Jackie and Adam Sandler, who were allegedly getting ready to tie the knot at the time, called their engagement off over a prenuptial contract Jackie refused to sign. While Jackie's mother refrained from commenting on the situation when the outlet reached out to her, her father stated, "Jackie has a career of her own now, and even if they're not married, I'm hoping they can still have a professional relationship." However, Adam's then-publicist denied the claim, telling the publication, "They're still together. These are just vicious rumors."
That same year, Jackie converted to Judaism, honoring her love for the Jewish actor. During an episode of "The Howard Stern Show," when Stern questioned Adam about how religious he is — based on the fact that Jackie adopted his religious beliefs — Adam noted, "I'm not crazy religious, [...] but I'm proud of being a Jew, and that's what I am." While it's unclear whether Jackie converted before or after the rumored split, the conversion was a milestone big enough to prove how strong the couple's bond was and how valuable Adam's faith in his religion was to Jackie.
Adam popped the question in 2002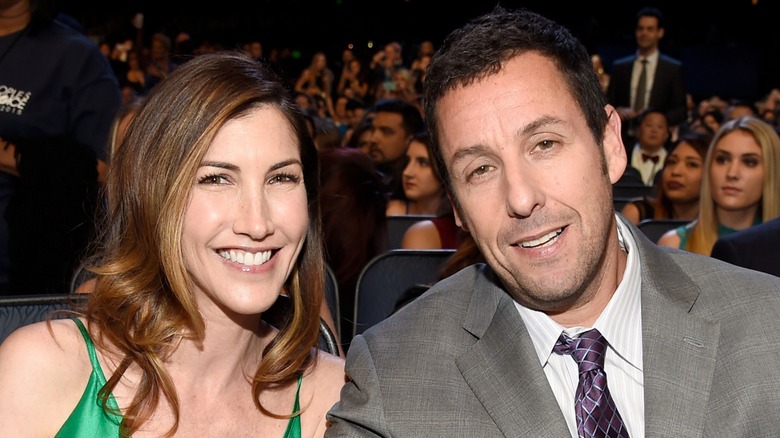 Kevin Mazur/Getty Images
Although Jackie and Adam Sandler were rumored to be planning a wedding almost immediately after they started dating and went official with the relationship, it actually wasn't until 2002 that the couple got engaged. It was through a June 2002 article published by ABC News that the world got to know that Adam popped the question, and Jackie said, "Yes." Revealing how he went about the proposal, Adam told the publication, "I played basketball that afternoon, trying to calm down, and then I was driving, I was saying the stuff out loud and trying to, you know, make sure I hit all of the right things so she would remember nice stuff, and I did all right."
It would be an understatement to say that his proposal instantly had one successful outcome because it had two. "[Jackie] called her grandmother right after, and her mother, and they all said, yeah, I heard the applause over the phone and stuff," Adam recalled. Clearly, the Titones were overwhelmed with joy, and so were the Sandlers, we assume.
The lovebirds tied the knot in 2003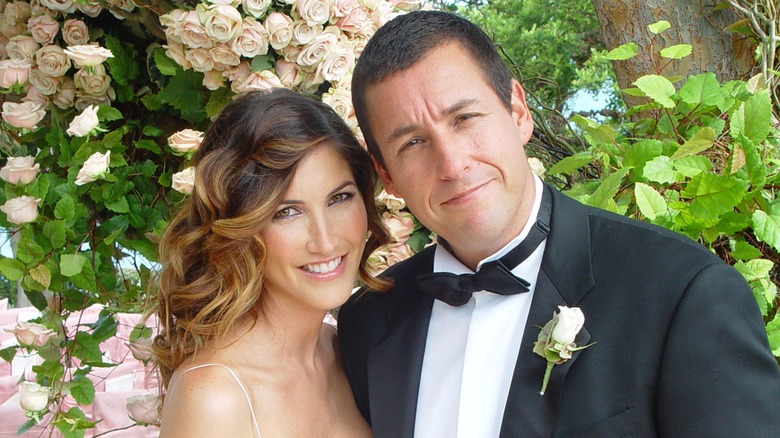 Getty Images/Getty Images
In June 2003, exactly a year after Adam Sandler proposed to Jackie, the pair had a lavish Jewish wedding in Malibu, California. Reports claim that around 400 people close to the couple and their families were invited. The guest list was indeed star-studded, with several celebrities attending the event. Rob Schneider, Jennifer Aniston, Rodney Dangerfield, Dustin Hoffman, and Sharon Osbourne are said to have been present at the venue. Adam's bulldog, Meatball, wore a tux to the ceremony and pootled ahead of the bride as she walked down the aisle.
Revealing the secret to his decades-long marriage, Adam told AARP in 2022, "[Jackie and I] try to make each other laugh, try to listen, try to include each other, try to support each other. We try our best — that's all. And we don't ever think of not being together." Jackie, on the other hand, told ET in 2023, "He's always trying to make me laugh, and I'm always trying to make him laugh, so it works out." The duo is clearly on the same page, and it's likely one of the reasons they have effortlessly managed to stick together throughout the years.
In June 2023, commemorating their 20th wedding anniversary on Instagram, Adam wrote alongside a photo from their big day, "My heart has been yours since the first second I saw you, and I love and appreciate your devoted soul more and more each day."
The couple shares two daughters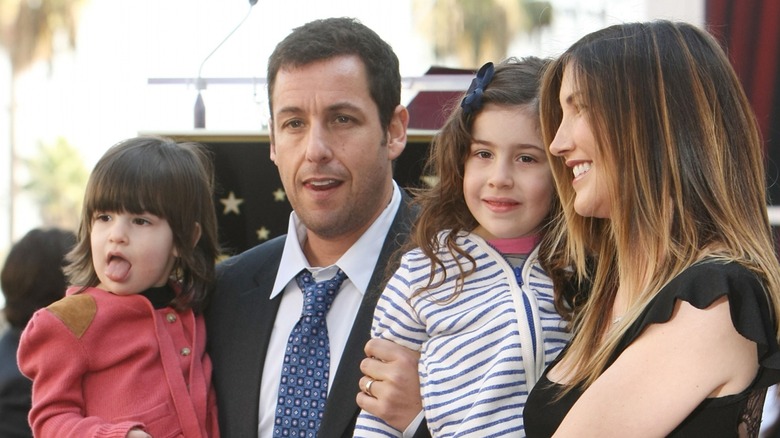 Eric Charbonneau/Getty Images
Jackie and Adam Sandler welcomed their first daughter, Sadie Madison, in May 2006. At the time, Adam announced the news on his website, writing, "Kid is healthy!! Wife is healthy!!" (via People). Back in early 2008, when Jackie conceived again, it was little Sadie who helped Jackie tell Adam about the pregnancy, and she did it in the sweetest possible way. As Adam revealed in a June 2008 episode of "Live with Regis and Kelly," the day he got the news, Sadie stayed up late at night, waiting for Adam to come home so that she could hand him "a little something, like a gift," (via People).
Needless to say, Adam was bowled over when he found out it was a pregnancy test kit that confirmed Jackie was expecting. Jackie gave birth to the couple's second daughter, Sunny Madeline, in November 2008. Following Sunny's birth, Adam's now-defunct website read, "Everyone is happy and healthy," (via People). Over the years, Sadie and Sunny have played and voiced a number of characters in quite a few Adam Sandler-starring films. Sadie has been in movies like "Hotel Transylvania," "Murder Mystery," and "Hubie Halloween," whereas Jackie has been cast in films like "Grown Ups," and "Pixels."
The pair has worked on a number of films together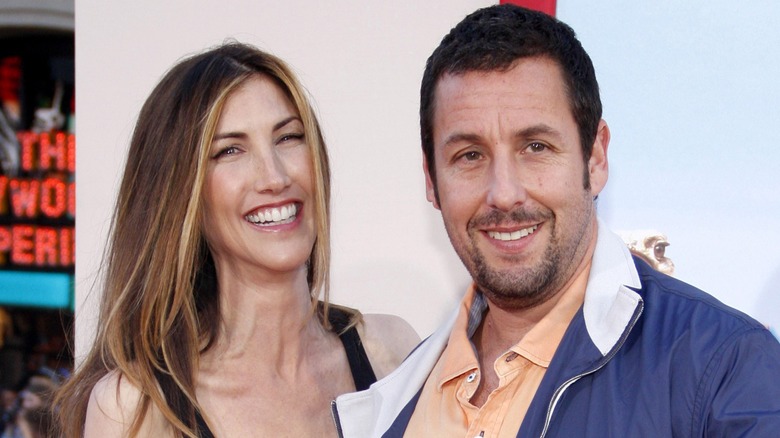 Tinseltown/Shutterstock
In 2000, Jackie was seen in yet another Adam Sandler film, "Little Nicky." Soon, Adam started asking directors to cast Jackie in his movies, and her appearance became somewhat of a tradition. Peter Segal, for example, had to offer Jackie the role of a dentist in his 2004 rom-com "50 First Dates" because he was determined to keep Adam as the protagonist by any means. In the 2000s, Jackie was seen playing small roles in movies like "I Now Pronounce You Chuck and Larry" and "Bedtime Stories." However, she did earn herself a notable role in 2002's animated movie "Eight Crazy Nights," voicing a childhood friend of Adam's protagonist.
Throughout the 2010s, Jackie kept appearing in movies, and most of them either starred Adam or had him involved in some way or another. Some Adam Sandler hits you may have noticed Jackie in without realizing include "Just Go With It," "Blended," "Murder Mystery," and "Hubie Halloween."
Jackie wants Adam to get in there and focus more on his romantic scenes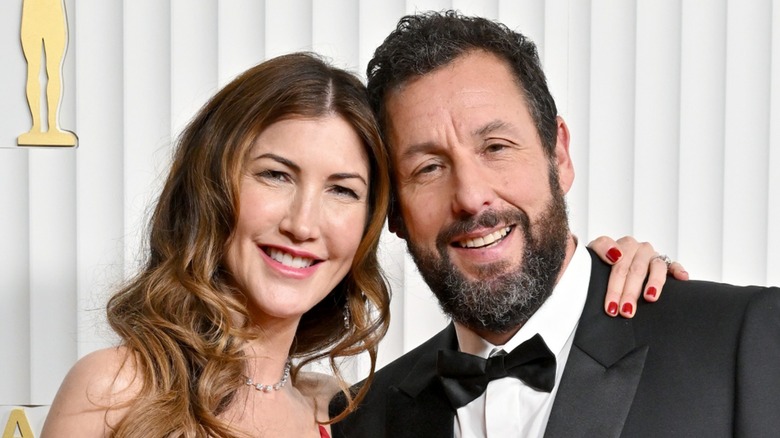 Axelle/bauer-griffin
Jackie is probably the biggest supporter as well as the fussiest critic Adam Sandler has. During a 2014 appearance alongside Drew Barrymore on "The Ellen DeGeneres Show," Adam revealed that his wife is pretty hard to please when it comes to the actor filming romantic scenes with his co-stars. As Adam recalled on the show, shortly after he shot a romantic scene with Barrymore for a movie, a disappointed Jackie told him, "Just, please, for the sake of women, get in there and just look a little more alive."
That said, Jackie isn't Adam's only critic. As the actor noted on the talk show "Conan," his daughters judge his romantic scenes as much as Jackie does if not more. Speaking of a kissing scene with Jennifer Aniston, Adam revealed how his daughters criticized his performance, telling Conan O'Brien, "My two daughters [were] like, 'Come on, be nice to Jennifer. Kiss her good.'" With that many critics living under the same roof as Adam, his terrific acting skills and towering success should come as no surprise.
Thanks to Jackie, we got to see Adam as Howard Ratner in Uncut Gems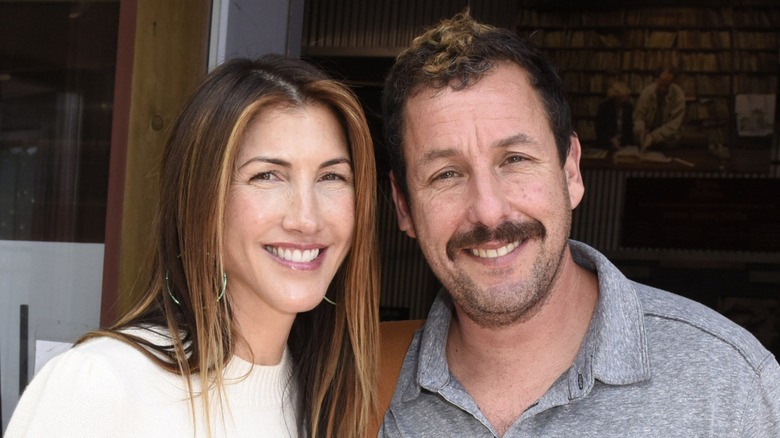 Vivien Killilea/Getty Images
One of Adam Sandler's greatest hits is 2019's "Uncut Gems," a movie that made the actor step out of his comfort zone. In the Safdie Brothers-directed movie, Adam, whom we know for his comic roles, portrays a New York-based gems dealer buried in debt due to his gambling addiction. The crime drama was an instant hit, with his performance earning him an Independent Spirit Award, a Boston Society of Film Critics award, and a National Board of Review Award.
However, Adam wouldn't have been a part of the film if it wasn't for his wife. Intimidated by the script, Adam was initially scared and planning on rejecting the role, but Jackie's encouragement helped him get over that fear and step into the character with much ease. "I read the script, and I was terrified... [Jackie] was like, 'Oh my God! It's great'... She just calmed me down and said, 'You can do all this stuff. Commit to it. Jump in,'" Adam noted on the "Dan Patrick Show."
Their family teamed up for two 2023 Netflix movies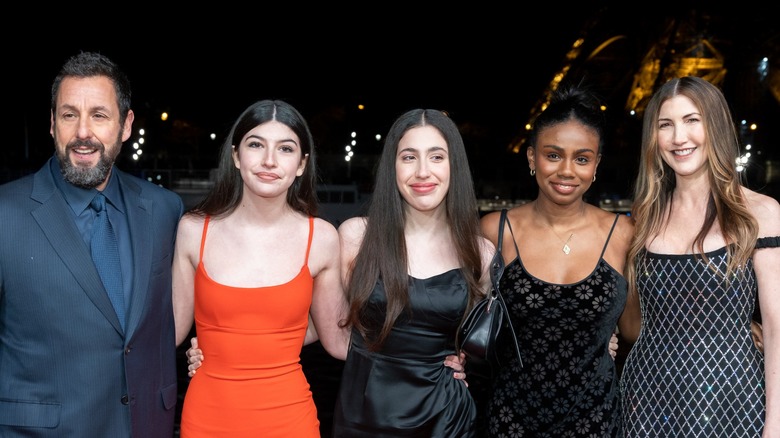 Marc Piasecki/Getty Images
The Sandlers were recently seen in Netflix's 2023 film "You Are So Not Invited to My Bat Mitzvah," which featured Sunny as one of the lead characters. The plot revolves around two best friends — Sunny playing Stacy Friedman and Samantha Lorraine as Lydia Rodriguez Katz — and the ups and downs of their friendship. While Adam and Idina Menzel were cast as Stacy's parents, Jackie played Lydia's mother in the film. Sadie, on the other hand, played Stacy's older sister, which, we assume, made the bond of the onscreen sisters more naturalistic and true to life.
Following the movie's release, the Sandlers faced a huge backlash online, with netizens calling Adam out for practicing nepotism. Shortly after social media platforms flooded with such posts, the film's director, Sammi Cohen, expressed his thoughts to The Hollywood Reporter. In Cohen's words, "Sandler has a reputation for making movies with his friends, and that's something we all want to do. What I say is he's still making movies with his friends, but they're his kids. He is the kind of dad who's also your best friend."
The family is currently waiting for the release of "Leo," an animated film they all voiced characters for. "Leo" will be released on Netflix in November 2023.