Whatever Happened To Mandy Moore's First Husband Ryan Adams?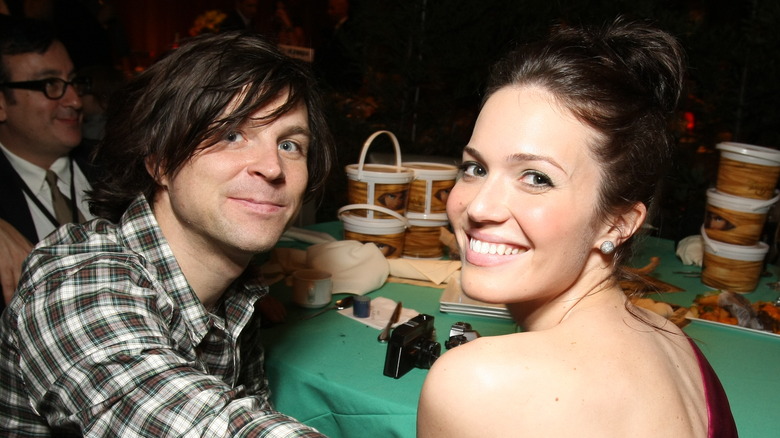 Eric Charbonneau/Getty Images
Mandy Moore and singer-songwriter Ryan Adams seemed like a match made in heaven. Both were making a career in the performing arts before they got hitched in 2009. While Adams garnered acclaim for his solo career and as a member of the alt-country band Whiskeytown, Moore was making a name for herself as a musician and for her roles in films like "A Walk to Remember." A month after tying the knot, Moore spoke to Entertainment Weekly about her relationship with Adams. "That's [Music] definitely a common interest between the two of us ... It's nice to be able to share that with one another, and share new things that we discover and find." However, fame ultimately strained Adams' personal life, especially his marriage with actress Mandy Moore.
Moore filed for divorce in 2015, citing irreconcilable differences. In a statement to Us Weekly, the pair said, "It is a respectful, amicable parting of ways and both Mandy and Ryan are asking for media to respect their privacy at this time." The aftermath revealed Adams' struggles with drug and alcohol addiction, with Adams writing in a since-deleted tweet, "When someone told me we got married I thought they were joking. Then I realized how many painkillers I was taking. Honestly there weren't enough to numb the shock." And if his romantic life was falling apart, his professional life was about to take a hit that would have him begging for a second chance.
The fall of Ryan Adams: allegations, apologies, and FBI investigation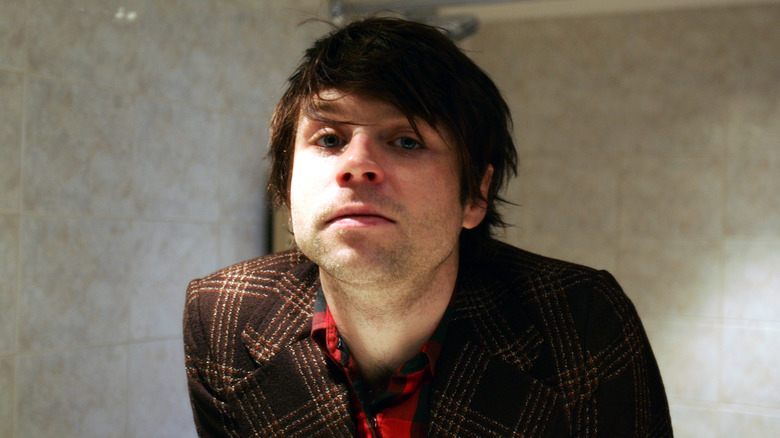 Andy Willsher/Getty Images
Ryan Adams' career hit rock bottom when multiple women, including his former wife Mandy Moore and singer Phoebe Bridgers, made some serious allegations against him. Adams was accused of exploiting women in various ways. In a 2019 New York Times article, Moore alleged that he was controlling and effectively prevented her from furthering her music career during a crucial period in her life.
Furthermore, the outlet alleged that the musician had participated in the text exchange with an underage fan. He was ultimately required to hand his phone over to the FBI for further investigation, but the Los Angeles Magazine reported that the FBI ultimately dropped the investigation. The girl in question also made a statement that put her conversations with Adams in perspective. She said, "I was not truthful about my age in my texts and communications with Ryan and I repeatedly told him I was 18. Contrary to the New York Times article, Ryan and I both freely participated equally in texts of a sexual nature with one another ... Ryan is a good human being and my sole wish is that both of us have learned from this experience." 
The "100 Problems" author has made public and private apologies, but his reputation was already in shambles. Adams acknowledges the tumultuous period, telling the Los Angeles Magazine, "I felt like they were asking me to die." 
If you or anyone you know has been a victim of sexual assault, help is available. Visit the Rape, Abuse & Incest National Network website or contact RAINN's National Helpline at 1-800-656-HOPE (4673).
Ryan Adams' journey to redemption and health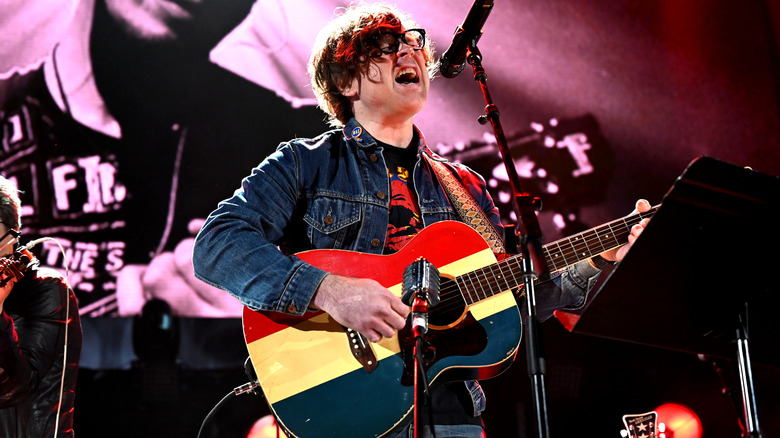 Kevin Mazur/Getty Images
Ryan Adams embarked on a journey of redemption. In a September 2023 Instagram post, Adams expressed gratitude for his newfound resilience, stating, "Today I am 2 years sober... It's been a journey to unravel what has fueled my sorrow." He shared that he had been working on boundary setting, too. 
Adams also revealed some thoughts about his songwriting process. He explained, "The guitar has started talking to me again. I dream songs like I used to when I was 25. ... My music was always meant to be a map for myself, to make sense of the broken places and things in a life. ... Music saved my life." Professionally, what Adams has achieved in the last two years has been nothing short of amazing. With the help of a new team, he's looking to put the past behind him. In 2022, he released five studio albums and sold out his Carnegie Hall comeback performance. Additionally, the prolific musician reunited with The Cardinals this year, over a decade after their initial breakup.
Adams also credits his faith for his new perspective. He continued, "I see God in everything. I feel alive. Even when I am dizzy. Especially when I am unwell." In August, he canceled his 2023 solo tour due to a "relentless spell of illness" but hopes to reschedule in 2024. The singer was diagnosed with Ménière's disease around 2007 and often posts about his challenges with the condition.