The Medical Condition TLC Star Tionne Watkins Lives With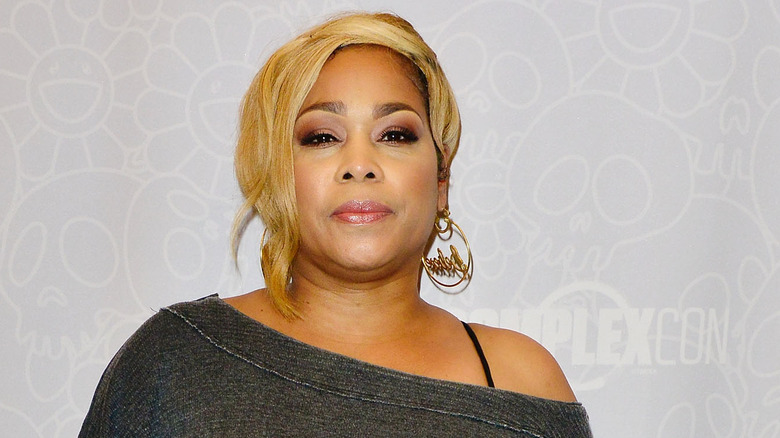 Jerod Harris/Getty Images
Fans first met Tionne "T-Boz" Watkins when her group, TLC, debuted in the early '90s. Watkins was young, talented, and seemingly the picture of perfect health. Unfortunately, the superstar had been dealing with a serious medical issue called sickle cell disease — a disorder that affects the shape of a person's red blood cells, according to WebMD. In addition to organ damage caused by lack of oxygen, sickle cell disease can also cause severe pain, damaged vision, and other severe, potentially life-threatening symptoms.
While Watkins was misdiagnosed early in her life, she received her proper diagnosis at the age of 28. This came over two decades after her doctor delivered her a grim prognosis at the age of seven: She wouldn't live past 30. "Most doctors don't tell a child 'you can die by the time you're 30. You'll never have kids, and you'll be disabled,'" Watkins revealed during her 2017 Build Series interview. Fortunately, Watkins' mom reassured her that her destiny was in God's hands and that doctors sometimes get things wrong. Fortunately, she was right. Now in her 50s and a mother of two, Watkins has certainly beaten the odds. But that doesn't mean she hasn't struggled with the disease.
T-Boz also had a brain tumor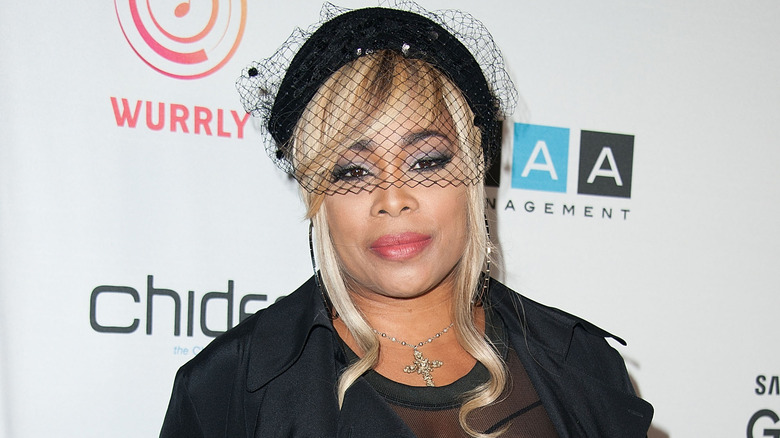 Jennifer Lourie/Getty Images
Unfortunately, sickle cell disease isn't the only serious medical condition that Tionne Watkins has dealt with over the years. In 2006, Watkins was also diagnosed with a non-cancerous brain tumor that required surgery. "I started having headaches. They were so frequent; something was wrong," Watkins revealed to CNN in 2011 (via The Hollywood Reporter). Then, her doctor gave her a troubling diagnosis. "My doctor called but his voice sounded funny. And I said, 'You're going to say something like I have a brain tumor or something right?' And he got quiet."
After receiving her diagnosis, Watkins' sickle cell disease made finding a surgeon to operate on the tumor extra difficult. "They were like, 'No, I'm sorry, sickle cell is a factor, that's your reality and you can die,'" Watkins revealed to CBS News in 2009. However, Watkins was adamant about getting the surgery in the hopes that it would prolong her life. "I'm still going through old school surgery and I want to find that person who I have faith in saving my hearing and even trying to just save me, save my face, save my balance, try, just try," recalled Watkins. Fortunately, Watkins' neurosurgeon, Dr. Keith Black, successfully removed the tumor.
How T-Boz's health issues impacted her career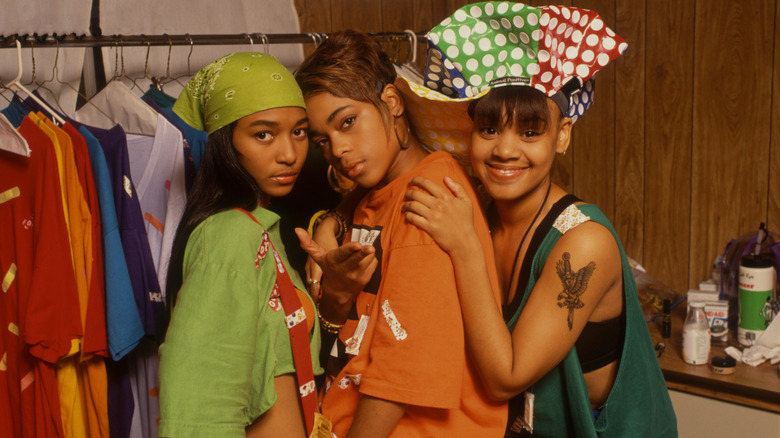 Tim Roney/Getty Images
TLC went on to become one of the most popular girl groups in history, but Tionne Watkins' health issues impacted their career. When reveling in the fact that CBD had helped her to stay healthy enough to tour in recent years, Watkins revealed that her disease had upended several of TLC's past tours. "And everybody who's been on tour with TLC knows that's astronomical for me, honey, because I am known for messing up a tour," shared Watkins with Essence in 2022. One year earlier, TLC rescheduled an October performance for their "Celebration of Crazy Sexy Cool Tour" after Watkins had an allergic reaction. A few years earlier, Watkins suffered from a neck injury, which caused TLC to postpone their European concert dates.
"After performing in front of over 200,000 fans in N. America on a very successful run of dates in the US this summer, T-Boz injured her neck and is suffering from severe physical pain." read a statement posted to the TLC Facebook page. That said, Watkins has also often performed while sick without her fans knowing. "If I had a bad day onstage, I just let [fans] think that I had a bad day, but I never really shared that I just got of the hospital bed or this or that," said Watkins to People. "I don't want them to pity me. So I'd just take the hit."
Resilient to her core!