How Much Did Jane Seymour Get In Her Divorce From James Keach?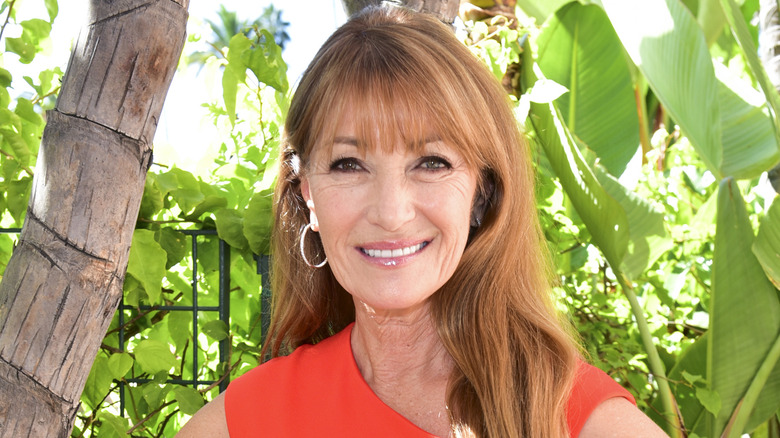 Rodin Eckenroth/Getty Images
Divorce is a subject on which screen vet Jane Seymour is all too well-versed; the "Dr. Quinn, Medicine Woman" alum has endured four divorces throughout her life — but what did she walk away with in her divorce from James Keach? Her first two marriages, to Michael Attenborough and Geoffrey Planer, respectively, lasted but two fleeting years or less. Her third union to business manager David Flynn yielded Seymour her first two children, Sean and Katherine, but the "Live and Let Die" star divorced him in 1992.
With actor-director James Keach, however, Seymour at least had the chance to swap crystal as an anniversary gift. Wedded for 22 years, Keach became father to Seymour's other two children, twins John Stacy and Kristopher Steven, before the couple separated in 2013 (they finalized their divorce in 2015). However, Keach — whom she met on the set of "Dr. Quinn, Medicine Woman" — reportedly shared one crucial trait with her other ex-spouses. "He found someone else... I don't do well with betrayal," she told Daily Mail in 2019. As Seymour added with People in 2021, "I was married to men who had different issues, and I never ended the marriages — they did, by finding other people." 
Seymour wasn't afraid of getting her heart broken again, as she found love once more with filmmaker David Green in 2014, whom she dated for nine years. In October 2023, just months after splitting from Green, Seymour gleefully went Instagram-official with a new beau — musician John Zambetti. Newfound love aside, Seymour also walked away from her last marriage with the consolation prize of a huge divorce settlement.
Jane Seymour and James Keach had a typical high-asset divorce settlement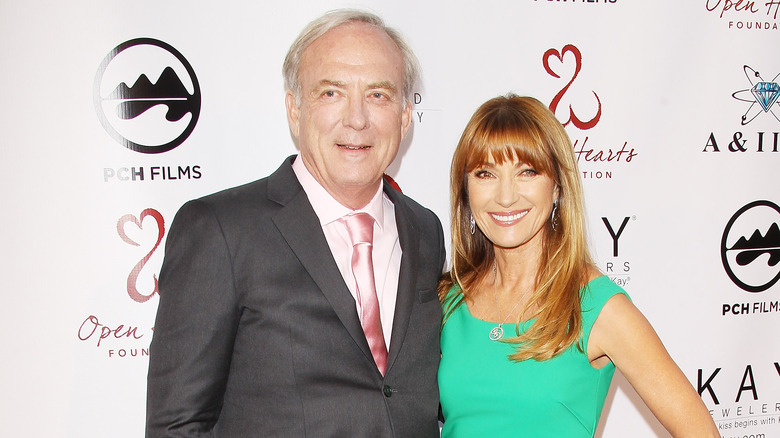 Michael Tran/Getty Images
As a former couple of significant collective wealth, the 1025 divorce of Jane Seymour and ex-husband James Keach involved the division of some substantial assets. In terms of property, Seymour was allowed to keep their homes in Malibu and England while she and Keach split their membership at the exclusive Sherwood Country Club in Thousand Oaks, California. The former Bond girl also received a tax-free lump sum payment of nearly $132,000. 
Another facet of their settlement was the division of their ongoing sources of income and unique assets. Keach was awarded the couple's season tickets to the Los Angeles Dodgers, while he and Seymour split their impressive collection of 200 South African Krugerrands and Canadian Maple Leaf Coins, which are valued at over $1,000 apiece. As co-producers on Seymour's name-making TV show, "Dr. Quinn, Medicine Woman," and the 2005 Johnny Cash biopic "Walk the Line," the ex-spouses decided to split all future earnings from these projects evenly.
Despite being dealt a fair hand in this high-asset divorce, Seymour still considers her lasting friendship with Keach the biggest prize. Although calling the divorce "a major shock to my system" at the time, the actor told HuffPost in December 2014 that "now, two years later, we are very good friends. ... We're a family. We realize the marriage may not be intact, but the family is intact and always will be."
Jane Seymour lost her fortune thanks to another ex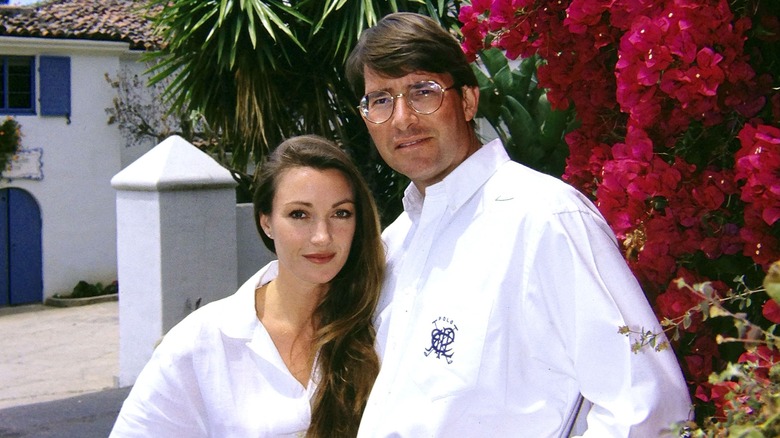 Paul Harris/Getty Images
James Keach's reported infidelity wasn't the only time during a marriage when Jane Seymour felt betrayed by her spouse. According to Seymour, her third marriage to businessman (and her business manager) David Flynn was sabotaged by secret, irresponsible financial decisions on his part, costing them their fortune. As Seymour told the Daily Mail in 2019, "Of course, I trusted him. But he had invested in all kinds of business transactions that I knew nothing about. ... By the time I found out, everything had gone."
$9 million in debt and knee-deep in lawsuits from major banks, Seymour regained her financial footing thanks to "Dr Quinn, Medicine Woman." The period drama TV series, which ran from 1993 to 1998, restored Seymour's wealth and made her a household name. "I was penniless and homeless, then this television role dropped like manna from heaven," Seymour told the Daily Mail. "The production company literally gave me and the children a roof over our heads."  On top of the financial drama, Seymour told the St. Paul Pioneer Press that Flynn was also, reportedly, a philanderer. "My now very ex-husband was unbelievably unfaithful," Seymour mused at the time.
Although Seymour called the divorce process "painful," "depressing," and "anger-making" with People in 2021, her marital experiences with betrayal taught her one very worthwhile lesson. As she told the Daily Mail, "I can't change anybody else. But I can definitely work on making myself a better person."