Details About Meg Ryan & Dennis Quaid's Rocky Marriage (& Why They Split)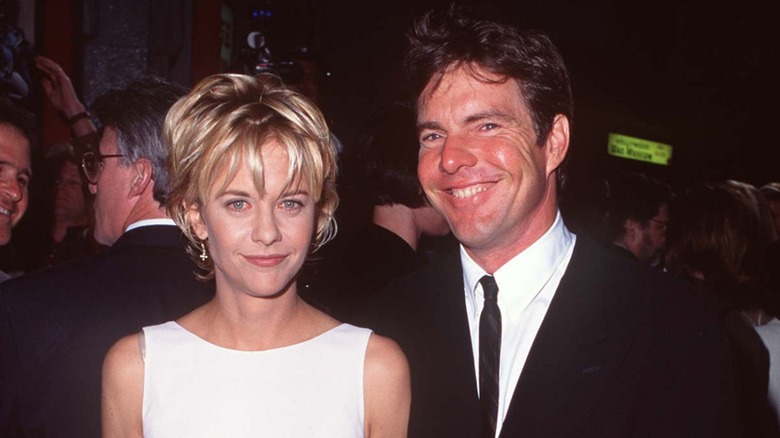 Steve Granitz/Getty Images
The following article includes references to drug and alcohol addiction and depression.
Whenever two actors start dating, the world takes notice. In the late 1980s and throughout the 1990s, Meg Ryan and Dennis Quaid were one of Hollywood's most famous couples — though they sadly weren't among the longest-lasting showbiz romances. As a result, when their marriage broke down, fans were desperate to discover what went wrong between the once-happy pair. The fact that Ryan had allegedly been getting close to her "Proof of Life" co-star, Russell Crowe, ahead of the split only added to the drama, with many wondering what really occurred between the trio.
During a 2019 interview with The New York Times Magazine, Ryan was candid about her early 2000s divorce from Quaid, and the difficulties she faced with increased press attention following their breakup. "Divorce is hard," she told the publication. "Love is hard. All those things were so personal. They weren't for mass consumption. The complexity of a life or a marriage is never going to exist in a headline or a tabloid. That was a freeing thing to know!" However, she also noted of the split, "That story never got told right." Meanwhile, Quaid would eventually dub their marriage — the actor's second of four — his "most successful relationship" in a 2018 interview with the "Today" show.
Here, we explore Meg Ryan and Dennis Quaid's relationship, from the issues affecting their marriage to the reasons why they eventually called it quits.
Dennis Quaid struggled with addiction early in their relationship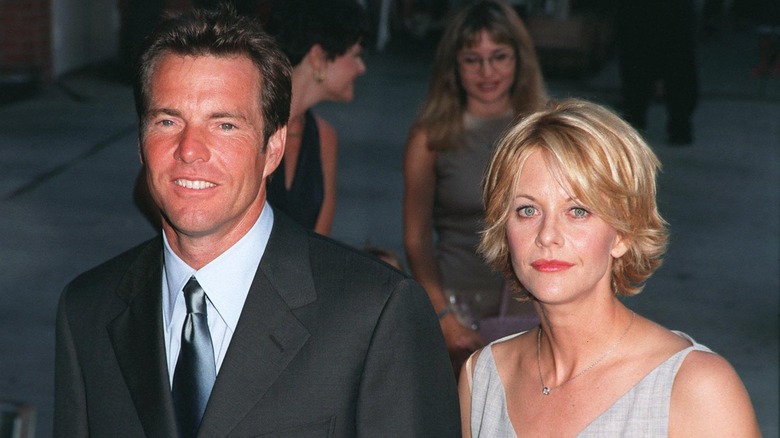 Featureflash Photo Agency/Shutterstock
After originally meeting on the set of 1987's sci-fi comedy "Innerspace," Dennis Quaid and Meg Ryan started dating after reuniting for the 1988 movie "D.O.A." — which co-starred Charlotte Rampling and Daniel Stern. However, the couple's plans to wed in 1990 were put on hold after Quaid admitted to Ryan that he'd been taking drugs on a regular basis. 
"Basically, I was addicted to cocaine and Meg didn't know it," Quaid told the Sunday Mercury in 1999. "That's how good an addict is at hiding his problem. Because we were going to get married and I was tired of living that way, I decided she should know." He went to rehab in 1990, and the couple postponed their wedding until the following year, tying the knot on Valentine's Day. During a 2018 interview with The Sunday Times, Quaid was frank about his excessive drug use during the 1980s, telling the publication, "I would do coke and I would use alcohol to come down." Of the former, he continued, "I was doing about two grams a day." As for how he finally managed to get sober, Quaid recalled having a spiritual epiphany of sorts, which convinced him to finally attend rehab: "I had one of those white-light experiences where I saw myself being dead and losing everything I had worked for my whole life."
For her part, and following Quaid's journey toward sobriety, Ryan told The New York Times Magazine of portraying someone struggling with alcoholism in 1994's "When a Man Loves a Woman," "It gave me empathy. It was a cathartic role."
If you or anyone you know needs help with addiction issues, help is available. Visit the Substance Abuse and Mental Health Services Administration website or contact SAMHSA's National Helpline at 1-800-662-HELP (4357).
Meg Ryan became more famous during their marriage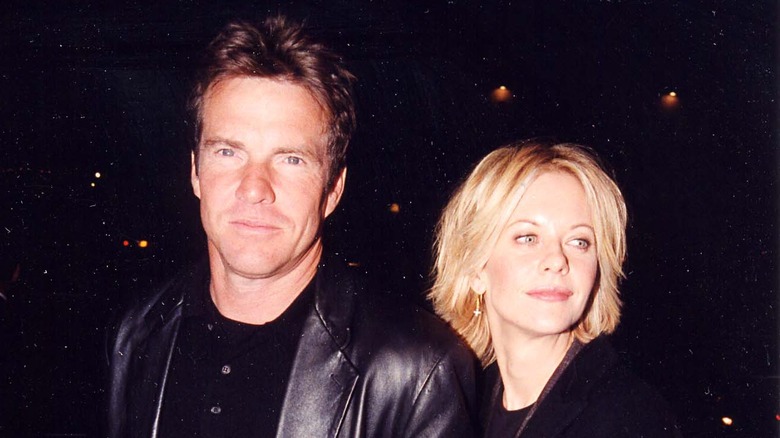 Jeff Kravitz/Getty Images
When Dennis Quaid and Meg Ryan started dating, he was arguably the more recognizable star, having appeared in films such as 1983's "The Right Stuff" and "Jaws 3-D." However, that all changed during the late 1980s and 1990s, when Ryan became known for successful romantic comedies like 1989's "When Harry Met Sally," 1993's "Sleepless in Seattle," and 1998's "You've Got Mail." As a result, the couple found themselves dealing with an ever-changing relationship dynamic, with Ryan quickly becoming the more famous of the two.
"When we met, you know, I was the big deal," Quaid told the "Today" show in 2018. "And then my career [came to a halt]." Discussing what it felt like to witness his wife's fame suddenly increase, the "Parent Trap" star explained, "We'd go out on the streets of New York and it would be like, 'Meg! Meg!' And I have to admit it, I actually did feel like I disappeared." Noting with a laugh, "I didn't think I was that small, but I was," the star reflected, "It was a growth opportunity. I learned from that." 
Whether or not Ryan's fame played a direct role in the ultimate demise of the couple's marriage remains unclear, but Quaid was certainly impacted by the shifting balance of showbiz power.
Their marriage ended earlier than the press realized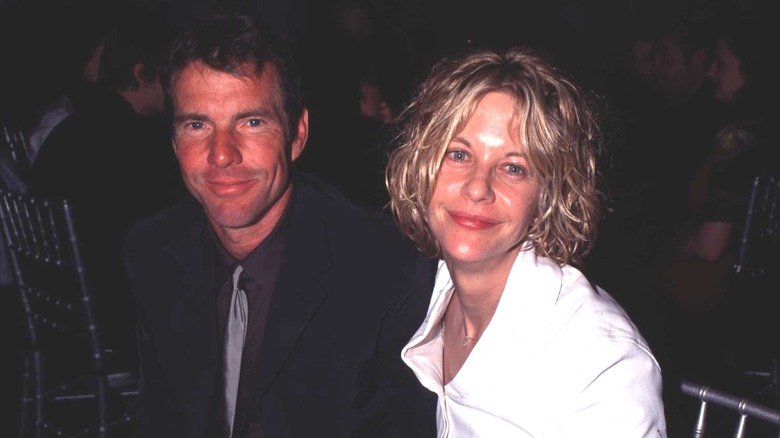 Kmazur/Getty Images
After tying the knot on Valentine's Day in 1991, Meg Ryan and Dennis Quaid welcomed their son, Jack Quaid, on April 24, 1992. For many years after, Ryan and Dennis appeared to be one of Hollywood's most solid couples, but that all changed in June 2000, when the pair revealed their shocking separation after nine years of marriage and 12 years together. 
However, according to Ryan, their union actually ended long before they finally announced the news to the press. Months after it was reported that Ryan had started dating Russell Crowe — as previously mentioned, her co-star in the 2000 movie "Proof of Life" — around the same time as the split announcement, she addressed the demise of her relationship with ex-husband Dennis. Sort of. "My marriage and the dissolution of my marriage ... well, the real reasons for it will always be speculation, because I'll never talk about what went down, and neither will Dennis," she told W magazine in October 2000 (via E! News). "It dissolved before it became sport for the press. The public and the press tuned in way after."
Meg Ryan initially claimed no one cheated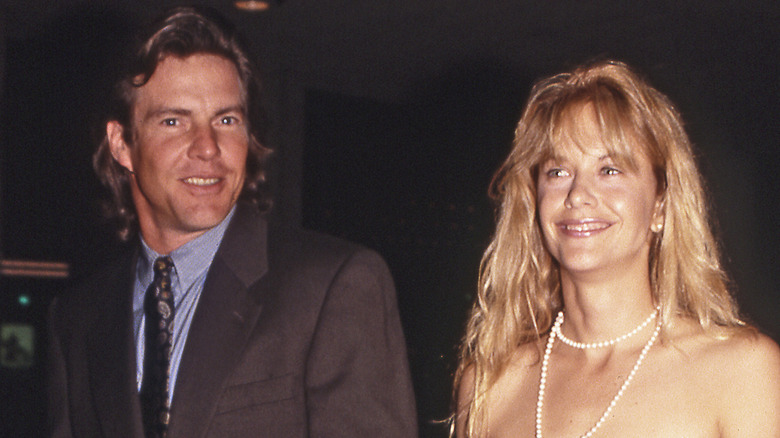 Vicki L. Miller/Shutterstock
While rumors about Meg Ryan's romance with Russell Crowe quickly gathered steam, the "Hanging Up" star defended her soon-to-be ex-husband from allegations of infidelity. While speaking to W magazine months after the divorce filing (via E! News), Ryan asserted, "Neither of us, me nor Dennis, is cavalier about a breakup." She continued, "We both behaved very honorably — in our marriage and in our breakup. He never cheated on me. I can't believe they're saying that about him." 
During the interview, Ryan continually defended Quaid, and reinforced the idea that there was no one else involved in their breakup. "The guy is an honorable man," she told W of Quaid. "And the reasons we broke up have nothing to do with another person. My marriage was broken — nobody else broke it up. That's true." Noting that both she and Quaid agreed on that fact, the star added, "What anybody else thinks, I have no control over." 
At the time, Ryan's words suggested that her split from Quaid was amicable, and that neither party had strayed from the marriage before it ended.
She later alleged that Dennis Quaid 'was not faithful'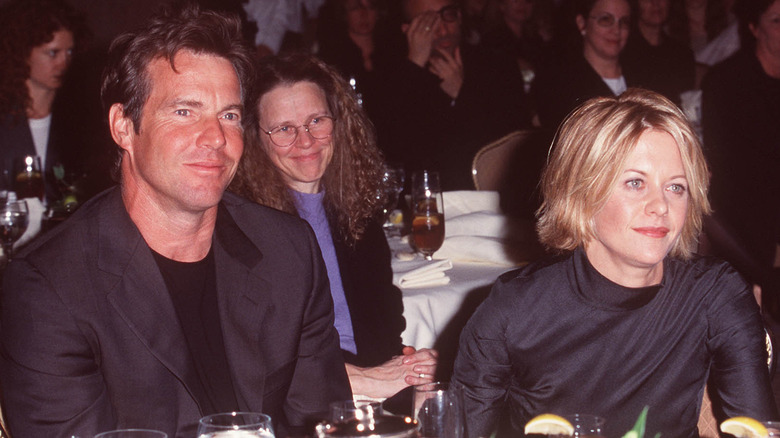 Steve Granitz/Getty Images
Meg Ryan later changed her story regarding her marriage to Dennis Quaid and whether anyone cheated. The first hints of this came during a 2006 interview with Oprah Winfrey, where Ryan said of her relationship with Quaid, "It was a very unhealthy marriage, and it was pretty much not a happening marriage for a very long time." She went on to admit, "I probably should've left much earlier." That wasn't the end of Ryan's comments on her failed relationship with Quaid either. 
During a 2008 interview with InStyle (via Today), Ryan expanded on why the marriage wasn't healthy, alleging, "Dennis was not faithful to me for a long time, and that was very painful. I found out more about that once I was divorced." While the "What Happens Later" star didn't elaborate on her cheating claims to InStyle or elsewhere, her words clearly hit a nerve with her ex-husband. Responding to Ryan's claims, Quaid told the New York Daily News (via HuffPost) shortly after, "It was eight years ago, and I find it unbelievable that Meg continues publicly to rehash and rewrite the story of our relationship." 
While the veracity of Ryan's infidelity claims have remained unverified, it would seem that there were many factors in the breakdown of the couple's marriage.
Meg Ryan insisted Russell Crowe 'didn't break up the marriage'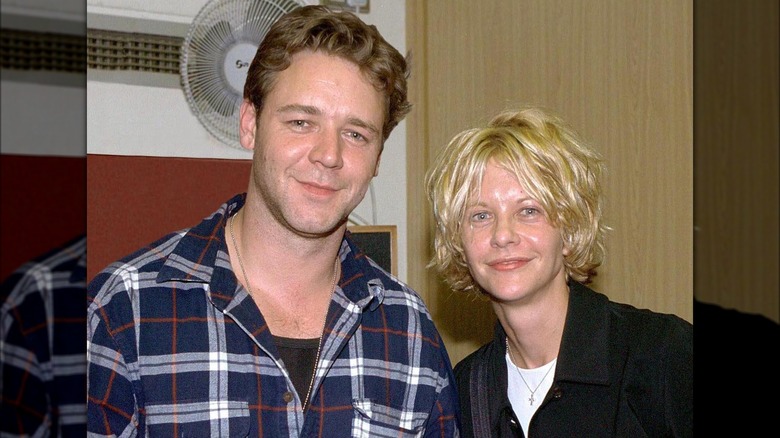 Brian Rasic/Getty Images
In the summer of 2000, tabloid photos emerged of Russell Crowe and Meg Ryan looking extremely close on the set of the movie "Proof of Life," per Entertainment Weekly. Rumors quickly started to swirl regarding the nature of their relationship, especially since Ryan and Dennis Quaid had only announced their separation that June. When the two went public with their burgeoning romance that July, it led many to question whether Crowe was instrumental in the breakdown of the Hollywood couple's marriage. But according to Ryan herself, that most definitely wasn't the case.
Their relationship would only last a matter of months, coming to an end by that December, and in her 2008 interview with InStyle (via Today), Ryan defended her ex-boyfriend and former co-star, saying, "I think he took a big hit." She continued, "But Russell didn't break up the marriage. He was definitely there at the end, but it wasn't his fault." While Ryan made it sound as though Crowe was present for at least some of the demise of her relationship with Quaid, she staunchly defended the "Gladiator" star from criticism. As she told InStyle, "I was a mess. I hurt him, too, at the end. I couldn't be in another long relationship, it wasn't the time for that. So I got out." 
While the timeline of events has remained a little unclear, Ryan has made sure everyone knows that Crowe was not to blame for her divorce from Quaid.
The split felt like a 'death' to Dennis Quaid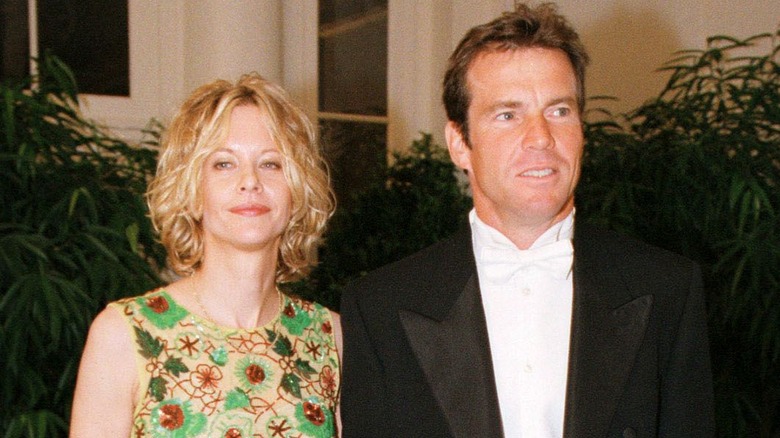 Michael Smith/Getty Images
Regardless of whether or not their divorce was a long time coming, Dennis Quaid has been outspoken about the pain caused by his divorce from Meg Ryan. During an interview with W magazine (via the Irish Examiner) in July 2001 — the same month their divorce was finalized — Quaid revealed that his split from the "Sleepless in Seattle" star kicked off a period of self-reflection and mourning. "I got through shock. Depression. Anger. All the rest of that stuff," he said. "When you break up, your whole identity is shattered. That's why it is like death. It is death."
Expanding on the painful divorce, Quaid surmised to the outlet that the only thing more difficult than the end of a marriage would be losing a child. "I just sat there and went through it," he said. "But I'm glad I did because I think it helped me get over it." 
And ultimately, because Quaid and Ryan continued to co-parent their young son, Jack, the former couple had to find a way to communicate with one another amicably. As Quaid explained, that likely wouldn't have been the case had they not had any children together, but they were both thankfully able to overcome their differences for Jack's sake. "You have to sort of swallow it and go on," he said. "Things happen. That doesn't mean that people are bad people. Life happens."
If you or someone you know needs help with mental health, please contact the Crisis Text Line by texting HOME to 741741, call the National Alliance on Mental Illness helpline at 1-800-950-NAMI (6264), or visit the National Institute of Mental Health website.
Dennis Quaid eventually thanked Russell Crowe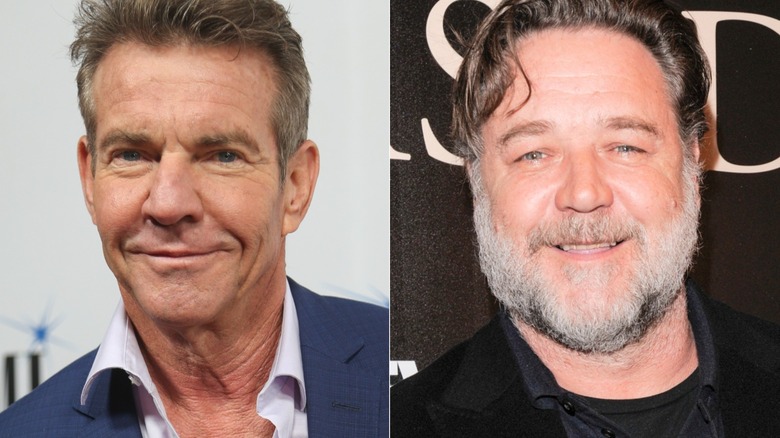 Debby Wong, Lev Radin/Shutterstock
Although Meg Ryan claimed that Russell Crowe had nothing to do with her divorce, Dennis Quaid would later seemingly suggest otherwise. In a 2004 interview with the Mirror, Quaid opened up about an unexpected run-in with the "L.A. Confidential" star, saying, "I think he was a bit surprised when I thanked him." Quaid continued, "But, looking back over the past two years, I think Russell did Meg and I a big favor. He forced us to face up to something, because we were clinging on to a dead relationship." 
While Quaid didn't explicitly say that there was any infidelity on Ryan and Crowe's part, it seems his ex-wife's short-lived romance with her "Proof of Life" co-star was an important factor in the breakdown of their marriage. Revisiting the difficult period of time after his relationship with Ryan ended, Quaid told the outlet, "I felt hurt and humiliated, of course, when Meg left me for Russell, but we hadn't been getting along for quite some time." He went on to admit, "Before Crowe came on the scene, we knew our marriage wasn't going to last." 
While this last sentiment confirmed Ryan's admission that the divorce was inevitable, Quaid appeared to directly contradict part of his ex's version of events when he provocatively noted, "No one likes to see his wife run off with another man."
Dennis Quaid has said he 'still loves' Meg Ryan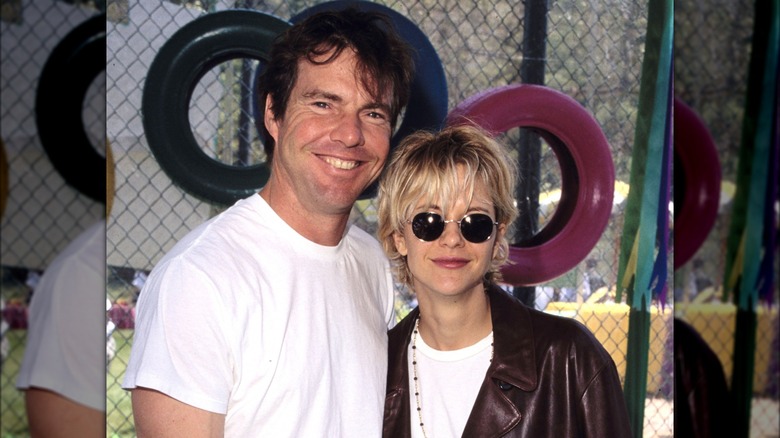 Steve Granitz/Getty Images
Time is a great healer, it would seem — particularly in the case of Meg Ryan and Dennis Quaid's split. Although the breakup was clearly painful for both when it first occurred, the former couple appeared to forge a friendship years after their split. In fact, Quaid has spoken quite highly of the "City of Angels" star, suggesting that there's no bad blood between them whatsoever. During his 2004 interview with the Mirror, the actor reflected on life after the divorce, saying, "We're friends again now. We both realized that we're happier without each other." He went on to explain, "I've become a new man in many ways. Meg has become a new woman and I think we're both better human beings."
During a 2019 interview with the Irish Independent, Quaid continued to sing his ex-wife's praises. "Sure I still love her," he stated. "I'm very fond of her and we have a lot of fun. We spent 13 good years together. We had a kid together and we shared so much: she made my life." 
Their son Jack Quaid opened up about the divorce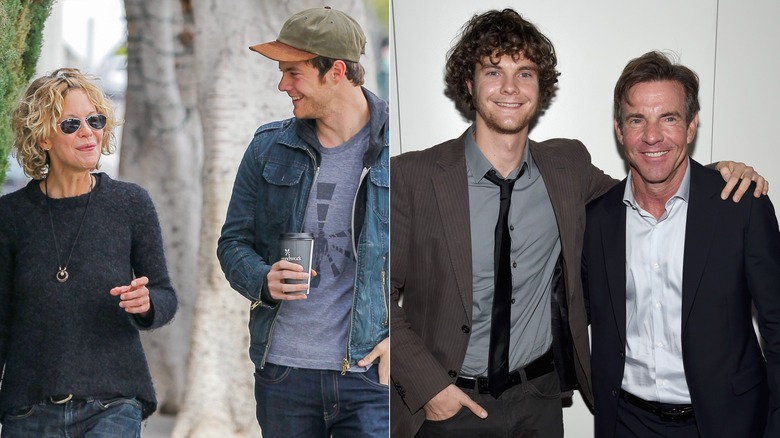 Bauer-griffin, Dimitrios Kambouris/Getty Images
Meg Ryan and Dennis Quaid's son, Jack Quaid, has followed in his parents' footsteps by forging a successful acting career of his own. In fact, Jack has been garnering fans in movies like 2022's "Scream" and 2023's "Oppenheimer," as well as on the TV show "The Boys." While Ryan and Dennis were able to maintain a civil relationship for the sake of their son, it would seem that Jack was still understandably impacted by his parents' divorce, as he was just eight years old when the famous couple announced their 2000 separation. 
Speaking on the "Allegedly with Theo Von & Matthew Cole Weiss" podcast in 2016, Jack said, "It's one of those weird ages for your parents to get divorced. You're old enough to know what's going on, but young enough to be kind of naïve about it. It's a whole deal." Jack also addressed the difficulties he faced growing up with two very famous parents, which included experiencing additional pain on account of tabloid culture regarding their split. "It's hard to ignore when you're at a grocery story and you're checking out and you look at [magazines], and there's a photo of them with a little paper rip graphic between them," he explained on the podcast. "It's a hard deal."