Whatever Happened To The Bold And The Beautiful Star Alley Mills?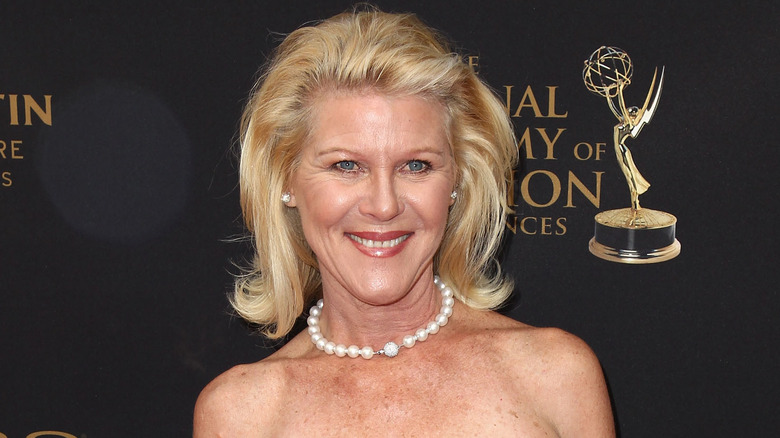 Leon Bennett/Getty Images
Veteran TV actor Alley Mills has been fortunate enough to play memorable characters on several iconic shows. Many fans may remember her from "The Wonder Years," where she played the mother, Norma Arnold. She worked steadily in TV until landing a role on "The Bold and the Beautiful," where she played the mercurial Pam Douglas from 2006 until 2022. In 2018, Mills spoke about her favorite Pam storyline on the soap. "Probably going to the cabin to try and kill Donna by tying her in the chair and pouring honey all over her and letting the grizzly bear in," she told Soap Opera Digest. It was announced in 2019 that Mills would be off contract on "B&B," but she would still play Pam as a recurring character. A few years later, she left the show.
Leading up to her departure from "Bold," Mills reunited with a former "Wonder Years" co-star. She and Dan Lauria — who played her husband, Jack Arnold, on the show — starred in an off-Broadway production of the play "Morning's at Seven" in 2021. In fact, the "B&B" alum felt more at home on stage. "I love live theater better than television. I grew up with it," she told Digital Journal.
After leaving "B&B," Mills appeared in the 2022 film "Last Chance Charlene" and also returned to the small screen on another hit soap opera, taking over an iconic character on "General Hospital."
Alley Mills played Heather Webber on 'General Hospital'
In October 2022, it was announced that Alley Mills would take the reins as Heather Webber on "General Hospital." Robin Mattson, the actor who had previously played Heather, was unavailable, so a call was made to Mills. "What shoes to fill!" Mills said about the decision to play Heather while on the "Dishing with Digest" podcast in November 2022, adding, "The fans just love [Heather] because she's nuts!" A lot of prep work went into the soap star's preparation. "[I] just crammed 'General Hospital.' [I] had to go back and look at all the crazy, insane tapes of the plots," Mills said. That prep was necessary, as she hit the ground running when she joined "GH." "They have not eased me in," the former "Bold and the Beautiful" actor added.
Of course, many soap fans found similarities between Mills's unhinged characters on "B&B" and "GH," but the actor was able to separate the two. "There are parallels, but there are many differences, too," she told TV Insider in December 2022. "Pam was never vicious. She was a denier. Heather is really darker.
Leading up to her work on "GH," Mills had been selective about which roles she wanted to take on. Taking the part of Heather came on the heels of her husband's tragic death.
How Alley Mills found solace in her husband's death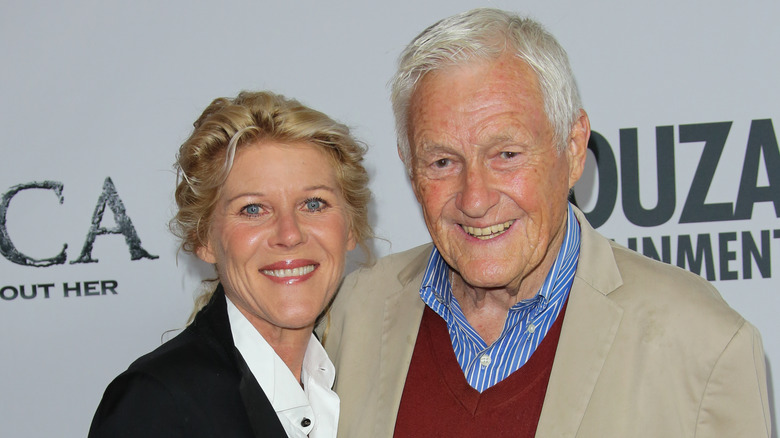 Paul Archuleta/Getty Images
Alley Mills's husband, fellow actor Orson Bean, died suddenly in February 2020 when he was hit by a car. Bean was 91 years old and crossing the street to see a play at the Pacific Resident Theatre in Los Angeles, where Mills was an usher. A car struck Bean, and then another car hit him. He was pronounced dead at the scene. According to the theater's publicist, Judith Borne, it was common to cross that street. "Many of us do this, including the audience. The crosswalk is out of the way. Many people ... just cross," Borne told the Los Angeles Times following the accident.
After 27 years of marriage, Mills was understandably despondent following her husband's death. However, she eventually found solace in the loss. "[J]ust how grateful I am for having had him all these years and ... the new insight into suffering that losing him gave me towards other people in the same ditch," the soap TV veteran told Soap Central in December 2021.
Playing Heather Webber on "General Hospital" was Mill's first major gig after Bean's death, and it was prior advice from her late husband that helped Mills decide to take the part. "Orson always said when you have to make a decision that you're not really sure of, just put the proverbial gun to your head because inside, your gut knows," she told Soap Opera Digest in May while discussing moving on from playing Pam Douglas to play Heather.