Macaulay Culkin's Feelings About The Home Alone Movies Are Clear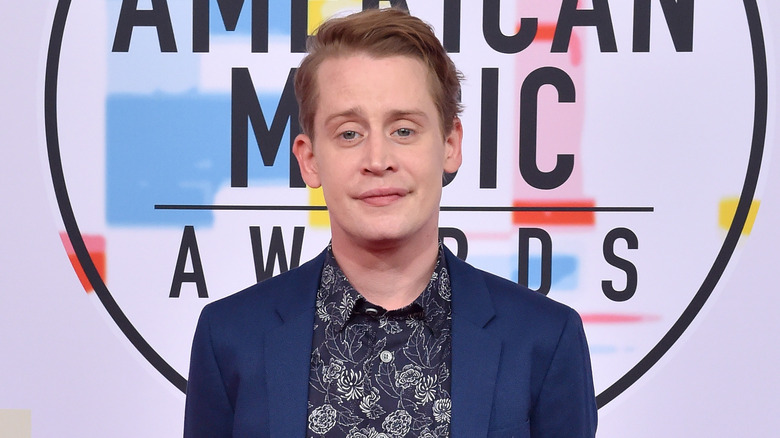 Axelle/bauer-griffin/Getty Images
"Home Alone" became an annual holiday must-watch upon its theatrical release in 1990, but is the star of the film, Macaulay Culkin, equally as in love with the movie as viewers are, or is he sick and tired of the Christmas classic?
Back in the early 90's, Culkin was thrilled to be in the No. 1 film in the world. An 11-year-old kid of few words, he told "The Arsenio Hall Show," "It's great." The actor then revealed how he could relate to his character, Kevin McCallister, sharing he could be a troublemaker at times. The film was a huge success, and in 1992, they tried to make movie magic again with its sequel, "Home Alone 2: Lost in New York" (though many would say the original is the best). Culkin will always be known for playing Kevin. From the iconic sight of Kevin with hands to his face as he screams, to him mouthing the famous "Keep the change, ya filthy animal" line, it's hard to separate the two.
Even after all these years, the actor still gets recognized for his role in "Home Alone," especially during the holidays. Culkin told "The Tonight Show Starring Jimmy Fallon" in November 2018, "I do get recognized more this time of year, I think." But you probably won't find him gathered 'round the TV to watch himself this Christmas.
Macaulay Culkin can't watch Home Alone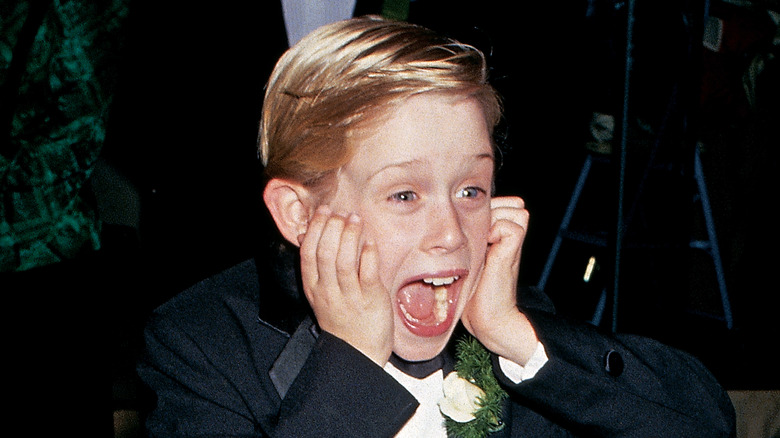 Frank Trapper/Getty Images
Millions of people watch "Home Alone" during the Christmas season, but Macaulay Culkin is not one of those people. During his appearance on "The Ellen DeGeneres Show," the actor revealed he doesn't watch the Christmas film. He shared, "I don't really watch them all that often. We did like a 15-year anniversary DVD commentary, and I realized I hadn't seen it in like, 15 years."
Of course, Culkin cannot escape "Home Alone" when the holiday season approaches, but to him, it's all background noise. It's not because he doesn't think it's a great film, thought! He simply views it from an actor's perspective. He shared with Ellen DeGeneres, "I'm remembering that day on set, you know, like oh how I was hiding my Pepsi behind the couch. I can't watch it the same way other people do." And don't even bother asking Culkin to do the iconic hands on his face scream from the film and movie poster because it's a big no-go for him.
Still, in 2018, the actor did tell Jimmy Fallon that he will make an exception and watch the film with his partner, Brenda Song. But even then, the actor can't thoroughly enjoy it because he will just "mutter" his lines while it plays. Culkin may not be the biggest "Home Alone" fan, but now and then, he will indulge in the nostalgia it brings viewers.
Macaulay Culkin poked fun at his Home Alone gig
Macaulay Culkin may not sit down and watch "Home Alone," but he doesn't mind making fun of it now and then. In 2018, the actor took part in a Google commercial making fun of him being home alone as an adult and using Google to help him throughout his day. The ad features a ton of nods to the original film, with Culkin saying, "Keep the change, ya filthy animal" to a pizza delivery worker, running out of after shave, and elaborate setups to avoid burglars in the neighborhood. Any "Home Alone" fan would be able to pinpoint all the references as the actor pokes fun at the iconic film nearly 30 years after its release. This commercial wasn't the only time Culkin made fun of his iconic holiday film.
In March 2018, while discussing wild conspiracy theories about the movie with Jimmy Fallon, Culkin pointed out one big issue with "Home Alone." He said, "Okay, this kid's a really clever kid right — these guys are about to break in, why doesn't he just call the cops?" Culkin knows there were no cellphones back then, but there were landlines, and he thinks it's strange that his character, Kevin McCallister, didn't just called the cops to solve the whole issue. But had Kevin called the cops, then fans wouldn't have the movie they know and love.