Kourtney Kardashian's Ill Feelings About Tristan Thompson Are Clear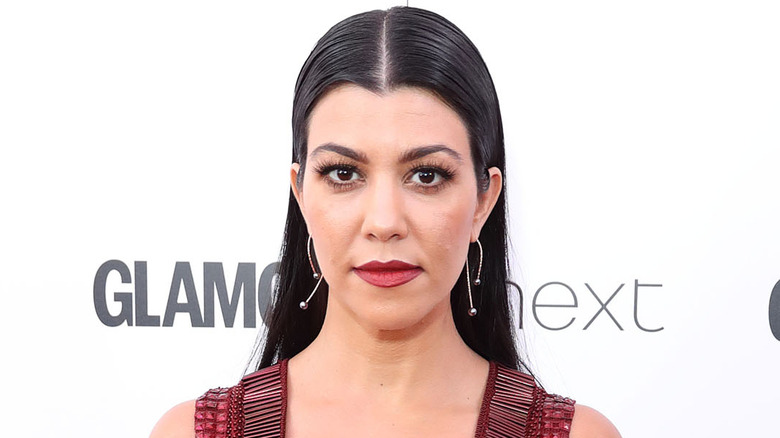 Mike Marsland/Getty Images
Fans who "Keep Up" with the love lives of the KarJenner ladies have their work cut out for them. From rockstar-worthy pregnancy reveals to 72-day marriages and Tito's Tacos dates, there's never a dull moment here in Calabasas, California. But not all KarJenner exes are created equal. Scott Disick may be a staple on "The Kardashians," but Kris Humphries didn't exactly endear himself to fans with his behavior, nor did Tristan Thompson. Thompson, Khloé Kardashian's ex, was infamously in the center of not one but multiple cheating scandals, including kissing Kylie Jenner's former best friend Jordyn Woods and fathering a child with fitness instructor Maralee Nichols.
Khloé has chosen to take the high road for the sake of their two children. During a Season 1 episode of "The Kardashians," the Good American founder expressed her hope and desire that Thompson could change for the better. When that didn't work out, she wished him well and continued their amicable co-parenting relationship.
But other members of the family would prefer to go all Carrie Underwood in a country music video on Thompson for his continued disrespect of Khloé. In Season 4 of "The Kardashians," Kourtney Kardashian opened up about being "triggered" by Thompson's infidelity. Kourt has long been one of Khloé's staunchest supporters, so her viewpoint isn't surprising; plus, Kourtney has no problem telling it like it is. She was never really in Thompson's court, even when he and Khloé were still trying to make things work.
Kourtney Kardashian is 'triggered' by Tristan Thompson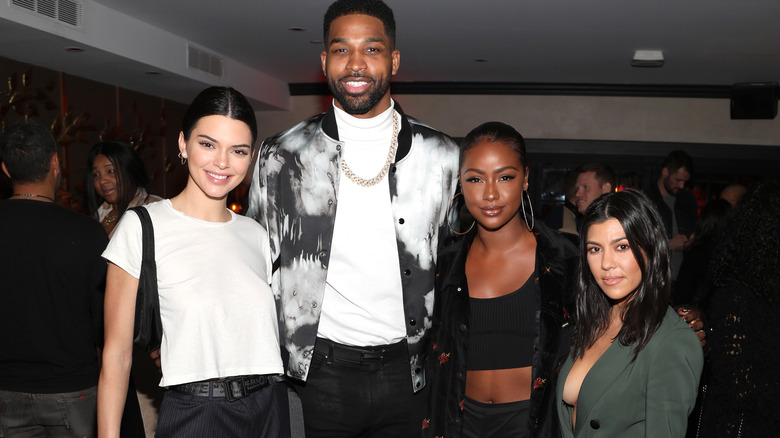 Jerritt Clark/Getty Images
In Season 4, Episode 6 of "The Kardashians," Kourtney Kardashian gave viewers her unfiltered take on Tristan Thompson. She's not a fan, y'all. "Tristan has made horrible choices with my sister [Khloé]," the Poosh founder explained in a confessional. "There are times when I'm so triggered by him I can't be around him. And there are times when I let it go because we want harmony. He's the father of my niece and nephew," she added. Kourtney also shared that her emotions have spilled over onto her daughter Penelope Disick, who feels uncomfortable around Thompson. During the same episode, Kourtney asked Penelope if it was "okay" that Thompson came over to the house. Reflecting on Penelope's complicated feelings towards him, Kourtney said, "I feel like she gets it from me. I told her the first day of school I was ... so triggered by him."
When news of Thompson's paternity scandal first broke in early 2022, Kourtney (like her sisters) was horrified and disgusted. "It's a never-ending betrayal, is what it is," she said, slamming Thompson's actions during an episode of "The Kardashians." Separately, she lamented the NBA player's behavior while in a family meeting with Kris Jenner, her boyfriend Corey Gamble, and Kim Kardashian. "We've given Tristan so many opportunities and chances to work on himself and treat my sister that she deserves to be treated," Kourt shared. "I just feel super disappointed."
Tristan Thompson is working on his issues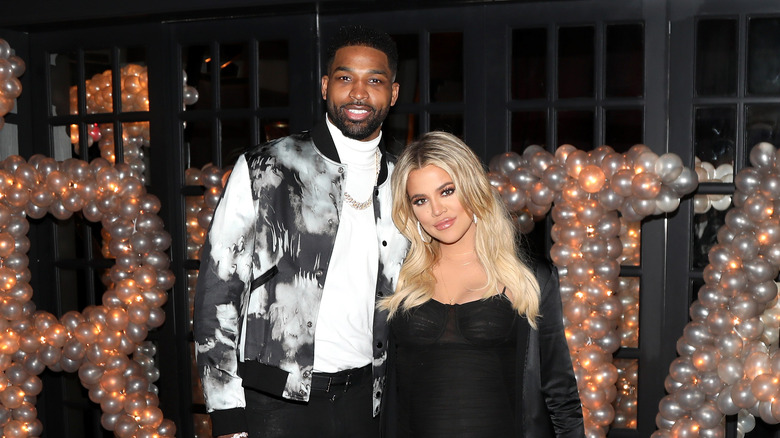 Jerritt Clark/Getty Images
To his credit, Tristan Thompson seems determined to remedy his mistakes and maintain a good relationship with Khloé Kardashian's sisters. In a Season 4 episode of "The Kardashians," the Cleveland Cavaliers power forward sat down with both Kylie Jenner and Kourtney Kardashian to clear the air. Kourtney confronted him directly, asking whether he felt remorseful after cheating on Khloé. When Thompson replied that he felt remorseful, Kourtney pressed, "So why do you do it?" Thompson responded that he'd been traumatized by his own upbringing and the dysfunctional relationship that his parents modeled for him. "I've never seen a man treat a woman [well], I've never seen a man not cheat on a woman, I've never seen a good husband," he admitted. But for Kourtney, this wasn't enough. "I don't think you deserve Khloé, or the actions that you've done are something she's deserved," the mother-of-four concluded.
While Kourt and Kylie struggle with having Thompson around, not everyone views him in such a negative light. Kim Kardashian isn't necessarily a fan, but she does appreciate his good qualities. For example, Thompson has been a shoulder for her to lean on in the wake of her split from Kanye "Ye" West. "When [Tristan] saw me struggling with my kids, he stepped up," Kim said. "It's ...crazy because he's such a good friend ... but he just couldn't get it together in that area of being a faithful boyfriend."