How Kylie Jenner Feels About BFF Jordyn Woods Cheating With Tristan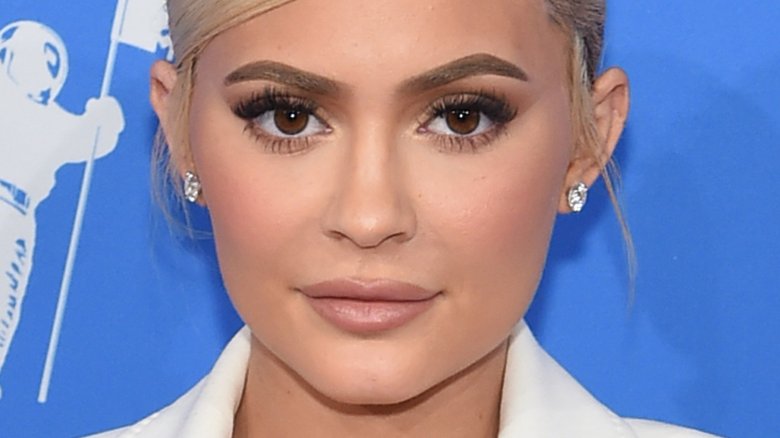 Getty Images
Kylie Jenner must be in quite the tricky situation, after basketball pro Tristan Thompson allegedly cheated on her sister Khloé Kardashian with her best friend Jordyn Woods.
On Tuesday, Feb. 19, 2019, Thompson and Woods made headlines after they were reportedly seen making out at a party the previous weekend. Afterwards, Woods allegedly went to Thompson's house for a "secretive" party, where she reportedly stayed until the early morning (via E! News). According to TMZ, Kardashian learned of Thompson and Woods' behavior and ended her relationship with the athlete, with whom she shares daughter True. And while we can assume that Kardashian must be distraught by her boyfriend's infidelity and a family friend's betrayal, how does Kylie Jenner feel about all of this? After all, she's super close with Woods and has been for a long time.
Well, E! News reports that Woods' cheating with Thompson crossed a line that can't be uncrossed, and the Kardashian-Jenner family is apparently done with her. "The whole family is writing Jordyn off," a source told the publication. And Jenner reportedly had a hard time coming to terms with Woods' actions, as an insider shared that she "was in denial for days." Furthermore, Jenner has found herself to be "very torn on how to handle the situation." Makes sense, especially considering that she and Woods appeared to be much more like family than friends. As noted by E! News, Woods lives in Jenner's guest house and is referred to as "Auntie Jordyn" to Jenner's daughter, Stormi, whom Jenner shares with rapper Travis Scott.
However, Jenner has reportedly made at least one move to distance herself from Woods: She's unfollowed Woods on Instagram, according to Page Six. And she's not the only one to do so. Jenner's sisters — Khloé, Kim, Kourtney, and Kendall — have all unfollowed Woods on the social media platform. While it's not reportedly known if mama Kris Jenner ever followed Woods on Instagram, she's definitely not following her now.
Woods, however, is reportedly still following the famous family on social media.
At the time of this writing, neither Kylie Jenner nor Jordyn Woods have publicly spoken out about the alleged cheating. Still, something tells us that we'll learn more about it one way or another — probably on the Kardashian-Jenner clan's ever-popular reality TV show Keeping Up With the Kardashians.
As noted by Metro, Jenner and Woods have been friends since their school days, having bonded as teens. They're said to have met through rapper-actor Will Smith's family in 2013. Woods has reportedly considered the Fresh Prince of Bel-Air star to be her "uncle" and Jenner has been friends with Smith's son, Jaden.
Woods and Jenner have been through a lot together. Woods has worked with Jenner on the celeb's Kylie Cosmetics makeup line, collaborating on a lip kit, and was with Jenner when she learned that she was pregnant with her first child.
After her father passed away in January 2017, Woods reportedly leaned on Jenner to get through the difficult time. "It was really hard to see Jordyn go through something like that because, one, I'm just genuinely so close to her, so when she cries, I cry," Jenner once shared.
Woods also appeared as a central figure on Jenner's spin-off reality series Life of Kylie back in 2017. During the show's season one finale, Jenner and Woods solidified their friendship with a commitment ceremony, after momager Kris expressed concern that the two were too codependent, as reported by Teen Vogue. Jenner told her mother that she and Woods have a "special connection."
During the ceremony, Woods told Jenner, "I vow to always be there for you, through thick and thin. In this life and after." To Woods, Jenner said, "I promise to encourage you, inspire you, love you, through all the good and bad times."
Seems like the whole cheating scandal with Thompson would be one of those "bad times." Unfortunately, we're not so sure the pair's friendship will make it through.
What makes the situation all the more heartbreaking — and we're not even getting into how all this has impacted poor Khloé Kardashian — is that, about a month before Woods and Thompson reportedly had an affair, Jenner went on vacation with Woods and Stormi, and, in an Instagram post documenting their time, Jenner wrote, "Love these two more than life itself."
We're not crying — you're crying!