Khloe Kardashian Has Reportedly Made A Decision About True's Custody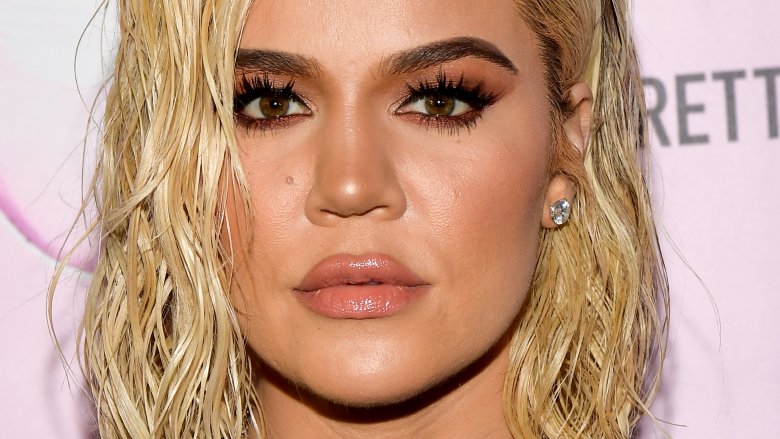 Getty Images
Khloé Kardashian has reportedly been trying to figure out what to do about daughter True's custody, following her now-ex-boyfriend Tristan Thompson's apparent continued infidelity.
After Thompson was allegedly caught cheating on Kardashian with family friend Jordyn Woods, Kardashian reportedly dumped him. And honestly, good for her. Thompson's built a reputation for himself for cheating on her ever since footage emerged of him getting a little too close to a couple women shortly before Kardashian gave birth to True. Still, Kardashian had tried to work things out with him for the sake of their family. According to mom Kris Jenner, Kardashian explained to her, "I didn't have a baby just to have a baby and move on. I had a baby to create a beautiful family." But after Thompson and Woods' alleged affair, she's apparently done with Thompson ... as a boyfriend, at least.
According to Radar Online, Kardashian has decided to allow Thompson to be a part of True's life, regardless of his rumored betrayal. "This is going to be a tricky one and just because a man cheats does not mean that he is unfit to be a father," a source told the celebrity gossip rag. The insider noted, "Obviously she does not want anything to do with him right now, but, because he is True's father, she will have no other choice than to be a part of his life for her entire life."
Still, Kardashian reportedly isn't sure just how to "navigate" the situation. Before Thompson's alleged cheating made headlines, she reportedly essentially had full custody of True, with Thompson seeing their daughter on the weekends. But she "realizes that her baby needs a father figure in her life."
Throughout everything, Kardashian's "main priority is True."
However, that doesn't mean that Kardashian isn't also focusing on herself during this difficult time. After Thompson and Woods' alleged affair made news, she took to her Instagram Stories to share a series of sad quotes, as reported by Cosmopolitan. "The worst pain is gettin hurt by a person you explained your pain to," one post read, presumably in reference to Woods' part in the whole situation, as she was a close family friend and BFFs with Kardashian's sister Kylie Jenner.
Another post stated, in part, "That betrayal was your blessing!!!" A third read, "If they ask you about me, tell them: 'She was the only person that loved me with honesty, and I broke her.'"
On Wednesday, Feb. 20, 2019, just a few days after she found out about Thompson's alleged affair and broke up with him, Kardashian attended a public event with her best friend Malika Haqq, going to an opening event for PrettyLittleThing in Los Angeles (via E! News). After Kardashian was reportedly hit with backlash for going out so soon after a dramatic breakup, her sister Kim Kardashian fired back on social media, defending the Good American businesswoman. "Would you prefer she lose the [money emoji] too? A single mom has to work too boo!" she tweeted. "This was a professional commitment planned far in advance and you better believe she is not waiting on anyone to pay her bills or provide for her daughter. PERDIODT!!" Yeah, you tell 'em, Kim!
Kim Kardashian and Malika Haqq have since taken Khloé Kardashian on a girls' trip, presumably in an effort to lift her spirits. Kim shared videos of them in a car together — her sister in the passenger seat and her and Haqq in the back (via People). In a clip shared on Instagram, Kim and Haqq sang along to Nivea's "Don't Mess With My Man." Seemingly in a message to Woods, Haqq sang to the camera, "Here's a little advice for you, find your own man." They also sang along to Brandy's "Who Is She 2 U," a song about a man cheating.
At the time of this writing, Khloé Kardashian has yet to publicly address Thompson's alleged cheating with Woods, but you can bet that we'll all learn about the headline-making scandal eventually. According to Radar Online, Kardashian and mom Kris Jenner have already decided that her breakup with Thompson will be "a huge part of the story line for the upcoming seasons" of their reality TV show, Keeping Up With the Kardashians. "Khloe needed a good storyline and her relationships are always so explosive at the end. It is going to make for some really good TV," a source told the publication.
And all of the fallout with Thompson and Woods has reportedly been caught on camera by the show's crew. "The timing couldn't have been better," the source shared. "Everyone is in town and everyone is filming."
Sounds like Keeping Up With the Kardashians will be must-watch TV when its new season airs.