The Real Reason Khloe Kardashian Dumped Tristan Thompson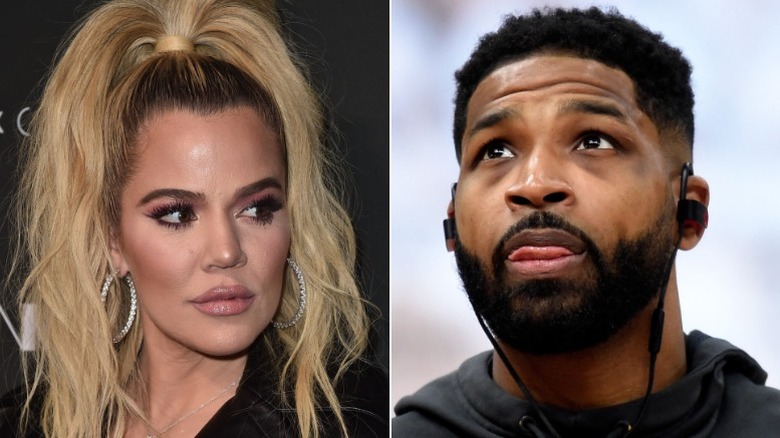 Getty Images
After more than two years of drama and PDA, Khloé Kardashian and Tristan Thompson are officially over. On Feb. 19, 2019, TMZ reported that Kardashian kicked the Cleveland Cavaliers star to the curb after she found out he cheated on her with her sister Kylie Jenner's best friend Jordyn Woods at a party on Sunday, Feb. 17, 2019. Thompson tweeted then deleted (via E! News) "FAKE NEWS" after the news broke, but Kardashian seemed to confirm the rumors with some pointed Instagram comments. An insider told Us Weekly that Thompson, "doesn't even think him hooking up with Jordyn is 'bad' because him and Khloé were broken up in his mind. He just truly doesn't care."
Because Woods was close to the family, with Kardashian even giving her a big break in modeling for her Good American denim line, it was an even bigger betrayal than Thompson's past indiscretions. A source told People that although the rest of the Kardashians didn't want to believe the rumor at first, "several family members reached out to people they believed had been at the party. And they were told it was true."
Though the Woods hookup was likely the biggest factor in Khloé Kardashian moving on, here are the rest of the reasons why she finally dumped Tristan Thompson.
Smile, you're on cheater's camera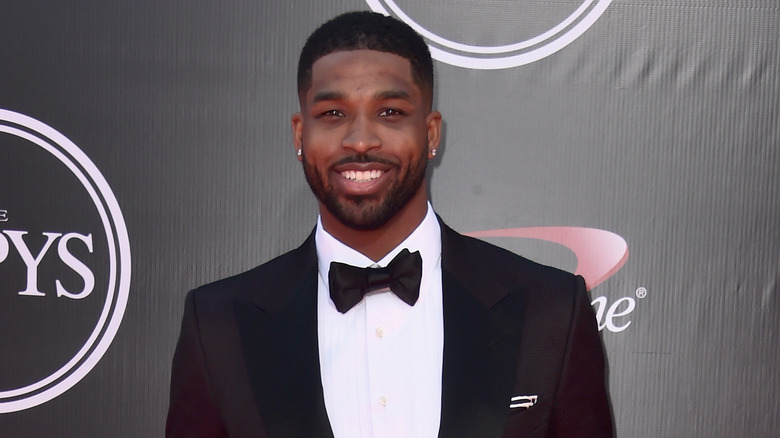 Instagram
In April 2018 — mere days before Khloé Kardashian gave birth — footage emerged of Tristan Thompson with other girls.
On April 10, 2018, TMZ released surveillance footage from a Washington, D.C. hookah lounge, reportedly filmed in October 2017 — when Kardashian was three months pregnant. In the footage, Thompson is flanked by three women, two of whom were seen kissing and touching him. The same day that footage was released, TMZ also published a separate video of Thompson entering a New York City hotel with a mystery brunette just two days earlier on April 8, 2018, outside of the Four Seasons Hotel in New York City, where the Cleveland Cavaliers were staying at the time. The Daily Mail published video of Thompson kissing a curvy brunette at a nightclub reportedly earlier that day; it's suspected that Blair is the woman in the Daily Mail video. According to Page Six, the woman at both the Four Seasons and the nightclub was Instagram model Lani Blair, although she's never directly confirmed or denied any hook-ups with Thompson. 
A spy who reportedly filmed the video told the Daily Mail of Thompson's busy evening, "He was on the table right next to us with a group of friends and some girl who he was obviously making out with all night ... Everybody knew who he was. We talked about it and everybody watched them make out several times."
Mommy > Wifey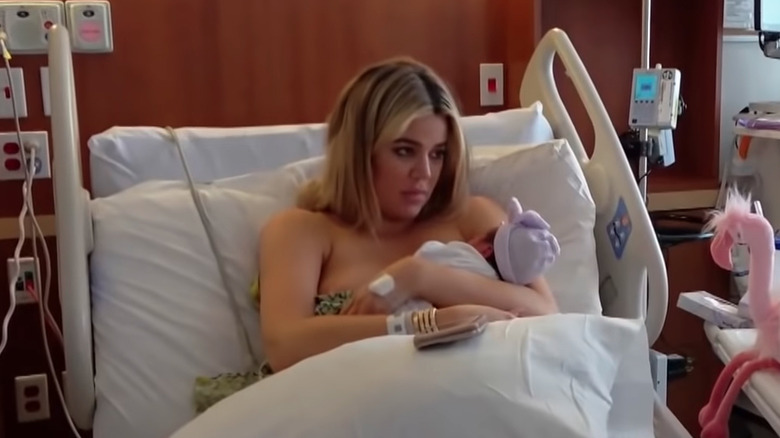 Khloé Kardashian gave birth to Tristan Thompson's daughter, True, on April 11, 2018, and it was unclear at the time if she and Thompson would stay together. They worked it out, however, reportedly in part because Kardashian wanted to raise True as a family. A source told People at the time, "She loves the life they had, she loves the baby they have together ... If she can find a way to rebuild with Tristan, she will."
And rebuild they did. Over the next several months, they seemed to have made amends and were photographed together somewhat frequently. However, on Feb. 13, 2019, a week before the alleged Thompson-Woods cheating scandal broke, a source told E! News, "[Khloé]'s consumed with True and head-over-heels in love with her," adding that Kardashian chose "not to worry about it or to classify their relationship anymore." The insider noted that "being True's mom is truly all she cares about and is her top priority."
Kardashian's focus on motherhood over couplehood was oddly well-timed. On Valentine's Day 2019, Life & Style reported that Tristan Thompson flirted with several girls at a Los Angeles bar while Kardashian was home with True. Valentine's Day may not have been the only holiday Kardashian spent alone: Radar Online reported on Feb. 15, 2019 that Thompson stepped out on Kardashian over the December holidays as well.
A case of karma for Khloe?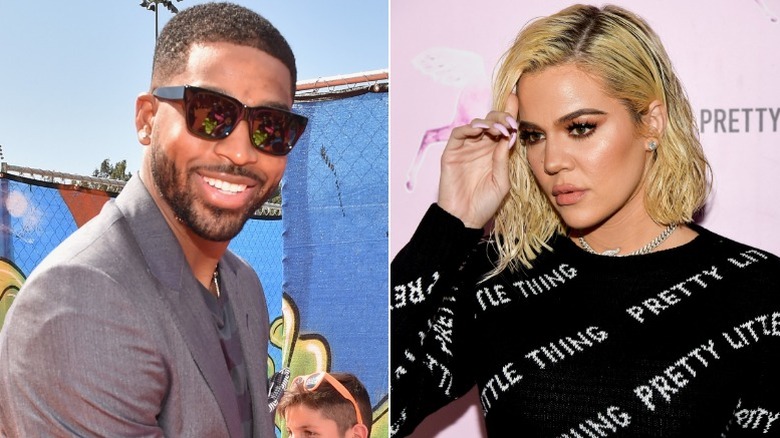 Getty Images
When Khloé Kardashian and Tristan Thompson first got together, there may or may not have been some overlap with his previous girlfriend, model Jordan Craig, who was pregnant with his first child at the time. Kardashian has denied it vehemently, but given Thompson's alleged history of infidelity, it's not hard to believe that he possibly lied to both women about the timelines of his relationships. A source told Hollywood Life that after Thompson was first busted cheating on Kardashian that Craig actually felt bad for her, even though she "knew it was only a matter of time" before he broke Kardashian's heart.
"Jordan knows that how you get them is how you'll lose them, and Tristan was with her before he left for Khloé," the insider said. "So at the very least, Jordan is disappointed in Tristan because she hoped being with Khloé would have at least matured him a bit more as a man."
Distance did not make these hearts grow fonder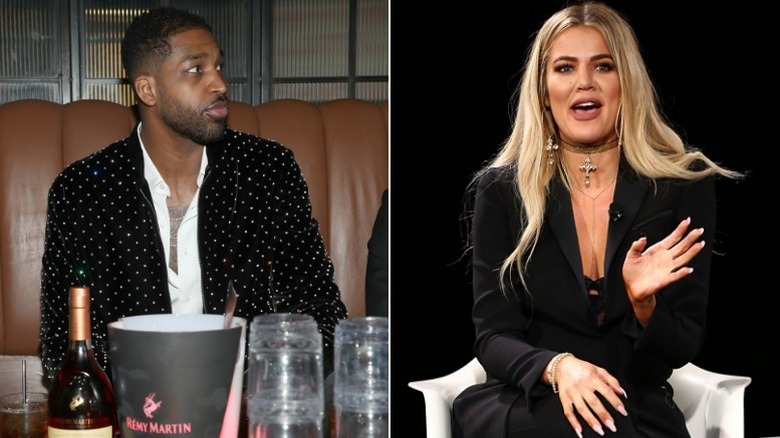 Getty Images
Perhaps part of the reason Tristan Thompson allegedly cheated so often is that he and Khloé Kardashian hardly saw one another, even when the going was good. In October 2018, six months after the initial cheating scandal, sources told People that Kardashian hadn't moved to Cleveland to be with her baby daddy despite initial plans to do so when she was pregnant. A source said, "It's of course difficult to trust someone 100 percent who cheated days before he was about to become a dad. Khloé still struggles with this sometimes. She wants to move back to Cleveland, but she isn't sure what date she is [going]. The move is postponed for now. She seems very upset about leaving her family. She had the best summer in L.A."
By February 2019 — before the rumors of Thompson cheating with Jordyn Woods surfaced — the couple's living situation hadn't changed yet. "Khloé and True are happy in Los Angeles. They spend very little time in Cleveland, where Tristan is," a source told People. "She very much acts like a single mom."
She wanted more kids, but did he?
Tristan Thompson is a father of two, but reports suggested Khloé Kardashian wanted to up that number — and the reasons for that may not have been the healthiest. An insider told People in January 2019, "True gave [Khloé] something incredible to focus her love and energy on, and it helped her and Tristan stay bonded no matter what." Translation: True became an inadvertent bandaid baby, at least in Kardashian's eyes, but was Thompson even looking for a way to heal the wounded relationship? The source also added that Kardashian "would love another baby ... and it wouldn't be surprising if she got pregnant again."
Kardashian confirmed that she was open to another pregnancy in response to a fan on Twitter asking if she wanted more kids. She replied that True made her feel "complete," but admitted, "I could only imagine another one would make me feel even more complete but I just don't know. I guess only time will tell and whatever God wants for me."
That may not have been what Thompson wanted. A source close to Thompson told Us Weekly after the Woods scandal broke, "Tristan isn't too worried about not seeing True, or Khloé establishing new rules when it comes to coparenting. He honestly doesn't really care and was over it. He was never trying to win Khloé back."
He embarrassed her in a big way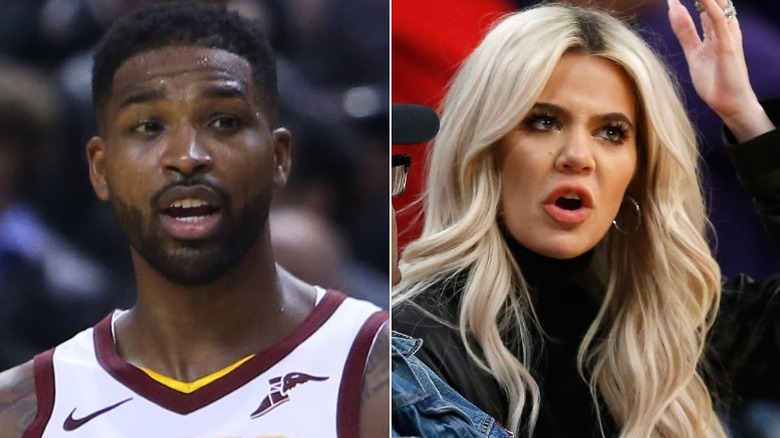 Getty Images
As if his apparently flagrant cheating being documented by the tabloids wasn't embarrassing enough, Tristan Thompson kept the humiliation going on social media. In an Instagram story preserved by a fan account, Kardashian and Thompson are at a New Year's Eve party. She attempts to get flirty with him on the dance floor, where she makes an attempt at twerking only slightly less pathetic than Miley Cyrus' 2013 phase. Thompson doesn't even notice her, and Kardashian looks miffed and embarrassed when it's all over.
In addition to the alleged infidelity and inattentiveness, there's also the reality that Kardashian had to relive all of their drama when it eventually aired on Keeping Up With The Kardashians. In an episode about the initial alleged cheating scandal that aired in November 2018 (via People), Kardashian said, "It's so much harder to deal with it when it's so public. Everyone is giving you their opinions and their input and their unsolicited advice. Even the nurses and the doctors — everyone kind of like, looking sideways at the whole situation. That's hard, and it's humiliating."
They were 'working hard' to stay together, but didn't work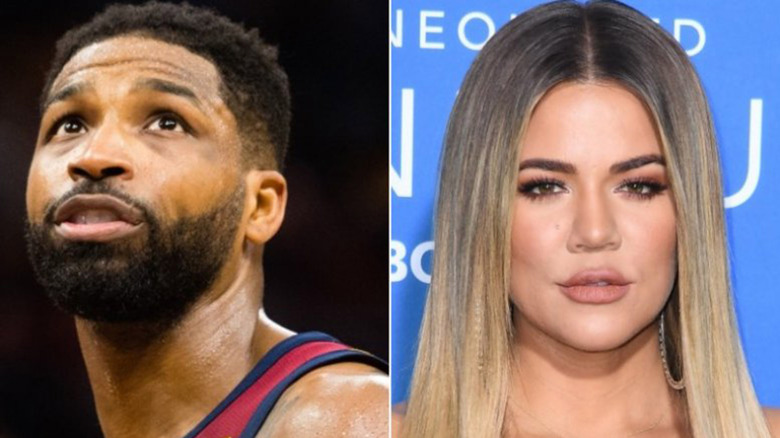 Getty Images
Khloé Kardashian was so eager to make it work that she took Tristan Thompson to couple's therapy, but it clearly didn't do them any good. In July 2018, Kris Jenner's longtime BFF Lisa Stanley revealed on KIIS 1065 Sydney's Celeb HQ that Kardashian was scared that she'd look "like a fool" amid the first alleged cheating scandal, just like she thought she did in her first marriage to Lamar Odom, who also famously cheated on her in the public eye. 
"One thousand percent they are working through couples therapy ... She's working hard, he's working hard," Stanley said. "You can't just earn trust back in two months." She added, "Khloé was always going to try and make this work, for a plethora of reasons. The first reason is she has a child now, and she feels very connected to [Tristan] in that way. The second reason is she loves him. She clearly loves the man."
Tristan's bench is pretty light on Kardashian fam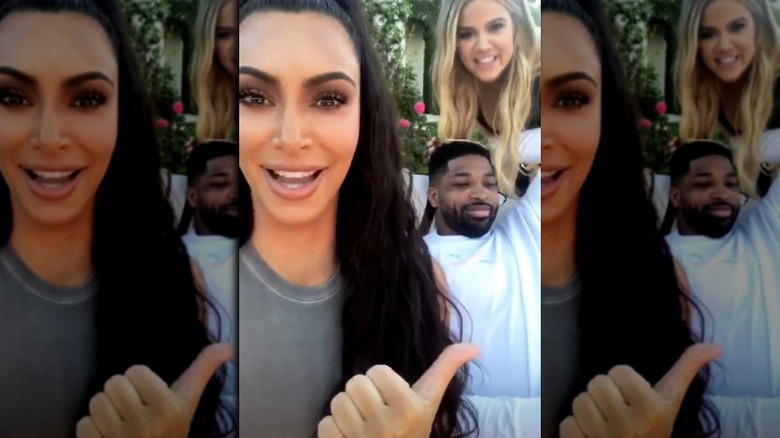 Instagram
Khloé Kardashian's famous brood isn't thrilled that she stayed with Tristan Thompson for as long as she did. Mom Kris Jenner's pal Lisa Stanley told KIIS 1065 Sydney's Celeb HQ that if it were up to Jenner, Kardashian would have left Thompson after the first alleged cheating scandal. In April 2018, an insider told People that Khloé's brother Rob was is "furious" with Thompson, saying, "Khloé has always been there for Rob and he hates that she was hurt ... Rob won't forgive Tristan for this."
Kim Kardashian fumed on The Ellen DeGeneres Show in late April 2018, "I don't even know how to describe it besides it's just so f***ed up." After her talk show appearance, Thompson reportedly blocked Kim on Instagram — and after she found out he cheated with Jordyn Woods in February 2019, TMZ reported that Kim unfollowed them both.
Brother-in-law Kanye West mocked Thompson in his song "All Mine," rapping, "All these thots on Christian Mingle / That's what almost got Tristan single / If you don't ball like him or Kobe / Guarantee that b***h gon' leave you."
Kylie Jenner may be the most traumatized by the breakup, because it was sparked by Thompson cheating with her own best friend. Multiple sources confirmed to Us Weekly that Woods moved out of Jenner's home after the scandal broke, leaving Jenner, who a source said doesn't have many friends, almost as devastated as Khloé.