Jussie Smollett Booted From Empire Finale Following Apology To Cast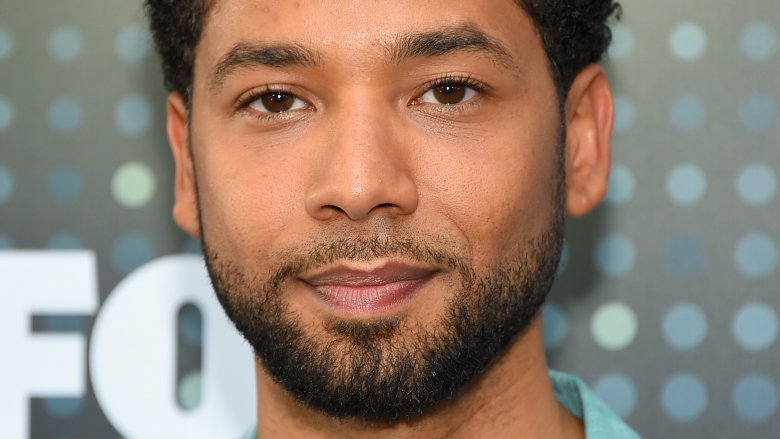 Getty Images
Actor Jussie Smollett has been removed from the rest of Empire's current season amid accusations that he ordered two men to stage an alleged hate crime.
On Friday, Feb. 22, 2019, TMZ reported that Smollett will no longer be appearing in the final episodes of Empire's fifth season, which is in production at this time. In a statement obtained by the celebrity gossip publication, Fox shared, "The events of the past few weeks have been incredibly emotional for all of us. Jussie has been an important member of our EMPIRE family for the past five years and we care about him deeply. While these allegations are very disturbing, we are placing our trust in the legal system as the process plays out."
The statement continued, "We are also aware of the effects of this process on the cast and crew members who work on our show and to avoid further disruption on set, we have decided to remove the role of 'Jamal' from the final two episodes of the season."
And, apparently, a number of people okayed Smollett's removal from the episodes, including the series' co-creators, Lee Daniels and Danny Strong.
The move comes after Smollett, 36, apologized to the show's cast and crew on set on Thursday, Feb. 21. He'd reportedly arrived to work about 30 minutes late following his arrest on "suspicion of filing a false report" with the police and subsequent court hearing. "I'm sorry I've put you all through this and not answered any calls," Smollett reportedly told everyone working on the show, as reported by TMZ. "I wanted to say I'm sorry and, you know me, I would never do this to any of you, you are my family. I swear to God, I did not do this."
Smollett is said to have then left the set, as producers apparently told him they'd film another time because he looked like he'd been crying. According to TMZ, he did indeed film sometime later that day.
Still, regardless of Smollett's alleged apology to his colleagues, his co-workers are reportedly "furious" at him and believe that, if Fox won't fire him, he should quit the show. Everyone at Empire reportedly believed Smollett when he said he was the victim of a hate crime, and now, in light of the alleged evidence brought forth by the Chicago Police Department, they feel betrayed. And they're also said to be "worried" about how Smollett's alleged actions may impact Empire.
It seem that Smollett is well aware of their anger toward him, as he's reportedly changed his phone number and has only given it to a select number of people.
As most know by now, Smollett asserted that he'd been attacked by two men while in Chicago and claimed that he'd been beaten, called homophobic and racist slurs, had a rope tied around his neck, and had bleach poured on him. However, as the case developed and police investigated, it was suggested that Smollett had actually planned the entire ordeal, allegedly hiring two brothers, Ola and Abel Osundairo, to jump him on the street in exchange for $3,500. Police also reportedly believe that Smollett had sent himself hate mail about a week before the attack. "When the letter didn't get enough attention, he concocted the staged attack," a source told CBS Chicago.
Smollett was later arrested on Feb. 21, and he was charged with "Disorderly Conduct / Filing a False Police Report," according to Chicago PD Chief Communications Officer Anthony Guglielmi.
In a press conference, Chicago police superintendent Eddie Johnson revealed that they believed Smollett had orchestrated the attack because he was "dissatisfied with his salary" and wanted to "promote his career." Johnson stated, "I love the city of Chicago and the Chicago Police Department, warts and all. But this publicity stunt was a scar that Chicago didn't earn and certainly didn't deserve."
Despite Johnson's belief that Smollett planned his own attack in an effort to somehow earn more money from Empire, sources told Vulture that neither Smollett nor his reps had ever expressed dissatisfaction in his salary from the show. In fact, Smollett gets paid a pretty good chunk of change from Empire, reportedly raking in $125,000 per episode, and that's not even taking into account what he may make from the music he records for the show.
So, who knows what Smollett's true motives were if he indeed did plan his own attack as authorities believe. Smollett, however, has maintained his innocence, and, via his lawyers, he's expressed feeling "betrayed by a system that apparently wants to skip due process and proceed directly to sentencing" (via Variety).
If he's found guilty of the charges against him, Smollett could face a maximum of three years in prison. In the meantime, we'll just have to wait and see just how this whole ordeal shakes out in court.