Spike Lee Nearly Walked Out Of Oscars After Green Book Won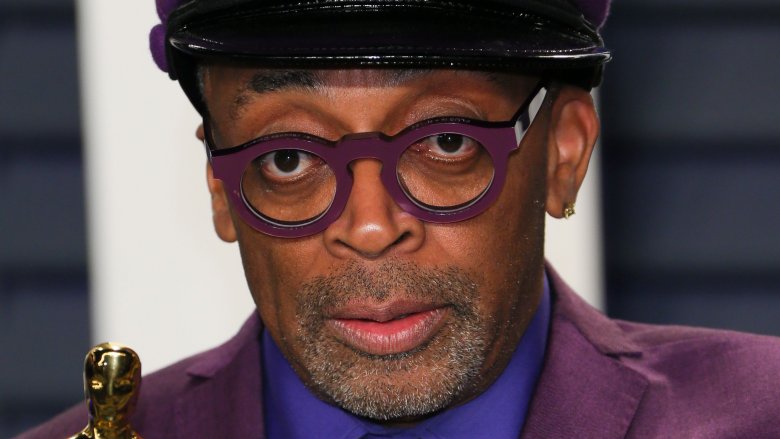 Getty Images
Filmmaker Spike Lee was clearly not on board with Green Book's big win at the 91st Annual Academy Awards.
As the 2019 Oscars came to a close on Sunday, Feb. 24, 2019, the BlacKkKlansman director-screenwriter was reportedly spotted attempting to leave Los Angeles' Dolby Theatre after the controversial film was crowned Best Picture.
According to AP entertainment reporter Andrew Dalton's Twitter account, "Spike Lee was visibly angry when Green Book was announced as the winner of best picture at the Oscars, waving his arms in disgust and appearing to try to storm out of the Dolby Theatre before he was stopped at the doors." However, as Dalton noted, "He returned to his seat when the speeches were over." 
This has since become one of the most talked about moments we didn't see at the 2019 Oscars.
According to the HuffPost, Lee later addressed his initial reaction to Green Book's win. "This is my sixth glass — and you know why," he quipped while walking into the backstage press room, glass of champagne in hand as the jokes kept on coming. "I'm snakebit. I mean, every time someone's driving somebody I lose," the director-writer went on to joke, adding, "They changed the seating arrangement!" 
Readers may remember that Lee's classic film, Do The Right Thing, lost out to Driving Miss Daisy for Best Picture back in 1990. While Green Book centers on the unlikely bond formed between the late Dr. Donald Shirley, a celebrated black, queer, jazz concert pianist (played by Mahershala Ali), and his white driver, Anthony "Tony Lip" Vallelonga (portrayed by Viggo Mortenson), while touring the South in the early 1960s, Morgan Freeman's Hoke Colburn, a chauffeur, befriends Jessica Tandy's Daisy Wethan in Driving Miss Daisy. 
"Let me take another sip. Next question," Lee said with a laugh when another reporter asked for his thoughts on his movie's loss to Green Book. Of his attempted walk-out, he simply said, "I thought it was court-side at the Garden, the ref made a bad call." This, of course, referred to the embarrassing losses endured by Lee's favorite basketball team, the New York Knicks, at Madison Square Garden.
Lee certainly wasn't the only one to take issue with Green Book's ultimate victory. However, the overwhelmingly negative response wasn't necessarily surprising, considering the award-winning movie has been shrouded in various controversies for months. In addition to accusations of following a "white savior" narrative in its depiction of racism in America (via The Guardian), Dr. Shirley's own surviving family members claimed that the filmmakers had exaggerated certain events, including the duo's friendship, the according to CNN. 
Meanwhile, Green Book director Peter Farrelly faced backlash last month after admitting to and apologizing for repeatedly flashing his genitals to unsuspecting movie stars, crew members, and studio execs under the guise of a "joke" in the '90s. Adding fuel to the fire was a since-deleted Islamophobic tweet by screenwriter Nick Vallelonga, which had resurfaced at the time (via Variety).
Naturally, if some viewers had it their way, they probably would have also tried to storm out of the ceremony following Green Book's Oscar win. As Justin Chang, a film critic for the Los Angeles Times, put it, "Green Book is the worst best picture Oscar winner since Crash, and I don't make the comparison lightly." Ouch.
While Lee would probably count Green Book taking home this coveted prize as one of the worst moments of the night, one of the best was easily when this film icon finally won his first-ever Oscar for his work on BlacKkKlansman. As Nicki Swift previously reported, Lee was last nominated for an Academy Award for Do The Right Thing. Thirty years after the above-mentioned shocking snub, the filmmaker found his way back to Hollywood's biggest night and unsurprisingly used his Best Adapted Screenplay win to deliver a powerful speech about the extreme hardships African Americans have faced over the last 400 years.
After enthusiastically jumping into the arms of presenter Samuel L. Jackson, he told the crowd, "My grandmother ... who lived to be 100 years young, who was a Spelman college graduate even though her mother was a slave. My grandmother, who saved 50 years of social security checks to put her first grandchild ... through Morehouse college and NYU grad film." Lee continued, "Before the world tonight, I give praise to our ancestors who helped build this country ... along with the genocide of its native people. We all connect with our ancestors ... to regain our humanity. It will be a powerful moment."
While ending his speech with a political message, Lee said, "The 2020 presidential election is around the corner. Let's all mobilize, let's all be on the right side of history." He went on to urge viewers to "make the moral choice between love versus hate. Let's do the right thing! You know I had to get that in there." 
We couldn't have said it better ourselves. Congratulations to Spike Lee on his long-overdue win!