Green Book Director Peter Farrelly Apologizes For Exposing Himself In The Past
Getty Images
Green Book director Peter Farrelly is apologizing for past inappropriate sexual behavior.
On Wednesday, Jan. 9, 2019, The Cut published excerpts from 20-year-old articles by Newsweek and The Observer, in which the filmmaker admitted to repeatedly flashing his genitals to unsuspecting movie stars, crew members, and studio execs under the guise of a "joke."
"True. I was an idiot," Farrelly released in a statement to the film website. "I did this decades ago and I thought I was being funny and the truth is I'm embarrassed and it makes me cringe now. I'm deeply sorry."
The resurfaced stories, which sparked backlash after gaining traction on social media this week, outlined how Farrelly and his brother and filmmaking partner, Bobby Farrelly, would often trick their colleagues into looking at Peter's privates — including actress Cameron Diaz. The movie star played the titular character in their 1998 comedy, There's Something About Mary.
"We did it before she was [signed on to star]," Peter Farrelly told The Observer in 1998. He added, "It's a joke. It's not like I make a habit of just whipping it out and saying, 'Hey! Look! My c**k!'" For her part, Diaz had told Newsweek that same year, "When a director shows you his penis the first time you meet him, you've got to recognize the creative genius."
At the time of this writing, Diaz has not publicly responded to this story's latest development. However, it should be noted that amid the #MeToo movement, multiple powerful men in Hollywood have faced and/or admitted to accusations of sexual misconduct since October 2017, when disgraced film producer Harvey Weinstein's ongoing sexual abuse scandal first broke.
Getty Images
Fresh off multiple wins at the 2019 Golden Globes this past weekend, including Best Motion Picture — Musical or Comedy and Best Screenplay, Green Book has notably faced its fair share of additional controversies in recent months — including accusations of following a "white savior" narrative in its depiction of racism in America (via The Guardian). Readers may already be aware that the movie is based on a true story which centers on the bond formed between the late Dr. Donald Shirley, a celebrated black, queer, jazz concert pianist (played by the award-winning Mahershala Ali), and his white driver, Anthony "Tony Lip" Vallelonga (portrayed by Viggo Mortenson), while on tour in the early 1960s through the Jim Crow South. 
This criticism escalated in December 2018 when Shirley's own surviving family members claimed to have not been contacted by the studio during the making of the movie, according to CNN. The family also accused the filmmakers of exaggerating certain events, including Shirley and Vallelonga's friendship and the musician's alleged estrangement from his family. Calling the experience of watching the movie "rather jarring" and "hurtful," nephew Edwin Shirley III told Shadow and Act that the portrayal of his famous uncle was "just 100% wrong." Meanwhile, brother Dr. Maurice Shirley referred to the film as "a symphony of lies." According to this report, Ali apologized to the family via telephone call, reportedly saying, "If I have offended you, I am so, so terribly sorry. I did the best I could with the material I had."
However, according to Variety, co-screenwriters Peter Farrelly, Brian Hayes Currie, and Tony Lip's own son, Nick Vallelonga, have continued to defend their movie against this criticism.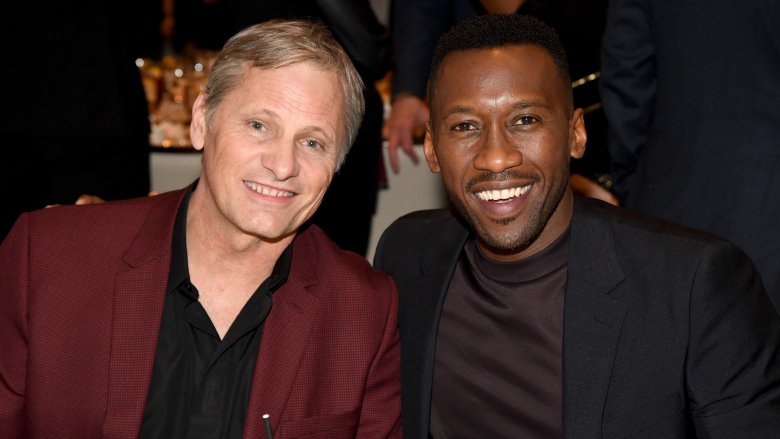 Getty Images
Meanwhile, Nick Vallelonga also came under fire this week when a resurfaced tweet from November 2015 stirred controversy, Variety reports. In the since-deleted tweet, Vallelonga supported then-presidential candidate Donald Trump's Islamophobic theory that members of the Muslim community in New Jersey had been spotted celebrating as the World Trade Center towers fell on 9/11. The false narrative, of course, was quickly debunked by The New York Times. However, as Vallelonga wrote at the time, "@realDonaldTrump 100% correct. Muslims in Jersey City cheering when towers went down. I saw it, as you did, possibly on local CBS news." 
While he has since deleted his Twitter account, Vallelonga has yet to publicly comment on the matter, which sparked swift backlash. As a number of social media users noted, Ali himself, who recently won the Golden Globe for Best Performance by a Supporting Actor, is Muslim. BuzzFeed News editor Louis Peitzman, for example, tweeted, "Reminder that Mahershala Ali is Muslim and deserves so much better than this s**t." Meanwhile, producer Jordan Horowitz wrote, "Nick Vallelonga wrote Green Book. My industry just gave him a Golden Globe for writing. This remains on his timeline. Mahershala Ali is a Muslim, and a beautiful, generous and kind man. This is all just too disgusting."