What Terrence Howard Reportedly Told Jussie Smollett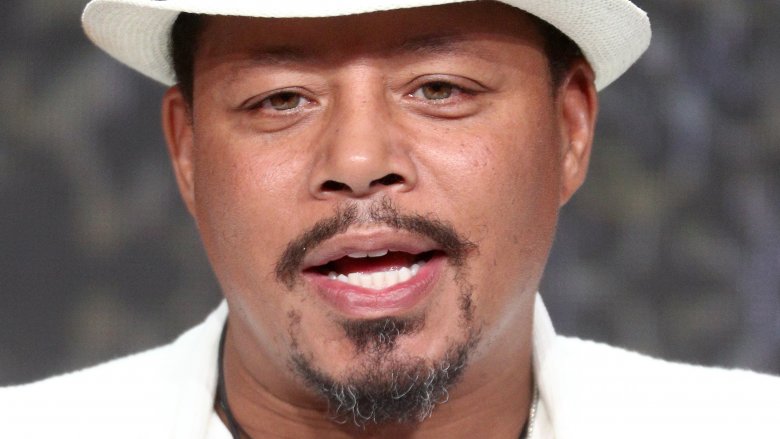 Getty Images
Empire's Terrence Howard may have given his co-star Jussie Smollett a talking to, following the revelation that Smollett's claims of being a hate crime victim may have been false.
After Smollett surrendered to the Chicago police after being charged with felony disorderly conduct for filing a false police report, Howard reportedly had a "complete meltdown," according to TMZ. The celebrity gossip publication noted that Howard, 49, would not come out of his trailer on the Empire set. Apparently, Howard reportedly never fully believed Smollett's story that two men jumped him in Chicago after calling him racist and homophobic slurs, as a source told TMZ. Howard is said to have even questioned Smollett over his account of his alleged attack in late January 2019, and urged him to "come clean" after brothers Abel and Ola Osundario were detained in connection with Smollett's alleged beating.
When Smollett, who plays the son of Howard's character on Empire, apologized to the show's cast and crew upon his release from police custody on $100,000 bond, Howard was reportedly not around to hear it.
According to TMZ, Howard wasn't the only member of the Empire family to think Smollett, 36, may have been lying about his alleged attack. And that may just be one reason why show producers decided to remove Smollett's character from the finale episodes of the series' fifth season. As, in a statement signed by Empire's co-creators Lee Daniels and Danny Strong, they wanted to "avoid further disruption on set" (via CNN).
However, just because Howard may not have been happy with Smollett and may not have totally believed his claims, the actor appears to still have his co-star's back. On Saturday, Feb. 23, 2019, Howard posted a video of Smollett on his Instagram page, showing the actor holding and playing with a baby while on a flight. In the caption, Howard wrote, "All your lil homies got you... We love the hell outta you."
But Howard didn't only share the post in support of his colleague — he also defended Smollett against hateful commenters, as reported by CNN. After one person left a comment criticizing Smollett, Howard responded, writing, "Sorry you feel that way but that's the only Jussie I know." Howard continued, "The Jussie I know could never even conceive of something so unconscious and ugly. His innocence or judgment is not for any of us to decide. Stay in your lane and my lane is empathy and love and compassion for someone I've called my son for five years. It's God's job to judge and it's ours to love and hope, especially for those that we claim to have loved."
So, it'd seem that Howard may have possibly needed convincing from Smollett about his alleged attack, but, clearly, Howard is fully on his TV son's side.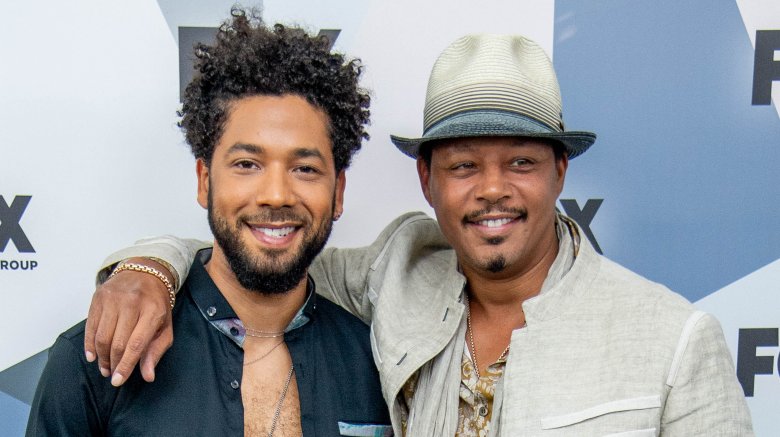 Getty Images
Despite the Chicago Police Department reportedly believing that Smollett lied about the alleged hate crime he faced in an effort to somehow further his acting career, Smollett has maintained his innocence. "Like any other citizen, Mr. Smollett enjoys the presumption of innocence, particularly when there has been an investigation like this one where information, both true and false, has been repeatedly leaked," his attorneys said in a statement (via CNN). "Given these circumstances, we intend to conduct a thorough investigation and to mount an aggressive defense."
And, according to TMZ sources, Empire executives don't buy that Smollett planned an attack because he wasn't satisfied with his current pay on the show, as the Chicago PD has claimed. The gossip rag noted that neither Smollett nor his representatives ever expressed that he was unhappy with his per-episode salary. He reportedly makes $125,000 for each episode of Empire, not including what he earns for his contributions to the show's music.
Besides having Howard's support — despite the actor's reported doubts — Smollett also has co-star Taraji P. Henson in his corner. Henson, who plays the mother of Smollett's character on Empire, opened up about the alleged hate crime against Smollett during an appearance on The Dr. Oz Show. "At his very core, he is love. That's just who he is," she said. "And love is always gonna win."
However, Henson, 48, said all that before it was reported that Smollett may have faked his attack. But, since we haven't heard Henson speak out against her TV son, we'll just assume that she's still on Team Smollett, at least until there's any undeniable proof that he orchestrated his attack.
According to Page Six, Smollett's next court date is scheduled for March 14, 2019.