Tristan Thompson Spotted With New Woman A Week After Split With Khloe Kardashian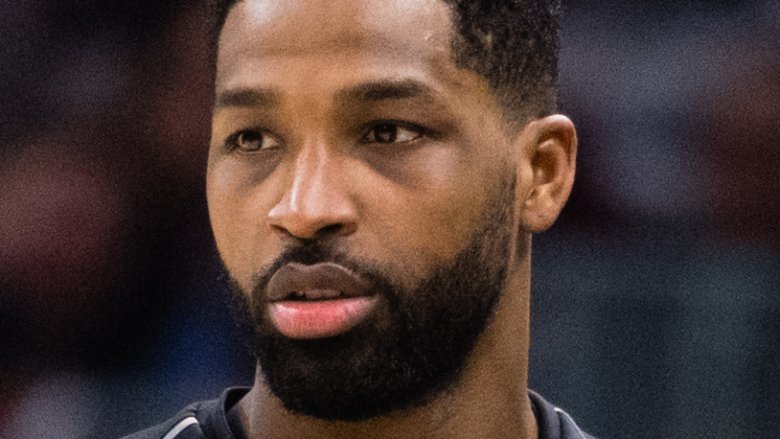 Getty Images
Is Tristan Thompson moving on already following his breakup with Khloé Kardashian? Based on his recent outing in New York City, it sure looks like it. But there's more than meets the eye.
TMZ reports that Thompson dined at the Italian restaurant Carbone in NYC on Wednesday, Feb. 27, 2019, and he appeared to have the company of a woman. As the celebrity gossip rag pointed out, Thompson posted a photo of his pasta dinner on his Instagram Stories, and, in the picture, you can see a woman's hand holding a glass across the table from Thompson.
Sources told TMZ that Thompson first arrived at Carbone with one of his Cleveland Cavaliers teammates, while a woman, who appeared to have the same nail polish as the woman in Thompson's Instagram photo, arrived about five minutes later. Thompson then allegedly brought the woman, who was waiting outside the restaurant, inside, where they are said to have spent hours together.
Thompson and the woman reportedly left the restaurant separately, with Thompson going out the kitchen door.
But TMZ noted that the woman may not have been looking for a romance with Thompson. Rather, she may be the girlfriend of Thompson's teammate Jordan Clarkson and may have even arrived with him, contrary to what was previously reported. Plus, Thompson was reportedly having dinner with at least three other people, according to TMZ's witnesses, so it'd seem unlikely that there would be sparks flying at such a crowded table anyway.
And, as StyleCaster suggested, the woman in question might just be a friend. There's just no real evidence that she and Thompson are more than that.
Tristan Thompson and Khloé Kardashian, who share daughter True, reportedly broke up after the reality TV star and Good American businesswoman learned about his alleged affair with Jordyn Woods, the best friend of Kardashian's younger sister Kylie Jenner.
Thompson's rumored tryst with Woods isn't the first time he's been accused of cheating on Kardashian. Back in April 2018, it was reported that Thompson had been unfaithful to Kardashian, who was days away from giving birth to their child. Footage emerged of Thompson getting a little too close with a couple of women. At the time, Kardashian and Thompson reportedly decided to work on their relationship. But, as we all know, things ultimately wouldn't last between them.
Thompson's infidelity may prove to be a large part of the next season of Keeping Up With the Kardashians. On Thursday, Feb. 28, 2019, E! released a trailer for the upcoming season, teasing all the drama that unfolded before the cameras. In the teaster, Kardashian says, "It's really hard to regain trust," adding, "Your one stupid weekend, you just demolished a relationship."
Throughout Thompson's most recent cheating scandal with Woods, he's publicly kept quiet on the matter, despite first tweeting that it was "FAKE NEWS" before ultimately deleting the post. When arriving in New York City for a game against the Knicks on Wednesday, Feb. 27 — before he went out to dinner at Carbone — he stayed silent and kept on walking as press asked him questions, as reported by TMZ.
While Kardashian and her famous family have mostly appeared to take aim at Woods since Thompson's apparent infidelity, Kardashian did seem to address her former boyfriend's actions on social media. On Thursday, Feb. 28, Kardashian posted a quote to her Instagram Stories that read, "Remember: they cheated because they wanted to, they lied because they could, and now they're sorry because they got caught" (via People). The quote continued, "It's always about them. You did nothing to cause or deserve it."
Kardashian has since presumably channeled her frustration over the whole ordeal into working out, shopping, and relaxing at a spa, as noted by People. While we wish she never had to experience this heartbreak, we're glad she's being proactive with self-care.
According to People, Kardashian has been "doing well" following the breakup. "She's doing well. She seems happier and is in a very good place as a working mom," a source told the magazine. "She feels very lucky to have such an amazing support system. She has been spending a lot of time with [mom] Kris [Jenner]."
The insider noted that, with all the drama surrounding Kardashian, Thompson, and Woods, there's one good thing to come out of it: Kardashian "will finally be able to move on."
Seems like Thompson has no chance of ever getting back together with Kardashian.