Felicity Huffman Arrested In College Admissions Bribery Scandal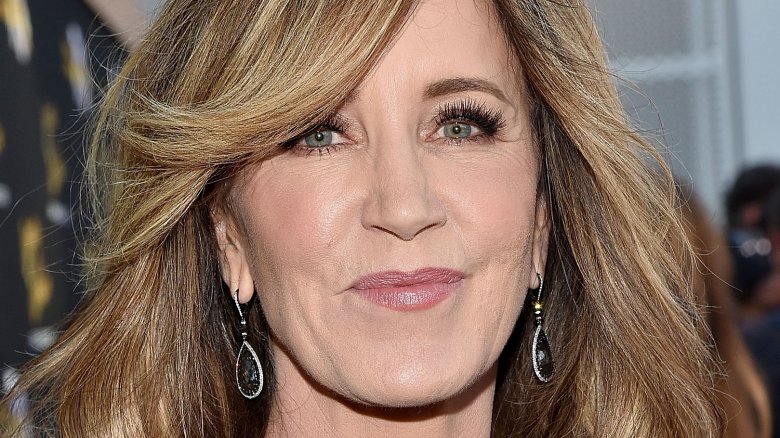 Getty Images
UPDATE:
New details have surfaced surrounding actress Felicity Huffman's recent arrest in the ongoing college admissions scandal.
According to sources cited by TMZ on Tuesday evening, March 12, 2019, the TV star was arrested at around 6 a.m. that same morning from her home in Hollywood Hills, Calif.
The insiders claim that Huffman was awoken by seven FBI agents, who reportedly had their guns "drawn as a precaution" as they "ordered [her] to come out and surrender." Prior to this, the American Crime alum reportedly "knew the arrest was looming and would have gladly surrendered on her own."
After appearing in federal court that afternoon, Huffman was charged with conspiracy to commit mail fraud and honest services mail fraud. According to the gossip rag, she was released on $250,000 bond hours later, but has surrendered her passport and cannot leave the country.
ORIGINAL REPORT:
Actress Felicity Huffman found herself behind bars this week.
TMZ reports that the former Desperate Housewives star was indicted for her alleged involvement in a nationwide college admissions bribery scandal on Tuesday, March 12, 2019.
According to court documents cited by the gossip rag, Huffman and her husband, fellow actor and Shameless star William H. Macy, allegedly paid $15,000 "to participate in a college entrance exam cheating scheme on behalf of [their] eldest daughter." Their 18-year-old daughter, Sofia Grace, reportedly scored 1420 on her SAT — roughly 400 points higher than her PSAT score — after being given twice the amount of time to complete the exam. A proctor was then allegedly bribed to correct her answers, according to the indictment docs.
For her part, Huffman was reportedly recorded while talking about this scam over the phone with a cooperating witness (via CNN). 
It should be noted that while the actress was arrested, Macy himself was not charged. According to sources cited by TMZ, Huffman is reportedly expected to be released via signature bond on the grounds that she appears before a judge in court, reportedly at 2 p.m. PST on March 12. However, at the time of this writing, Huffman, Macy, and their reps have yet to publicly comment on the matter.
Readers may be aware that Fuller House star Lori Loughlin and her husband, clothing designer Mossimo Giannulli, were among the other high-profile parents charged in this ongoing scandal. However, according to a release from the U.S. Attorney's Office in Massachusetts, they're definitely not the only ones involved. "Dozens of individuals involved in a nationwide conspiracy that facilitated cheating on college entrance exams and the admission of students to elite universities as purported athletic recruits," read the release (via People), "were arrested by federal agents in multiple states and charged in documents unsealed on March 12, 2019, in federal court in Boston." 
These other individuals include multiple college prep execs and coaches. Additionally, the colleges in question reportedly include Ivy League schools like Yale, Stanford, Georgetown, the University of Southern California, and more. 
However, CNN reports that this elaborate cheating scheme centers around a fraudulent non-profit organization called the Key Worldwide Foundation, which was founded by California businessman William Rick Singer. While speaking with CNN, the US attorney for Massachusetts Andrew Lelling broke down the scam, saying, "I'll speak more broadly, there were essentially two kinds of fraud that Singer was selling. One was to cheat on the SAT or ACT, and the other was to use his connections with Division I coaches and use bribes to get these parents' kids into school with fake athletic credentials."
For his part, Singer has been charged with racketeering conspiracy, money laundering, tax conspiracy, and obstruction of justice, according to CNN. He has since pleaded guilty. "All of these things, and many more things, I did," he said during his court appearance on Tuesday, March 12 (via CNN). "I created a side door that would guarantee families would get in." As the news outlet noted, Singer is expected to be released on $500,000 bond, but faces up to 65 years in prison. His sentencing is scheduled for June 19 of this year.
As for the likes of Huffman and the other parents allegedly involved, prison time is, of course, a possibility. However, it sounds like it may be unlikely. "In this case I don't see it as a probability with respect to the parents involved," legal expert James J. Leonard Jr. recently told People. He added, "At the end of the day, we are talking about parents who tried to help their children, and crossed the line in doing so."
While we wait for more updates on this ongoing scandal, a number of celebs have since taken to social media to comment on the matter. "TERI HATCHER GOT ME INTO BROWN," Billy On The Street star Billy Eichner, for example, tweeted out in a since-deleted Desperate Housewives-inspired joke (via Too Fab). He continued this gag with, "JUDITH LIGHT GOT ME WAIT LISTED AT TUFTS," and later added, "Look, it's not the biggest problem in the world but I would not have gotten into Dartmouth without Mo'nique."
Meanwhile, the Full Frontal With Samantha Bee Twitter account quipped, "BREAKING NEWS: ENTRANCE INTO COLLEGE UNJUST, TILTED IN FAVOR OF WHITE KIDS WITH RICH PARENTS." Similarly, ESPN's Jemele Hill sarcastically tweeted, "I, for one, STUNNED that rich people would pay millions in bribes to get their children into elite colleges. You mean they didn't earn it based off merit alone, as we're constantly told? ::clutches imaginary pearls::"