Celebs That Fell On Live TV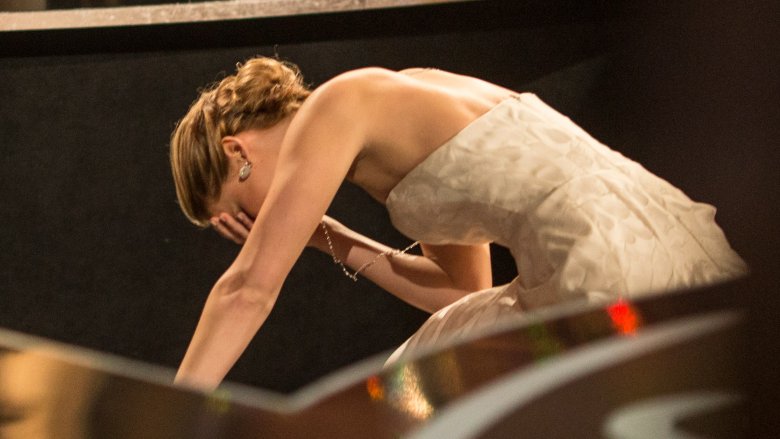 Getty Images
Have you ever been walking down the street and tripped on the sidewalk, or on your own feet? We've all been there, and the first thing we do is look around and see if anyone noticed our gaffe. Unfortunately for the celebrities on this list, their spills occurred on live television, broadcast for the world to see (and to watch over and over again). 
Remember Jennifer Lawrence stumbling up the stairs and straight into our hearts at the 2013 Academy Awards? Pop star Katy Perry gave a whole new meaning to stage diving when she launching into a giant cake after a performance that produced a series of comedic falls. Madonna, P-Diddy, and Joe Jonas all took some nasty spills while performing at various awards shows, and Niall Horan of One Direction found the rough while caddying for Rory McIlroy at the Masters golf tournament. Not even the leader of the Catholic Church, Pope Francis, was immune to stumbling on live TV before delivering a sermon in Poland. Shaquille O'Neal proved the old adage: The bigger they are, the harder the fall when the 7-foot-1 giant nearly broke the set during a halftime show. Then there's Rami Malek, who won the 2019 Academy Award for best actor. He gets an honorable mention on our list because his spectacle occurred after the cameras stopped rolling, but let's take another look at some stars who have fallen on live TV.
Jennifer Lawrence falls into our hearts
Part of Jennifer Lawrence's allure is her Girl Next Door image. Despite her meteoric rise to fame as Katniss Everdeen in the Hunger Games series, she has seemingly kept her feet planted firmly on the ground. Well, except at the 2013 Oscars. On her way up the stairs to collect her award for best actress for her role in Silver Linings Playbook at the 2013 Oscars, Lawrence tripped over her voluminous gown. 
"You guys are just standing up because you feel bad that I fell, and that's embarrassing," the 22-year-old told the crowd as she began her acceptance speech. A year later, the Louisville, Ky. native told W magazine that cake was the real culprit. "I kept thinking, Cakewalk, cakewalk, cakewalk. I thought, Why is 'cakewalk' stuck in my head? And then, as I started to walk up the stairs and the fabric from my dress tucked under my feet, I realized my stylist had told me, 'Kick, walk, kick, walk.' You are supposed to kick the dress out while you walk, and I totally forgot because I was thinking about cake! And that's why I fell."
Gravity would strike again a year later. Sporting a new tight hairdo and sexy red dress on the Oscars' red carpet, Lawrence had a mishap with a high heel and hit the deck, nearly dragging a friend down with her.
Madonna goes True (black and) Blue at Brit Awards
Ouch. Madonna took one of the worst celebrity tumbles of all time at the 2015 Brit Awards. While performing her song, "Living for Love," a wardrobe malfunction sent The Material Girl flying backward down a set of stairs when she couldn't get her cape untied in time. But Madonna's been around the block, and as a true professional, the wicked fall didn't prevent her from finishing the song. Some in the audience even thought it was part of the show. "Consider the evidence — she fell on the lyric "I let down my guard, I fell into your arms" and was back on her feet to sing purposely "now that it's over, I'm going to carry on,"  the BBC reported.
The fall looked so bad that Madge had to let her fans know she was okay. "Armani hooked me up! My beautiful cape was tied too tight! But nothing can stop me and love really lifted me up! Thanks for your good wishes! I'm fine! #livingforlove," The Queen of Pop said on Facebook the following day.
Bill Murray's balance was a bit off on MSNBC
Bill Murray seems like he's a good time kind of guy. He's been known to show up randomly in places and have fun with fans. His high jinks with fans even inspired a documentary.  So when David Letterman was preparing for his final show, Murray, who was Dave's first guest in 1982, wasn't going to let the moment pass him by without a little toast, sipping what appeared to be vodka straight from the bottle. Unfortunately, Murray had to take a trip over to MSNBC for an interview on The Last Word with Lawrence O'Donnell after his appearance on Letterman's Late Show.
Murray, who was admittedly a little tipsy, had a touch of trouble planting his butt in his chair, spilling backward as the show went to commercial. "I just did the Letterman show, then went to dinner, had oysters, rosé wine, red wine and duck — and red wine. The chair was not balanced properly, and I went down, and I hurt myself properly," Murray told O'Donnell (via People).
Shaq nearly brings the house down at halftime
The bigger they are, the harder they fall. Thankfully, no one but the floor got hurt when Shaquille O'Neal took a big tumble during TNT's Inside the NBA Halftime Report in 2017. An errant cable snared The Big Aristotle — all 7-foot-1, 325 pounds of him — and sent him flying to the ground sans one shoe, along with an innocent television monitor. His co-hosts burst into laughter, and Shaq, being the self-deprecating good sport that he is, embraced his embarrassment, putting up $500 for the best meme of the incident. "I almost broke my damn leg," Shaq posted on Twitter, with the hashtags DowngoesShaq, and Shaqtinafall, a play off one of his halftime segments.
Shaq Daddy has made a habit of taking spills during the raucous halftime show, mostly at the expense of Christmas trees, like in 2011 and again in 2014, this time with a little push from co-host Kenny Smith. The Diesel isn't even safe while fake fishing, taking a spill out of his chair during the 2013 Playoffs.
Katy Perry takes the icing off the cake
While Jennifer Lawrence may have been thinking about cake, Katy Perry was face deep in it at the 2008 MTV Latin Awards in Guadalajara, Mexico. At the conclusion of her performance of her smash hit "I Kissed a Girl," Perry bellyflopped into a giant pink cake. Anyone who's been on a diet can tell you that cake frosting can be extremely dangerous, something that Perry found out the hard way, as her ensuing attempts to stand produced a Vaudeville-like series of stumbles and falls. The sexy singer could only laugh as she laid on the ground, and even a helping hand from her guitarist couldn't help Perry find her feet on the slippery stage. 
"I watched it a couple more times and ... it was on purpose. She did it on purpose. It was all planned. I think she murdered it, man," then-boyfriend Travis McCoy told MTV News after the fact. That wasn't the last time Perry was associated with sugary confections. Check out this cupcake fight in 2009, and her cake-like dress at the 2019 Grammy Awards.
Diddy wipes out at BET Awards
The 2015 BET Awards were the culmination of a bad week for Sean "Diddy" Combs. Days earlier, Diddy was arrested and charged with assault with a deadly weapon for allegedly swinging a kettlebell at a UCLA football coach. (His son was a player there.) Although the charges were later reduced, and Combs claimed self defense, karma appears to have nabbed a small measure of revenge against the hip-hop mogul. About halfway through an 11-minute performance celebrating 20 years of Bad Boy Records, Puffy fell straight on his butt through a hole in the stage. Combs didn't miss a beat, as fans and crew quickly got him back upright and right back on the beat. 
"As I'm falling in the hole, it's actually ... time has slowed down dramatically," Combs told The Breakfast Club (per BET). "We talking about — it's like 10 seconds, I'm falling. I'm like, 'Yo, my name is Puff Daddy. I'm one of the coolest cats in the world. There's 35 million people watching. You about to be the guy that fell in the hole. No. No way, Sean.'" Yes way, Sean.
The One Direction they're referring to is 'down'
The boys from One Direction have a penchant for falling over during concerts. Whether it was puberty or basking in the glow of thousands of screaming teenage girls, the boys have had their troubles keeping their balance. The U.K. boy band even relived some of its finer falling moments on Ellen in 2015. While it's mostly happened to all of them on stage in front of "only" screaming fans, Niall Horan brought his lack of balance from the stage to the golf course. 
While caddying for professional golfer and fellow Irishman Rory McIlroy during the 2015 Masters Par-Three Challenge, Horan "buckled under the pressure" of holding McIlroy's bag as a live interview was about to begin. "I apologise to golf," Horan joked afterwards (per The Independent). "I do perform to a lot of people but we were performing to their parents today! There was a lot of pressure. There's not 60,000 screaming girls here." Must be rough.
Meghan Trainor gets some company on the floor
Misery loves company. Laughter does too, judging by the reaction when Meghan Trainor hit the deck after performing her single, "Me Too" on The Tonight Show with Jimmy Fallon in 2016. It wasn't an elaborate dance move that landed Trainor flat on her back. It was the complicated maneuver of grabbing the microphone. Fortunately for the pop star, Fallon isn't above laying down on the job to help a guest, taking a spot right next to the "All About That Bass" singer. "Of every single dance move, grabbing the mic is the toughest," Fallon said after the two shared a sweet moment of laughter on the ground. "Standing ovation for Meghan Trainor, everybody!" 
That Fallon fall topped off a "most magnificent week" for the 2015 best new artist Grammy winner, even though she may have been a bit black and blue. "Haha I didn't feel it till hours later. I'm all good tho. Barely a scratch," she tweeted the following day.
The Pope stumbles in Poland
Not even the holiest of celebrities is immune to the occasional trip and fall. Jorge Mario Bergoglio, also known as Pope Francis, was preparing to deliver his first sermon in Eastern Europe in July of 2016. The head of the Catholic Church took a tumble in front of the crowd of more than 100,000 in Czestochowa, Poland, and millions more were watching on live television. The reason for the Pontiff's fall? Madonna ... No, not that one. 
"I was looking at (an image of) the Madonna, and I forgot the step," Pope Francis said afterward. In true Catholic fashion, the 79-year-old Pontiff understood that falling is sometimes part of his religion, and you have to just go with it. "I let myself fall, and this saved me," he said. "Because if I tried to resist it, I would have gotten hurt." The Pope was not injured and continued to deliver a rousing sermon. "The homily showed that the pope has strength and this strength he gets from the people," said Czestochowa Archbishop Waclaw Depo (per the New York Daily News).
A little blood can't stop Joe Jonas
Being a heartthrob to millions of adoring fans can have its pitfalls, but as they say, the show must go on. When Joe Jonas took a spill breaking through a glass door at the 2007 American Music Awards, he wasn't going to let a little blood stop him. The 18-year-old and his brothers had girls rushing the stage as they began their hit song, "SOS," but the middle brother and his tambourine dropped to the floor, and his left hand incurred a nice little slice after bracing the blunder. The JoBro didn't miss a beat, springing to his knees and rocking the house. 
"Just a little blood, but, whatever. Rock and roll," he said after the show (per People). Joe's balance hasn't gotten much better as he's grown older, according to an account on The Late Late Show with James Corden in 2019. "I have a 1-year-old that learned to walk six weeks ago, who I don't think falls over as much as you do," Corden quipped.