Donald And Melania Trump Reportedly Spotted Arguing At Mar-A-Lago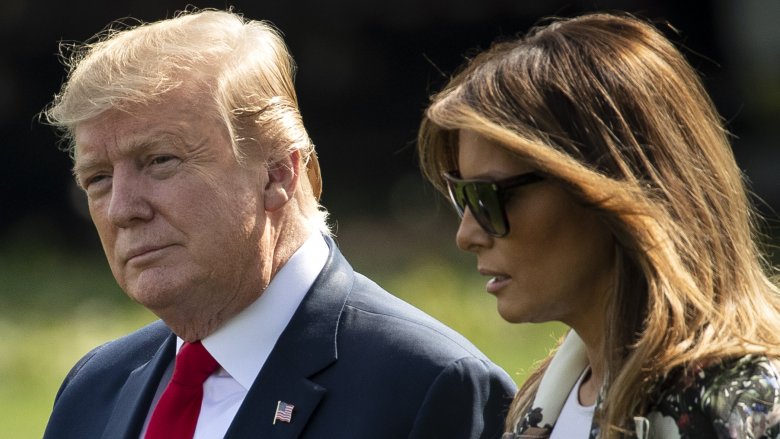 Getty Images
President Donald Trump and his wife, First Lady Melania Trump, may have gotten into a fight while at having dinner together at Mar-a-Lago.
People magazine reports that Donald and Melania were dining at the president's Mar-a-Lago resort in Palm Beach, Fla. on March 30, 2019, when the two had a disagreement. "Melania was upset and they had words with each other over something," an insider revealed to the publication. The source noted that it was unclear just what the two were bickering about.
The insider added that Donald's daughter Ivanka Trump and her husband, Jared Kushner, were also at Mar-a-Lago's dining area that night, though they allegedly ate their meals at a separate table.
In response to the source's statements to People, Donald's spokesperson, Stephanie Grisham, has denied that any fight occurred between Donald and Melania at Mar-a-Lago that day, and she called the insider's report "completely false." Without going into detail while disputing the source's account of Donald and Melania's alleged fight, Grisham told People, "I'd encourage the anonymous source to say such things on the record."
White House Press Secretary Sarah Huckabee Sanders did not comment on the matter.
According to People, Donald Trump had enjoyed an afternoon of golfing at Mar-a-Lago before attending a Republican fundraiser that evening, where he reportedly gave a speech.
Rumors of Donald and Melania Trump not getting along are hardly new. Who could forget when Donald went to grab his wife's hand after arriving in Tel Aviv, Israel in 2017, only for Melania to appear to swat his hand away? Awkward! Honestly, with all the allegations of infidelity that have emerged over the years, it'd be a wonder if the two didn't fight from time to time. Remember those Stormy Daniels headlines, everyone?
But the rumors about Donald's alleged cheating reportedly didn't bother Melania. At least, that's what she claimed in her October 2018 interview with Tom Llamas for Good Morning America. "It is not a concern and focus of mine. I'm a mother and a first lady, and I have much more important things to think about and to do," Melania said at the time. "I know people like to speculate and media like to speculate about our marriage."
When asked if she felt hurt by the rumors, she shared, "Media, what is speculating, yeah, it's not always pleasant, of course. But I know what is right and what is wrong and what is true or not true."
In the interview, she also stated that her marriage to Donald was "fine," adding, "Yes, it's what media speculate and it's gossip. It's not always correct stuff."
Still, there have been plenty of reports about Donald and Melania being unhappy in their marriage. In March 2017 — two years before the couple's alleged public Mar-a-Lago fight — Us Weekly reported that Melania had refused to share the same bed with her husband. "They have separate bedrooms," one source claimed. "They never spend the night together — ever." Another insider alleged that Donald and Melania did share a bedroom but slept in separate beds. However, Melania's rep denied these accounts to Us Weekly, saying, "It's unfortunate that you are going to feature unnamed 'sources' that have provided fictional accounts."
Of course, Donald and Melania Trump may have more to argue about these days. A week before the pair's alleged fight at Mar-a-Lago in late March, Robert Mueller had concluded his investigation into possible Russian collusion in the 2016 United States presidential election. While Donald initially said that Mueller's findings were a "total exoneration" of his alleged illegal involvement with Russia, he later called the details of the report "total bulls***," as reported by CNN. So clearly, Donald's been up and down regarding Mueller's report, which could surely have an effect on his personal life.
Furthermore, Mueller's entire investigation had reportedly been impacting Donald's health. "Melania is concerned about the effect all these investigations are having on Donald's health, but she isn't concerned about the outcome of any investigations," a source told Hollywood Life. The insider continued, "Melania can't help worrying about how his body is dealing with all that stress, which keeps growing by the day."
So, could Donald and Melania's alleged Mar-a-Lago spat have been sparked by Melania's disdain for her husband and the allegations that have surrounded him? Or by Melania's concern for her husband's well-being? Guess we'll never know.