The Truth About Baby Archie's Surname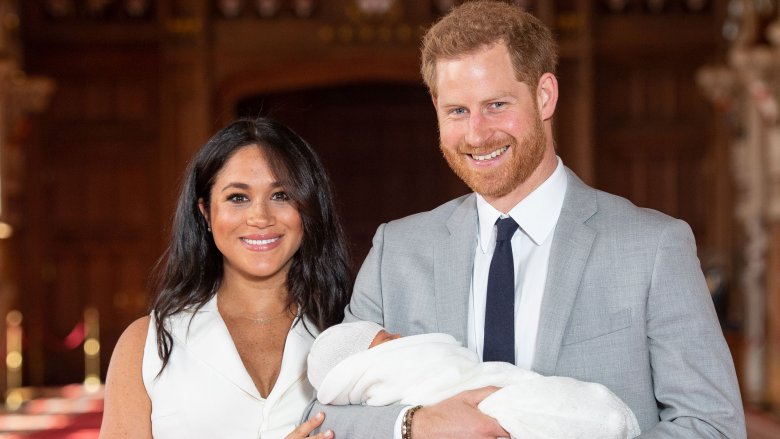 Dominic Lipinski/Getty Images
New details have come out about royal baby Archie's name.
According to an Irish Central report, published on Wednesday, May 8, 2019, there's much more to Meghan Markle and Prince Harry's first born's moniker — Archie Harrison Mountbatten-Windsor — than meets the eye ... and it's all in the surname.
Royal family buffs most likely know that Queen Elizabeth II became Britain's longtime queen just five years after tying the knot with Prince Philip back in 1947. Originally from the House of Windsor — which has remained the royal family's house name since 1917 — she proclaimed in 1960 that those in her bloodline would take on the surname of Mountbatten-Windsor in honor of her husband's full title, Lieutenant Philip Mountbatten, as per the royal family's website. 
"The Queen and The Duke of Edinburgh decided that they would like their own direct descendants to be distinguished from the rest of the Royal Family (without changing the name of the Royal House)," the website stated, adding, "It was therefore declared in the Privy Council that The Queen's descendants, other than those with the style of Royal Highness and the title of Prince/Princess, or female descendants who marry, would carry the name of Mountbatten-Windsor ... on occasions when they needed a surname." How often does dishing the deets come with a history lesson?
As Nicki Swift previously reported, baby Archie made his public debut at just two days old on Wednesday, May 8 — around the time his famous parents officially announced his name. Readers are most likely aware that Markle, 37, and Prince Harry, 34, welcomed their first child together in the early morning hours of Monday, May 6. At the time of his birth, their newborn son weighed in at 7 lbs., 3 oz.
In addition to being seventh in line for the throne, baby Archie marks the very first multiracial, British-American prince born into the British royal family, according to The New York Times. Naturally, the meaning behind his first name has been widely speculated. Babble reports that Archie means "genuine and bold." Meanwhile, middle name Harrison literally means "son of harry," as per Baby Center. Talk about fitting!
For those wondering, there were other options for Baby Sussex's surname apart from the above-mentioned hyphenated last name of his great-grandparents, Prince Philip and Queen Elizabeth II. The former Suits actress' maiden name, Markle, was out of the running, since she renounced it upon marrying into the royal family. However, she and husband Prince Harry could've followed in Prince William and Kate Middleton's footsteps. 
According to Town & Country, the Duke and Duchess of Cambridge, who are parents of three, have relied on William's dukedom for their adorable kiddos' last names. Their third child Prince Louis' birth certificate, for example, reads his full title as His Royal Highness Prince Louis Arthur Charles of Cambridge. In the case of Prince Harry and Markle then — a.k.a. the Duke and Duchess of Sussex — Sussex could just as well have served as their son's surname.
But why not keep it all in the family's history? Indeed, Archie Harrison Mountbatten-Windsor is a special name for a special little guy.
As the world reacted to the exciting royal baby news, Queen Elizabeth herself was said to have been "delighted" by the arrival of her eighth great-grandchild. She met little Archie for the first time just after he was introduced to the world at Windsor Castle, where Markle and Prince Harry tied the knot nearly a year ago.
While speaking with reporters at the time, Markle said, "It'll be a nice moment to introduce the baby to more family." At this, her husband quipped, "Another great-grandchild. Another." Markle went on to reveal that her baby boy "has the sweetest temperament" and is "really calm" (via CBS News). For his part, Prince Harry jokingly chimed in with, "I wonder who he gets that from."
The royal couple both appeared to be overjoyed by their newfound parenthood. "It's magic. It's pretty amazing and, I mean, I have the two best guys in the world so I'm really happy," Markle said, while Prince Harry explained that they are "so thrilled," before discussing his baby boy's appearance. Noting that it was "changing every single day," he joked that his son "already got a little bit of facial hair." 
Already proudly gushing about their baby Archie and telling dad jokes? Something tells us these two have already got this whole parenting thing figured out. Congratulations once again to Prince Harry and Meghan Markle on the newest little addition to their family!