Is Meghan Markle And Prince Harry's Son Older Than We Thought?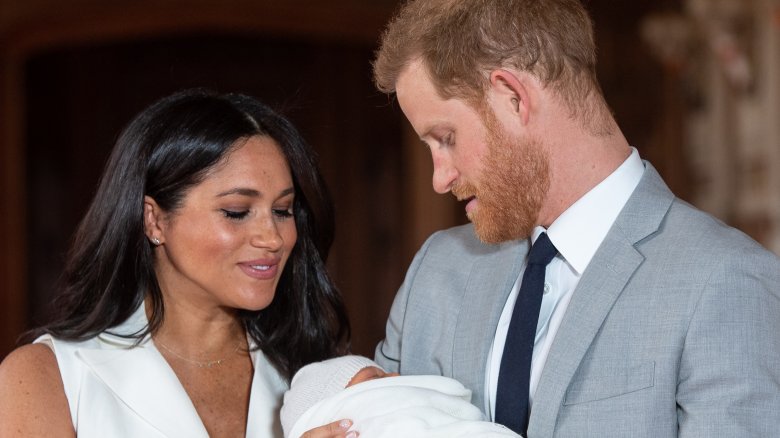 Wpa Pool/Getty Images
Meghan Markle and Prince Harry announced that they welcomed a beautiful baby boy into the world on Monday, May 6, 2019. But, if some speculation on the internet is to be believed, little Archie may have actually been born two weeks earlier.
This theory stems from Meghan and Harry's meeting with the press inside Windsor Castle on Wednesday, May 8, during which time they introduced their firstborn, son Archie Harrison Mountbatten-Windsor, to the masses. While giving society a peek at their precious little one, Harry responded to a question about which parent baby Archie looks like the most, telling the media (via The Royal Family Channel Twitter page), "Everyone says that babies change so much over two weeks, so we're sort of monitoring how this changing process happens over this next month really."
He continued, "But his looks are changing every single day so who knows," adding, "Parenting has been amazing. It's only been what two-and-a-half days, three days but we're just so thrilled."
Seems innocent enough. Harry just means that it's too early to tell just who their son will take after in appearance. But, as reported by The Sun, some people thought that Harry's comments may have actually been a slip-up and that he'd just accidentally revealed that his baby wasn't born two days earlier but rather two weeks earlier.
"Did Harry just say the baby 'has changed over the last two weeks?'" one Twitter user asked following Meghan and Harry's photo op with the press. "Harry just said 'babies change a lot in two weeks!' Slip of the tongue," another wrote in a post.
As noted by SheKnows, if Archie was actually born two weeks before his introduction at Windsor Castle's St. George's Hall, he could've been brought into the world around Easter Sunday, April 21. That same day, Meghan was noticeably absent from Easter service, though Harry, his brother Prince William, and Duchess Kate Middleton all attended, as reported by Harper's Bazaar.
About a week later, it was reported that Harry's grandmother, Queen Elizabeth II, had visited Meghan at her home at Frogmore Cottage (via People). And, according to SheKnows, this had many theorizing that Meghan had already had her baby. But we doubt any of this conjecture about baby Archie's alleged April birth has any to truth to it. Just because Meghan and Harry had previously expressed that they'd wanted to "keep the plans around the arrival of their baby private" (via BuzzFeed News), it doesn't mean they'd straight-up lie about when their royal baby was born.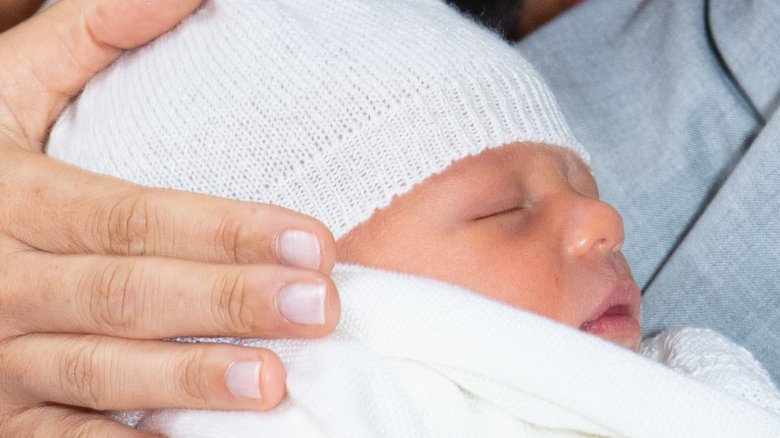 Dominic Lipinski – WPA Pool/Getty Images
And while we totally understand that some royal fans misheard Harry and believe he said his kiddo has changed a lot in just two weeks time, we really don't think that's the case. Harry was likely just sharing information he'd heard from others, as he probably couldn't quite tell if baby Archie looked like either himself or Meghan. Plus, while we're sure Meghan and Harry have a team of trusted, tight-lipped individuals, it'd be awfully tough for them to orchestrate a private birth without anyone finding out. They are a part of the royal family, after all. People talk!
As for Meghan missing out on the Easter service, well, we'd guess that she just didn't want to attend because she was due to give birth at any moment. As we know from Harry's meeting with the press (via Sky News), their kiddo was "a little bit overdue," so Meghan may have been taking every caution regarding her baby's impending arrival. And Queen Elizabeth II's visit to Meghan at Frogmore Cottage may have just been to see how her granddaughter-in-law was doing in her pregnancy. Nothing suspicious there.
Regardless of the exact day that baby Archie was born, it doesn't much matter. All that does matter is that Meghan and Harry's son is healthy and that both parents and baby are doing well. And, by the sound of things, that seems to be just the case. "It's magic, it's pretty amazing, and I have the two best guys in the world, so I'm really happy," Meghan shared with the press days after giving birth, as reported by CBS News. We couldn't be happier for the royal couple!