The Most Uncomfortable Dancing With The Stars Moments Ever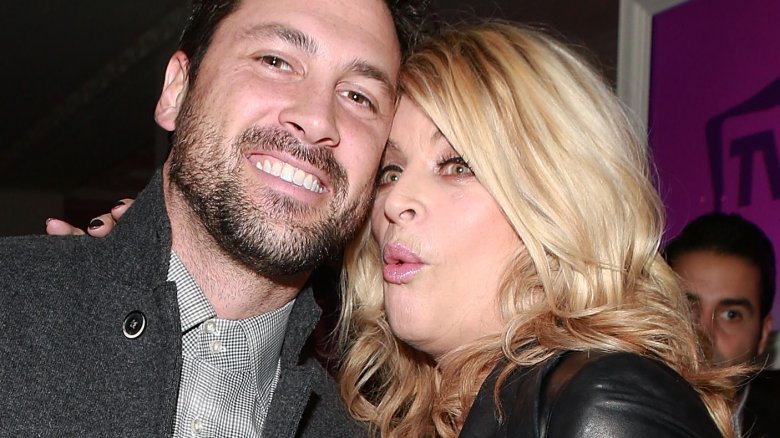 Robin Marchant/Getty Images
The appeal of reality TV is that we get to watch real people, in real, uncomfortable situations. While some classics of the genre, like The Bachelor or The Real Housewives franchises, receive flack for being a bit more fictional than real, there's one show that dishes out the uncomfortable in a way that's impossible to be staged: Dancing with the Stars, ABC's dance competition series that pairs professional dancers with B-list celebs. While some stars end up surprising us with their rhythmic prowess, others, unfortunately, leave a lot to be desired (sorry, Hoff).
Since DWTS is live, things have naturally gone wrong during performers' dance routines. As executive producer Joe Sungkur told Business Insider, it takes "a huge army of people" to put together such a spectacle, which is only pulled off with lighting and stage elements that are unique to each performance. With all these factors to consider during a live taping, you can almost guarantee that things won't always be running 100 percent smoothly.
From fainting on stage, to countless wardrobe malfunctions, to even bodyguards swarming the set to tackle professional hecklers, we've rounded up the most uncomfortable Dancing with the Stars moments ever.
Nancy Grace's 'little bit of jiggling'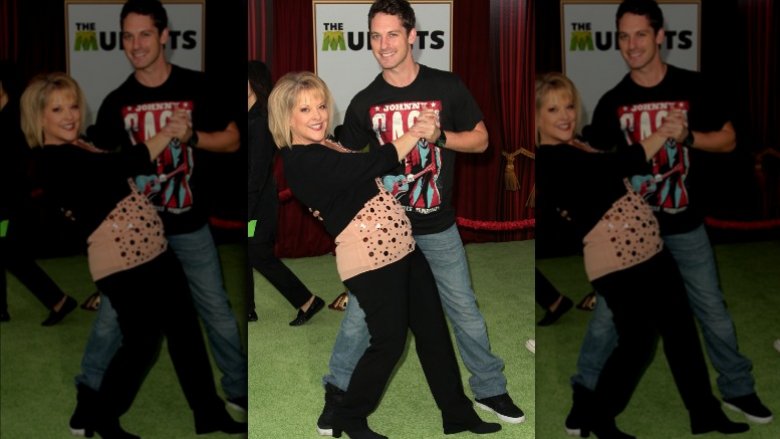 Frederick M. Brown/Getty Images
TV journalist Nancy Grace competed in Season 13 of Dancing with the Stars. She lasted an impressive eight weeks — even after her embarrassing slip-up during her performance in the second week. Dancing the quickstep with her partner Tristan MacManus, Grace swiftly hopped and floated through the routine until around the one minute mark, where her quickstep turned a bit too quick — causing the buxom blonde to spill out of her dress on camera. Grace didn't realize the slip, either, allowing host Tom Bergeron to take the reins and alert her to the sitch. Per Huffington Post, the host subtly hinted, "On the European version that would be perfectly fine." A mortified Grace proceeded to immediately pull her dress up and cower away in MacManus' shoulder.
After the performance, the TV personality spoke to Us Weekly about the incident — but denied a full-on wardrobe malfunction. "We have taken every precaution known to men in this dress right here. I'm talking industrial size precaution. There may have been, as Tristan said, a little bit of jiggling but there was absolutely not a wardrobe malfunction." We'll let you decide.
Sniffing a deal to the 'Fart Fanatics'
Poor Nancy Grace makes our list yet again, this time remaining fully clothed, yet allegedly letting something else slip on camera. After her week three dance, Grace and her partner, Tristan MacManus, had a recap with the show's host, Brooke Burke. Briefly discussing their performance, the camera suddenly caught a low-pitched gurgling noise, followed by Grace discreetly holding her stomach with one hand. It all happened so quickly, but TMZ didn't hold back jumping to conclusions. Immediately going after the TV journalist and asking her if she did, in fact, let some gas slip, Grace cooly replied, "As an ear witness on the scene, I can absolutely exonerate Tristan, myself and Brooke. However, the rest of the cast — seated just inches away — all remain under grave suspicion. The investigation continues."
It sure did continue, getting progressively weirder with time. A mere days after the alleged gas was passed, TMZ obtained information that a "fart fetish group" made an offer to ABC to "to license the rights to the infamous Nancy Grace fart footage." A rep for the site Clips4Sale.com told the tab, "After viewing and hearing Nancy Grace's alleged 'toot' after her performance on Dancing with the Stars, [we] would like to acquire the rights of the three-second footage ... We wish to acquire this for our members of our website who are 'Flatulophiliacs' or simply put, 'Fart Fanatics'."
From excited to unconscious
It's no secret that Dancing with the Stars is a physically-demanding show. While some contestants, like Sopranos star Vincent Pastore, found themselves dropping out due to the grueling training, others, like Jersey Shore alum Mike "The Situation" Sorrentino, found that they loved the physical challenge. Singer Marie Osmond apparently fell into the latter camp, albeit with some scary results. 
During Season 5, Osmond had just finished dancing the samba with her partner, Jonathan Roberts, when they stood to receive their scores from the judges. As judge Len Goodman discussed the duo's technique, Osmond's breathing progressively got louder until she suddenly collapsed to the ground. With the audience letting out some uncomfortable gasps, Tom Bergeron quickly cut to commercial, while a frantic Roberts tried helping the "Paper Roses" crooner off the ground. ABC publicist Amy Astley told Fox News afterward, "She was laughing and then sank like a stone. ... Everyone froze."
While producers were obviously worried and eventually made Osmond undergo a medical examination, the country singer kept things light-hearted upon waking up after the show's quick commercial break. Per Fox News, she "giggled" and said, "Once in a while that happens to me when I get winded. I stop breathing." 
A painful flub that turned into a beautiful moment
Season 12 star Kirstie Alley is the first to admit that the DWTS rehearsals can be tough. Partnered with pro-dancer Maksim Chmerkovskiy, the Cheers alum told The Daily Mail, "It's really hard. You're twisting things and he'll go, 'Just put your hips like this,' but they don't go that direction." Perhaps thanks to this intense training, the duo made it up to week eight of the contest. 
In fact, they even got past a hiccup that occurred early on in the competition. With the theme for the week relying on emotionally charged songs that resonate with stories of celebs' pasts, Alley picked a meaningful connection — she danced the rumba as a tribute to her late parents. With the dance carrying so much emotional weight, you can imagine the devastation when both Alley and Chmerkovskiy took a tumble halfway throughout the performance. The most cringe-worthy moment of the fall? Right before it happened, Chmerkovskiy's leg appears to completely bend the wrong way. The pro-dancer later told ABC News, "It never happened before. ... I guess [it was] like a charlie horse."
In a bizarre twist of fate, it turned out that the pair's dance actually fared quite well. Per the Daily Mail, judge Carrie Ann Inaba was even struggling to hold back tears as she gave them her verdict. 'Sometimes tragedy leads to amazingly beautiful moments."
Heckling that left this celeb 'heartbroken'
Although most uncomfortable DWTS moments are truly benign, sometimes they can actually get rather serious, too. Season 23 featured Olympian Ryan Lochte, who joined the cast a short period after his 10-month suspension from swimming competitions for allegedly lying about an armed robbery during the 2016 Rio Olympic Games. 
Lochte and his partner, Cheryl Burke, didn't perform a dance that warranted any uncomfortable groans, yet what happened after left the pair seriously flustered and distraught. According to CNN, judge Carrie Ann Inaba gave her verdict, then suddenly started shouting "Excuse me! Off! Off!" while the camera remained focused on her face. The network suddenly went to commercial. ABC later released actual footage of what really happened: two men wearing anti-Lochte t-shirts swarmed the stage in protest, only to be met by security guards tackling them to the ground. The camera then panned to the audience, which featured even more hecklers! After the episode aired, Lochte told CNN that was "a little hurt" by what had happened. "You know, at that moment, I was really heartbroken. My heart just sunk." 
Although the Olympian did release a public apology on his Instagram and Twitter pages initially after his alleged fib, there was clearly still some bad blood going around amongst fans of the Olympic Games.
Jerry Springer's awkward hip shaking
Tab talk show host Jerry Springer surprisingly lasted a full seven episodes during his stint on Season 3's Dancing with the Stars. A lovable fan-favorite, The Jerry Springer Show host came back week after week, showcasing his bumbling two left feet. His cringe-worthy pasodoble with partner Kim Johnson was particularly uncomfortable, due to poor Springer's lack of rhythm. The dance started off with a Springer, clad in a matador costume and holding a guitar, unsuccessfully attempting to break a guitar against the stage. Dropping the intact guitar to the ground, he then continued to stiffly hip-shake and hop around the dazzling Johnson before theatrically falling to the ground at the end of the routine.
According to Fox News, despite Springer's lack of dance prowess, fans kept him on, as he made up for his bumbling with self-deprecating jokes like, "At my age, we don't shake hips, we replace them." Tom Bergeron even jokingly referring to Springer's time on the show as a "ballroom equivalent of a hostage situation." Once he was finally eliminated, the TV personality endearingly quipped, "Thank you for having me. And thank you for letting me go home." 
Geraldo Rivera took a stab at his presidential pal
Why anyone allowed Geraldo Rivera to dress up as Donald Trump during Season 22 of Dancing with the Stars is beyond us. Although Twitter users ran amok with commentary after the performance, the cringe-worthy moment was enough to send Rivera home after the first week of being on the show. For the ill-fated salsa, the iconic TV newscaster donned a blonde wig — one that didn't match his oversized mustache — and a very orange spray tan on his face, causing him to look more like an Oompa-Loompa version of the the 45th POTUS. His partner, Edyta Sliwinska, slinked around him during the routine, spoofing Trump's wife, Melania. Naturally, the judges weren't impressed. According to the Orlando Sentinel, judge Bruno Tonioli called the mustached man a "true inspiration to Trump" because there was "plenty of bravado — the content I'm not sure what it was." Yikes!
Rivera apparently saw the end coming, quipping after he received the boot, "If I didn't get eliminated tonight, I would have demanded a recount." Ironically enough, the season also featured Trump's ex-wife, Marla Maples, who believed the president would have enjoyed the performance. Speaking to Fox News, Maples revealed, "I think he'd probably have fun watching it. He likes Geraldo. They've worked together; they've known each other longer than I've known him."
Mischa Barton did not volunteer as tribute
It wasn't any secret that Mischa Barton hated her brief stint on Season 22 of Dancing with the Stars. She loathed it so much, in fact, that when she opened up in an interview with The Ringer, the starlet revealed, "It was like The Hunger Games. It was all a popularity contest."
Lucky for Barton, she only lasted three weeks — probably since she looked visibly uncomfortable during all her dances — especially her cha cha with partner Artem Chigvintsev. According to Fox News, even the rehearsal before her performance "raised eyebrows." The O.C. alum was seen dramatically sighing during their practices, saying "whatever" before storming out the studio. To make matters worse, the blonde actress seemed to want to put the blame on a variety of other factors. Barton told host Tom Bergeron after the dance, "We've had a really rough day of me not being able to hear the song. ... It's been a really rough week. Today was a really bad rehearsal ... the live band, suddenly today I was being thrown by everything. It is what it is."
Speaking to The Ringer about her time on the show, Barton continued making excuses, not getting along with Chigvintsev and having a lack of creative control. She summed up her experience by saying, "It was awful. I was so glad to get kicked off."  
Sharna Burgess had trouble keeping things family friendly
Dancing with the Stars has gifted its viewers with some pretty incredible costumes. In fact, of the show's rather astounding 101 Emmy nominations, as of this writing, many of them have come courtesy of the wardrobe department. According to Business Insider, the series has a team of seamstresses that "work around the clock to finish the costumes for a live show." Considering there can be "constant fit issues to deal with," the crew tries to ensure that no slip-ups happen.
Of course, live TV being, well, live TV, means sometimes you can't account for sudden wardrobe malfunctions that come fro m certain routines. During Season 22 of the show, pro-dancer Sharna Burgess suffered some unfortunate top-half spillage while performing the tango with her celeb partner, NFL star Antonio Brown. Dancing to a cover of The Rolling Stones' "Paint It Black," Burgess' bustier continuously slipped down, with the buxom beauty failing to notice. As the pair finished their routine and walked up to the judges' panel, Tom Bergeron slyly told Burgess, "Pull it up just a touch, just for the family!" causing the dancer to finally realize what was going on.
In an interview with Entertainment Tonight a year later,  the Aussie-born dancer would dish, "I had that notorious nip slip about a year ago and so, I am covered in head-to-toe double-sided tape!"
This shoe loss conspiracy
A week after her unfortunate tumble with partner Maksim Chmerkovskiy, Season 12 star Kirstie Alley suffered yet another blunder — this time a loss of her shoe. Dancing the waltz, the actress' shoe came off after a spin, causing her to try and quickly put it back on until Chmerkovskiy came to help her up.
Even though the hiccup was clearly uncomfortable for Alley, the judges decided to let it pass, giving her a sympathetic score of 22 out of 30. Judge Carrie Ann Inaba gushed, "You didn't miss a beat!"
Speaking to People, Alley quipped that there was another reason for the seemingly-accidental blunder. "I do think it's a conspiracy. I think that the other girls came into my dressing room and tampered with my shoe. And I'm not going to name any names ... Petra [Nemcova]." Although this marked the second time that the actress remained cool during a live mishap, she still managed to put a jovial spin on things, saying, "I don't know what you do when these things happen. I'm an actress! We go like this, 'Cut! Cut! What the f**k is up with this shoe? I don't know. Get her a new pair of shoes! Get her 300 pairs of shoes.'"
Bonner Bolton's #handgate
Professional bullfighter Bonner Bolton did well enough to last a full eight weeks on Season 24's Dancing with the Stars. An athlete that clearly didn't have a problem with the rigorous training, he also had undeniable chemistry with partner Sharna Burgess — something that fans lapped up. Bolton wasn't shy to talk about their connection, either, revealing during the premiere that he was "dancing with the prettiest lady in the house," per Fox News. Aww!
Perhaps he was having too much fun, however, because during that same episode, the cameras caught a glimpse of a cheeky little grab. Sitting backstage after Nick Viall and Peta Murgatroyd's performance, Bolton wasn't aware of the camera pointed directly at him — right as he accidentally grabbed Burgess' crotch. Although the dancer immediately pushed his arm away, the moment went viral, with Burgess herself dubbing it "#handgate."
With fans going wild, Bolton's partner ran to his defense, blasting to her Twitter, "Anyone who has the ridiculous idea that it was intentional...is straight up stupid." Meanwhile, the athlete would try and explain the sitch himself to Entertainment Tonight, "I was looking at the TV screen. I felt her bump into me yet I wasn't really looking at what was bumping into me ... There was some hand placement that went south, so to speak." Woah there, cowboy!
Tinky Winky Wozniak
When the co-founder of Apple, Steve Wozniak, signed on to compete in Season 8's Dancing with the Stars, he did it with a humble purpose: wanting to prove that "nerds can dance." Try as he might, the tech legend simply couldn't cut it, getting himself and his partner, Karina Smirnoff, eliminated in week four. It's his first dance during week one, however, that definitely set the pace for the rest of his time on the show — a cha cha to a cover of Bachman Turner Overdrive's "You Ain't Seen Nothing Yet."
Sure enough, fans certainly had never seen anything like this before: a jovial computer programmer with a pink boa around his neck, dancing in a ballroom. Although the Woz was beaming during the entire dance, he had zero rhythm, causing judge Bruno Tonioli to compare him to "a Teletubby going mad in a gay pride parade." We dare you to try watching the dance with the mental image of Wozniak as Tinky Winky.