The Interview That Ruined Katherine Heigl's Career Overnight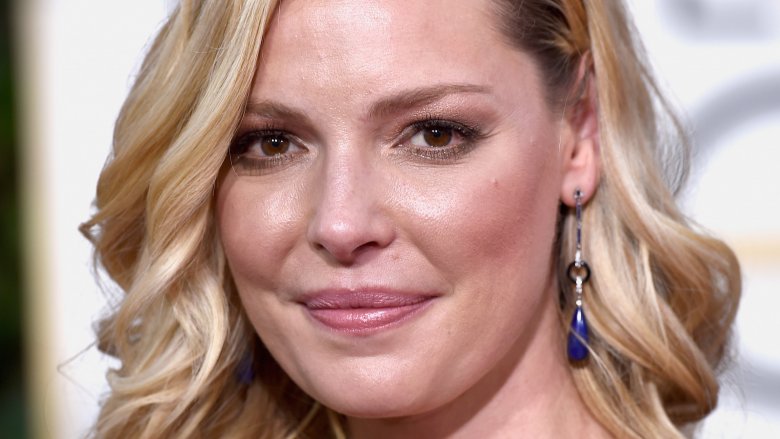 Frazer Harrison/Getty Images
Back in March, Katherine Heigl made headlines when she was cast as the lead in a new CBS comedy, Our House. According to Variety this is the first time the actress has been cast in a television comedy. But over ten years ago, Heigl actually made many, many more headlines because of her comments about her role in a big screen comedy — comments that at the time seemed like they'd ruined her career overnight.
She was riding high back in 2007. The former Grey's Anatomy star not only won an Emmy Award for best supporting actress in a drama series that year, she also began transitioning over to the big screen with her successful starring turn in Judd Apatow's Knocked Up opposite Seth Rogen.
Unfortunately, this movie-star-in-the-making's rise to the top quickly unraveled following an infamously ill-fated interview with Vanity Fair the following January. In a move that still has us scratching our heads, Heigl openly trash her own work in the coveted cover story.
"It was a little sexist," Heigl said of Knocked Up at the time. "It paints the women as shrews, as humorless and uptight, and it paints the men as lovable, goofy, fun-loving guys. It exaggerated the characters, and I had a hard time with it, on some days. I'm playing such a b***h; why is she being such a killjoy? Why is this how you're portraying women?" The actress added, "Ninety-eight percent of the time it was an amazing experience, but it was hard for me to love the movie." Ouch.
It should be noted that Knocked Up had earned an impressive 90 percent on Rotten Tomatoes just months earlier, while banking in $219.1 million at the box office. Given the beloved summer flick's undeniable success, Heigl's candid comments sparked immediate backlash from fans and colleagues alike, who seemed to feel she was being ungrateful.
For their part, Apatow and Rogen both chimed in on the matter during a joint interview on The Howard Stern Show in 2009. The fan-favorite writer-director admitted he was confused over Heigl's comments, saying, "We never had a 'fight' ... Seth always says, it doesn't make any sense [because] she improvised half her s**t" (via Us Weekly). Apatow added, "[You think] at some point I'll get a call saying 'Sorry, I was tired...' and then the call never comes.'" Meanwhile, Rogen felt Heigl's criticisms were hypocritical considering the portrayal of women in her follow-up rom-com, The Ugly Truth.
Soon after proving her A-lister clout between Knocked Up and Grey's Anatomy, Heigl also began to burn her bridges in Shondaland after shockingly withdrawing her name from Emmy contention in 2008. "I did not feel that I was given the material this season to warrant an Emmy nomination," the actress released in a statement at the time, according to The New York Times. "And in an effort to maintain the integrity of the academy organization, I withdrew my name from contention." 
Understandably, showrunner Shonda Rhimes was insulted by Heigl's remarks, and later said in an interview with Oprah Winfrey, "On some level it stung, and on some level I was not surprised. When people show you who they are, believe them." Heigl, of course, exited the show in 2010, solidifying her reputation for being "difficult" (her words, not ours, via Vanity Fair) and putting her near the top of the list of hated celebs everyone used to love. 
On the positive side of things, just as Katherine Heigl's career admittedly began to suffer in the late 2000s, the actress thrived in her personal life. As Nicki Swift previously reported, Heigl, 40, has welcomed three children with her musician husband, 39-year-old Josh Kelley, since tying the knot in 2007. After the happy couple adopted daughters Naleigh, 10, from South Korea in 2009 and Adelaide, 7, domestically in 2012, Heigl gave birth to son Joshua Jr. in June 2016. The adorable family of five now reside in Utah.
Meanwhile, Heigl and Seth Rogen have since appeared to end their alleged feud. During an interview with Howard Stern in August 2016, the comedy actor looked back fondly on his experience working with Heigl. "As we were making the movie, honestly, I was like, 'I would make a dozen movies with her," Rogen told Stern, adding, "I was having a really good time, and then when I heard afterward that she didn't like it, that she seemed to not like the process, and she did not like the end product either. I think when that happens — also your trust feels somewhat betrayed." However, Rogen's compassion over his former co-star's subsequent plight has seemingly grown over the years, as he continued, "I respect the fact that perhaps she realizes it has hurt her career, and I don't want that to have happened to her at all."
Indeed, Heigl has since expressed regret for saying anything at all in that fateful Vanity Fair spread. Months before Rogen's own appearance on The Howard Stern Show, Heigl told the shock jock that she had even gone to therapy to deal with the stress of her "difficult" reputation. She later responded to Rogen's kind remarks while speaking with The Hollywood Reporter, saying, "I think that he's handled that so beautifully, and I just feel nothing but love and respect." She added, "And it was so long ago at this point, I just wish him so much goodness, and I felt that from him, too."
Well, if Heigl and Rogen can bury the hatchet, perhaps there's still hope for some of the nastiest celeb feuds of the last 10 years ... and the actress' reputation in Tinseltown, too.