The Awful Interview That Nearly Destroyed Megan Fox's Career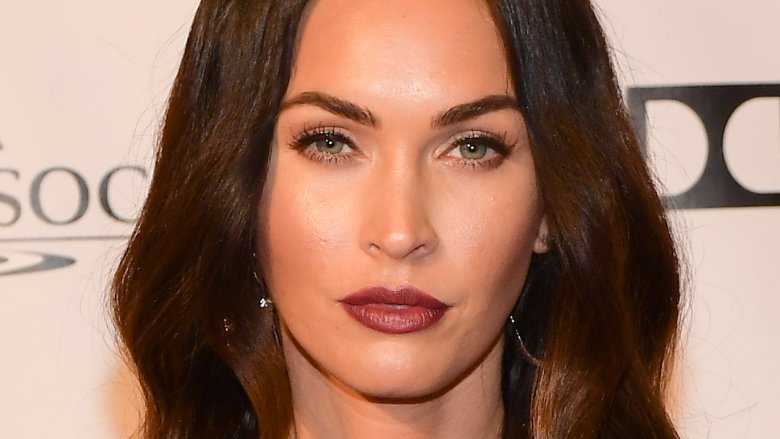 Matt Winkelmeyer/Getty Images
Actress Megan Fox made headlines when she officially filed to dismiss her divorce from fellow actor and husband Brian Austin Green in late April 2019, according to court documents obtained by The Blast. It seemed as though the move was a long time coming. People reports that the on-and-off couple initially reconciled around the time they announced they were expecting baby no. 3 in 2016 — nearly a year after Fox filed those divorce papers.
However, the Transformers alum was regularly making the rounds in the press a decade ago, when she compared the series' director Michael Bay to some of history's most notorious dictators in an awful interview that nearly destroyed her career.
"He's like Napoleon and he wants to create this insane, infamous mad-man reputation. He wants to be like Hitler on his sets, and he is," Fox told Wonderland magazine back in 2009. "So he's a nightmare to work for but when you get him away from set, and he's not in director mode, I kind of really enjoy his personality because he's so awkward, so hopelessly awkward." The now 33-year-old actress added, "He has no social skills at all. And it's endearing to watch him."
The highly-publicized trash talk naturally had nearly everyone grabbing for the proverbial popcorn. Well, possibly apart from the likes of Steven Spielberg. The Hollywood honcho not only executive produced the Transformers movies, but also allegedly urged Bay to fire Fox from reprising her role of Mikaela Banes in the action flick franchise's third installment, 2011's Transformers: Dark of the Moon ... at least according to Bay himself.
"You know the Hitler thing. Steven [Spielberg] said, fire her right now," Bay told GQ two years after Fox first made her infamous comments. He went on to claim, "I wasn't hurt, because I know that's just Megan. Megan loves to get a response. And she does it in kind of the wrong way. I'm sorry, Megan. I'm sorry I made you work twelve hours. I'm sorry that I'm making you show up on time. Movies are not always warm and fuzzy." (Talk about a non-apology.)
For his part, Spielberg, who launched the Survivors of the Shoah Visual History Foundation in the mid-'90s to help preserve the stories of Holocaust survivors, later denied the allegation. He simply told Entertainment Weekly that December, "That's not true." Meanwhile, Fox's rep had previously shared another version of the events, telling People in 2010, "It was her decision not to return. She wishes the franchise the best." Hmm. 
Either way, Fox's high-profile on-screen prospects soon seemed to come to a screeching halt. Members of the Transformers crew had retaliated to her words by posting an open letter on Bay's own website, which called the actress — among other things — "dumb as a rock," "Ms. Sourpants," "classless," and an "unfriendly b**ch" (via Deadline). Yikes. Not to mention, her follow-up effort, 2009's feminist horror comedy Jennifer's Body, was unfortunately a critical failure. 
Just like that, Fox went from a fan-favorite movie star on the rise who was voted in as the sexiest woman in the world to a box office flop who appeared to be temporarily shut out from her own industry. Looking back on the experience in 2017, Fox told Cosmopolitan UK that the whole ordeal "was absolutely the low point of my career."
Of course, Fox continued to find work, landing roles in indie films like Friends With Kids, a recurring gig on the small screen in New Girl, and even reuniting with Bay after reportedly apologizing for her remarks, according to a source cited by Radar Online. Fans may remember that the producer cast her as April O'Neil in the 2014 live-action reboot of Teenage Mutant Ninja Turtles.
As for where the formerly estranged collaborators stand these days, it sounds like they've long been back in one another's good graces. "I was young when a lot of that was happening, and I was really self-righteous in my anger," Fox told Andy Cohen on Watch What Happens Live in November 2018. "I thought I was right to speak the way that I spoke. As I got a little older, I understood regardless of whatever my issues were, they should always have remained private. You should never blast someone like that in public."
Perhaps in the age of Time's Up and the #MeToo movement, the world might have been a bit more sympathetic and attentive to what Megan Fox had to say about the alleged work environment on the Transformers films, particularly in the wake of the crew members' (and allegedly the creative team's) response amid the falling out, as pointed out by Vanity Fair years later. Just don't expect the actress to share her own stories again any time soon now that her reputation seems to have been restored in Tinseltown ... not that we blame her. 
"I was ahead of my time and so people weren't able to understand. Instead, I was rejected because of qualities that are now being praised in other women coming forward," Fox told The New York Times last December. She added, "My words were taken and used against me in a way that was — at that time in my life, at that age and dealing with that level of fame — really painful."