Twitter Reacts To Beth Chapman's Death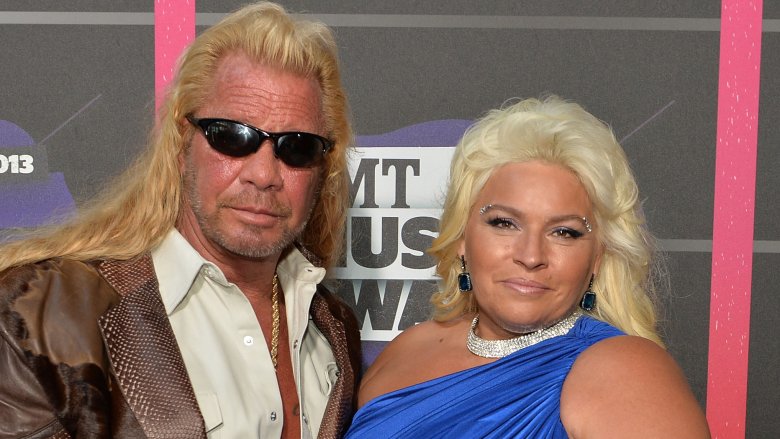 Rick Diamond/Getty Images
Beth Chapman, the former star of Dog the Bounty Hunter and wife of Duane "Dog" Chapman, sadly passed away in the early morning hours of Wednesday, June 26, 2019, after her long battle with throat cancer. She was 51. The reality TV alum's husband has since confirmed the tragic news on Twitter, writing, "It's 5:32 in Hawaii, this is the time she would wake up to go hike Koko Head mountain. Only today, she hiked the stairway to heaven. We all love you, Beth. See you on the other side."
Initially diagnosed in September 2017 (via CNN), Beth Chapman had vowed to fight the horrible disease. "I've stared down the devil more than once in my life but I've never faced a real life or death decision. My life has never been easy, and I surely don't expect it to start now. Still, I've never been a victim and I won't let cancer beat me," she wrote in an email at the time (via Radar Online). "I realize the road I am about to travel will be rocky, full of unexpected twists and turns. But I know one thing for sure. A bend in the road is not the end of the road."
Just two months later — during a two-hour A&E special called Dog & Beth: Fight of Their Lives — the couple received a phone call from a pathologist saying Beth was cancer-free. However, as Nicki Swift previously reported, doctors discovered that her cancer had returned after she underwent emergency surgery to remove a blockage in her throat in November 2018. The following month, Duane told Us Weekly, "Beth will not take anything the doctors want to give her. Even the doctor told me he doesn't want her to have seizures if the pain is that bad, but she won't do it." He added, "She takes over-the-counter pain meds. She will not take anything prescription."
Around that time, the Chapman family's attorney confirmed to the magazine that Beth had begun chemotherapy. However, she later hinted that she was exploring alternative cancer treatments, including cannabis-based CBD and THC. By May 2019, while addressing the congregation of Source Church in Bradenton, Fla., the television personality appeared to reveal that she'd stopped chemo treatments altogether. "Chemotherapy is not my bag, people. Sorry, that's not for me," she allegedly said (via People). "So for me, this is the ultimate test of faith. This is my ultimate lesson. And it will either be taught to me or to you. And I am fine with taking the hit for everyone else. Because I think I know another guy who did the same thing." 
The following month, Beth Chapman was placed in medically-induced coma at Hawaii's Queen's Medical Center, but sadly never recovered.
Twitter users quickly took to the platform to show their love and support for the Chapman family. "Beth was a tough lady with a huge loving heart," one user tweeted. "I pray God comfort's Dog and his family at this sad time. RIP Beth Chapman."
"I just wanted to share this with everyone," another person wrote alongside a fan art image of Beth. "RIP to the best girl bounty hunter, Beth Chapman. I am so sorry to Dog and the rest of the family. I made this for them and I hope they like it. My condolences to the Chapman family. She will be dearly missed. Love ya Beth. Miss you."
Wayne Dupree of radio's The Wayne Dupree Show shared, "Beth Chapman Passes Away At 51. She and Dog gave me a 'hour' interview at CPAC two years ago. They were awesome and so genuine. God pleas take care of the family during this time."
"RIP Beth Chapman. Dude y'all dunno how awesome it was to see a no nonsense woman, with dash of badass as a kid. She was fabulous and would throw down. It makes me sad to see her go, but she sure was a blessing to young me. Rest well ma'am, you deserve it," one user tweeted, while another wrote, "rip beth chapman. you were a major part of my childhood and i'll never forget you. i love you so much and my heart is heavy to hear of your passing. i wish dog, bobby, and the kids all the best on their journey of healing. fly high beautiful angel."
One fan tweeted out, "My sincerest sympathies Dog. Beth was an awesome lady who had your back all the way. I feel your loss. She was a great gutsy lady. Loved her. RIP Beth!" Meanwhile, another user shared, "What an amazing woman. Loved her on your show. Sending all my love and best wishes to all your family. I can't imagine how you must be feeling. We all could see how madly and deeply you guys loved each other. RIP Beth xx."
Here are a few more heartfelt Twitter reactions to Beth Chapman's death:
#MySleeptweet RIP Beth Chapman pic.twitter.com/QCW39m8OoF

— Isaiah Washington (@IWashington) June 26, 2019
I watched Dog the Bounty Hunter so much as a kid... so sad. RIP Beth ❤️ https://t.co/R8NwxSM7or

— Karley Wilson (@karleylynn_) June 26, 2019
check on your family, check on your friends... and most importantly be kind, everyone is fighting a battle that no one knows about.

life is too short.. RIP Beth, heaven gained a beautiful angel ❤️

— shelbi lynn 🌻 (@shelbilynn24) June 24, 2019
I watched this show ALL the time growing up. I cant even believe this.. RIP Beth 😢❤️ https://t.co/R5EQNY16Q5

— Dee Marie (@deenaaamarie) June 26, 2019
RIP Beth Chapman. I used to binge watch Dog The Bounty Hunter when I was a younger. Very sad day 😔 pic.twitter.com/3HUg5Spw4w

— Tony Mellace ⚜ (@TonyMellace7) June 26, 2019
RIP BETH CHAPMAN GONE TOO SOON💔💔😩 pic.twitter.com/qpAF40PxNR

— t.deniseee (@tdeniseee1) June 26, 2019
RIP Beth Chapman, wife of Dog the Bounty Hunter. ^i^

— Chip Coffey (@chipcoffey) June 26, 2019
Beth was a great woman.

Nothing fancy, just real.

RIP Beth 🦋 You will be missed.@DogBountyHunter pic.twitter.com/xgsZnT49I9

— Christene🌸 (@christenephoto) June 26, 2019