Twitter Reacts To Cameron Boyce's Death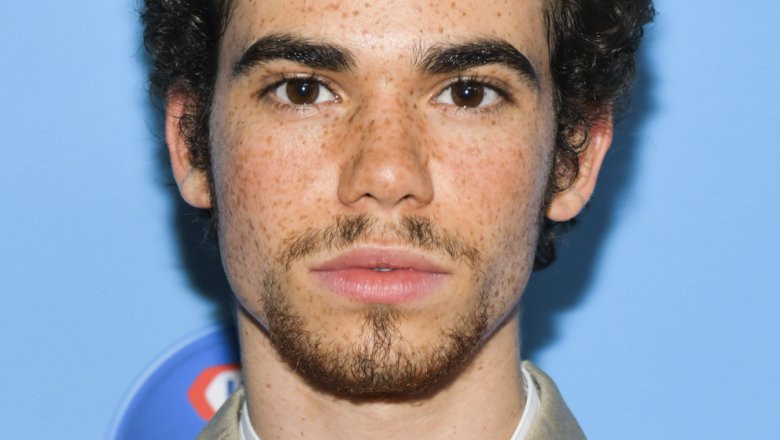 Rodin Eckenroth/Getty Images
Former Disney star Cameron Boyce, best known for his roles in Jessie and as Adam Sandler's son in Grown Ups and Grown Ups 2, had a seizure and died in his sleep on July 7, 2019, TMZ confirms. He was just 20 years old.
"It is with a profoundly heavy heart that we report that this morning we lost Cameron," his family said in a statement (per Variety). "He passed away in his sleep due to a seizure which was a result of an ongoing medical condition for which he was being treated. The world is now undoubtedly without one of its brightest lights, but his spirit will live on through the kindness and compassion of all who knew and loved him. We are utterly heartbroken and ask for privacy during this immensely difficult time as we grieve the loss of our precious son and brother."
Boyce, who made his acting debut at 9-years-old in the 2008 horror film Mirrors alongside Keifer Sutherland and Paula Patton, joined the Disney family two years later in Jessie, and went on to have numerous credits on the channel on such hits as Shake it Up, Austin & Ally, Good Luck Charlie, and their Descendants movie franchise.
"From a young age, Cameron Boyce dreamed of sharing his extraordinary artistic talents with the world. As a young man, he was fueled by a strong desire to make a difference in peoples' lives through his humanitarian work. He was an incredibly talented performer, a remarkably caring and thoughtful person and, above all else, he was a loving and dedicated son, brother, grandson and friend," a Disney Channel spokesperson said in a statement to ET. "We offer our deepest condolences to his family, cast mates and colleagues and join his many millions of fans in grieving his untimely passing. He will be dearly missed."
News of the young star's shocking death quickly spread through social media, with many of his co-stars and fans offering their condolences and sharing stories about their time with Jessie star.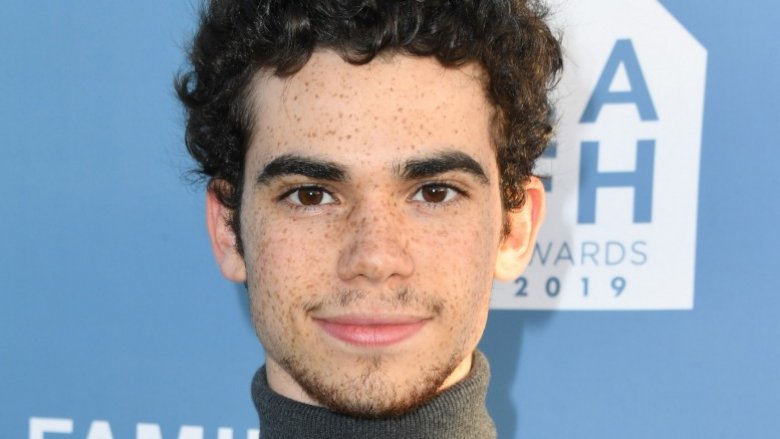 Getty Images
"The Walt Disney Company mourns the loss of #CameronBoyce, who was a friend to so many of us, and filled with so much talent, heart and life, and far too young to die. Our prayers go out to his family and his friends," Walt Disney Company CEO Bob Iger tweeted.
"Too young. Too sweet. Too funny. Just the nicest, most talented, and most decent kid around," Adam Sandler tweeted. "Loved that kid. Cared so much about his family. Cared so much about the world. Thank you, Cameron, for all you gave to us. So much more was on the way. All our hearts are broken. Thinking of your amazing family and sending our deepest condolences."
Actor Charles Esten, Boyce's on-screen dad in Jessie, left a touching tribute in a multi-tweet thread. "My family and I are devastated today, by the loss of our young and amazing friend, Cameron Boyce. Years before I was blessed to play his father on JESSIE, we were blessed to know him and his wonderful family at the elementary school our kids all attended together," he began. "It was there we were introduced to his endless talent, kindness, and joy for living. At his very 1st talent show, little Cameron's dancing lit up the stage, and left everyone on their feet, cheering . It was clear to all that he was destined to be the star he would soon become," he continued. 
"It was a joy to work with him on JESSIE, as it was with all the wonderful young stars of that beloved show. They were as close as actual brothers and sisters to one another, and still are, and my heart breaks for them today," he tweeted. "Our love and heartfelt prayers go out to them, and most especially, to the Boyce family. Your Cameron was a blessing to us, as he was to so many others in this world. May you feel the breadth of love being poured out for him today, and may God comfort you as you mourn," he added. "Rest In Peace, Cameron. You will be dearly remembered, my friend, and you will be greatly missed," he concluded.
In a 2017 profile in Teen Vogue, Boyce said it was a "no brainer" to use his large social media platform to promote to make a difference. "I think every child actor has that moment where they're like, 'OK, I'm not the same person that I was and you guys need to see me as something different," he said. "I thought about sort of like, not escaping, but transitioning out of that mold for a long time." In a span of 40 days, Boyce raised over $27,000 for the Thirst Project, "an initiative to bring clean water to underdeveloped countries."
Although his Jessie co-star Debby Ryan hasn't addressed Boyce's untimely death on Twitter, as of this writing, she posted a video to her IG story of a speech Boyce gave urging others to use their voices for philanthropy as well. "It's crazy. We can tweet whatever we want and we can use social media and Instagram and make the world a better place instead of a worse one, which so many people use it for," Boyce said in the speech (via Heavy). "But we need to use our resources and what we have. We're all in here wearing suits. We need to use what we have to make the world a better place for other people, other people, people who need us!"
RIP Cameron Boyce. Truly gone too soon.
Heartbroken. Lost for words. I had known Cameron Boyce for many years. He was always polite. Always respectful and always a class act. In fact I was going to message him a couple weeks ago to tell him that I wanted to be in each other's lives more.

— Gregg Sulkin (@greggsulkin) July 7, 2019
Deeply saddened to hear about the passing of Cameron Boyce. When we met I was taken aback by his energy and drive, his dedication to his craft and the sheer kindness he exuded. It was a joy to witness the man's skill. Sending love to his family and loved ones.

— Hozier (@Hozier) July 7, 2019
I just learned of Cameron Boyce's passing and I am completely, utterly devastated. Cameron has a sweet soul, always was learning, and always tried to pass that knowledge along to others. When I joined the Disney Channel, he became someone I looked up to.

— joshua rush (@JoshuaRush) July 7, 2019
They take them from us so soon 💔 I love u little bro u cute little weirdo. So weird ur gone...now there's just emptiness 💔💔💔💔💔💔

— BITCHIMBELLATHORNE (@bellathorne) July 7, 2019
I knew within three seconds of working with Cameron Boyce that he was the real deal. Just a joy to work with. I can't imagine what his family is going through. #RIPcameron

— Brian Stepanek (@BrianStepanek) July 8, 2019
Rest In Peace Cameron Boyce ❤️

— Emma Slater (@EmmaSlaterDance) July 8, 2019
A tremendous talent. Gone too soon. RIP #CameronBoyce pic.twitter.com/KNKHIoM6pY

— Jamie Chung (@jamiechung1) July 8, 2019
I had the opportunity to meet Cameron Boyce at this year's Courage Awards and through his work with @ItsOnUs. He was filled with so much light and served as a tremendous role model for young people. He's gone far too soon. @DrBiden and I are sending our prayers to his family. pic.twitter.com/4bpbqwqnrO

— Joe Biden (@JoeBiden) July 7, 2019
We are so sad to hear the news about Cameron Boyce today. Such a talented person. We never got to meet him but our friends that did say he was always so friendly, caring and loving. He will be missed. Rest In Peace. X

— New Hope Club (@NewHopeClub) July 7, 2019
An amazing talent gone too soon. Our hearts are with Cameron Boyce's family and friends 💔 pic.twitter.com/bp2oBOzsq4

— Nickelodeon (@Nickelodeon) July 7, 2019
R.I.P Cameron Boyce

— Austin Mahone (@AustinMahone) July 7, 2019