Archie's First Public Appearance Is Getting Meghan Blasted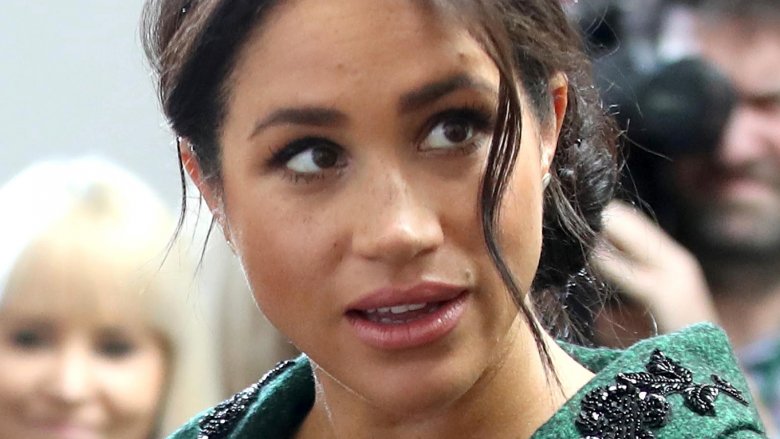 Chris Jackson/Getty Images
Poor Meghan Markle just can't win — the duchess found herself at the center of a nasty round of mom-shaming after enjoying a very public royal family play date earlier this week.
Fans of the British royals may recall that the former Suits actress stepped out with two-month-old son Archie at the King Power Royal Charity Polo Day on Wednesday, July 10, 2019. Markle, of course, was joined by husband Prince Harry, as well as Prince William, Duchess Kate Middleton, and the Cambridges' own cute kiddos — Prince George, 5, Princess Charlotte, 4, and Prince Louis, 1 — at the event. Most notably, the occasion marked one of the Sussexes' first outings as a family of three.
All in all, the charitable get-together was totally adorbs, and there thankfully appeared to be no signs of the so-called Royal Fab Four's alleged ongoing feud. But since the Internet is the Internet, it wasn't long before social media users took issue with the new mom's parental instincts ... namely the way in which Markle cradled her baby boy in her arms.
"Is it just me or that's NOT how you're supposed to hold a newborn?" one fan tweeted. "I get anxious simply looking at these pictures. It's sad that Meghan Markle seems so awkward and uncomfortable around her own son." Meanwhile, another person wrote, "Smother, I mean, Mother of the Year award goes to Meghan Markle! Archie looks so uncomfortable. Poor kid. Being used as a prop by her mother." 
According to Fox News, another Twitter user asked, "Can someone please show Meghan how to hold a baby?" Another claimed Markle lacked "maternal instincts," writing, "Archie's neck and whole body not supported by her at all. No sun hat to protect him." We could go on, but you get the picture.
Unfortunately, this isn't the only round of criticism Duchess Meghan, 37, has faced since she and Prince Harry, 34, welcomed little Archie in early May 2019 ... or even this week. As Nicki Swift previously reported, the royal couple were slammed over keeping their newborn son's christening at Windsor Castle largely private on Saturday, July 6. Just a few days later, the duchess faced more backlash over wearing — cue gasp — jeans at Wimbledon, according to The Times.
Fortunately, it hasn't been all bad news for the new mom. Headlines swirled over Markle's casual style at Wednesday's charity polo event. According to People, she looked as gorgeous as ever in a khaki green dress by designer Lisa Marie Fernandez, which she paired with some stylish golden-framed aviator shades. 
Meanwhile, multiple fans took to social media to support the duchess amid the baby-holding controversy while combating the seemingly constant stream of criticism that's been heading her way. "All this shaming of Meghan Markle is getting beyond pathetic," one person wrote (via Fox News). "Whatever she does is wrong in the eyes of some." While another fan noted in part that "Archie looks content and comfy," another fan tweeted, "I'm sure she knows how to hold a baby. Use your common sense .. she's trying to hide him away from all the cameras."
"Protective mothers hold their babies like that," one Twitter user shared. "I'm just [here] for the love I have for Meghan and Harry and baby Archie."
All that said, if you're still on the fence about Meghan Markle's baby-holding pose, look no further than parenting expert Lucy Shrimpton, who chimed in on the matter with Yahoo Style on Thursday, July 11. "While parents will adopt their own styles of holding and comforting their babies in a range of ways," Shrimpton, who also goes by The Sleeping Nanny, began, "the way Meghan is pictured holding Archie is actually a commonly recommended hold."
Noting that baby Sussex's head and neck were indeed being supported, Shrimpton continued, "She is supporting the majority of Archie's body with her right arm while he rests his head on her chest. Babies are comforted by this position and hearing mom's heartbeat too. So long as the face is to one side, which Archie's is, this is a wonderfully soothing way to hold to a baby."
So, there you have it. The world may be full of mom-shamers and critics, but you keep doing you, Meghan.