Jake Paul And Tana Mongeau Of YouTube Fame Are Married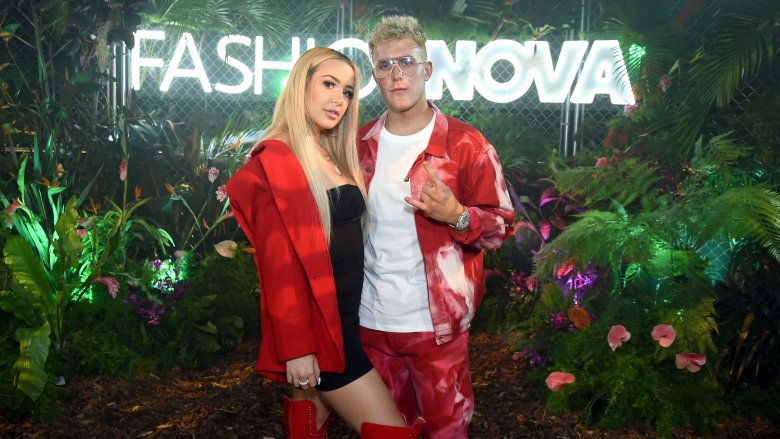 Presley Ann/Getty Images
On July 28, 2019, controversial YouTube stars Jake Paul and Tana Mongeau exchanged marriage vows in Las Vegas, a mere three months after they started dating. 
Hours before she took a plane to Sin City for the ceremony, Tana Mongeau uploaded an almost 8-minute video, titled "I love you, Jake Paul," to gush about her husband-to-be. "I love you. It actually still scares me so much to say it, because once I say it and it's somewhere out there than my head," she said in the clip, "it becomes completely real and to be quite frank, I'm so used to losing everything I love and I don't want to lose you."
According to ET Online, the "appropriately raucous ceremony" included a fistfight between Paul and a guest. Tana Mongeau tweeted: "Someone just threw a glass of champagne at jake and I at the f***ing altar holy f*** HAAHAHAHAHAHA. jana don't need no press. wow. just married. honestly made it better.... to slow dance while they scream. i love you @jakepaul ..... hello tana paul!" However, an eyewitness told the publication that the brawl "appeared to be staged."
Page Six reports that the couple said "I do" in a "customized Graffiti Mansion," and the wild reception at the Sugar Factory included "Oprah and Bruno Mars impersonators" and Paul destroying the wedding cake "with a giant sword." The chaotic scene caused the owner to shut down the festivities after only 10 minutes of seeing wedding cake all over the floor. "The owner of Sugar Factory is trying to shut us down right now," Jake Paul told the crowd. "Low key he's being a b****." When asked how long he thinks the marriage will last, the groom's brother Logan Paul answered: "A month, a month and a half." Sounds like a ringing endorsement.
However, Mongeau isn't fazed by any haters. She tweeted: "i'm feeling feisty: i don't care if u think my wedding's real. i don't care if u think my marriage is real. i don't care if u think Jake and I don't love each other. i don't care if u think getting married fast is a bad idea. i don't care if you think it's gonna last. OOPS!"