Who Is Scarlett Johansson's Fiance And How Did They Meet?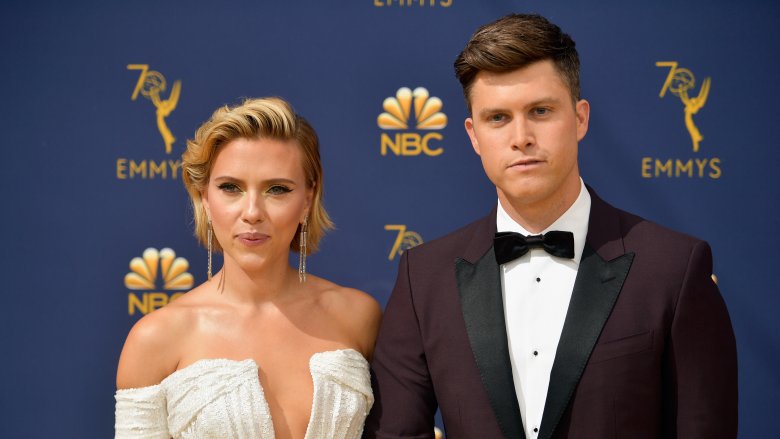 Matt Winkelmeyer/Getty Images
Two months after finalizing her divorce from Romain Dauriac, actress Scarlett Johansson had a new man in her life. In Dec. 2017, the Avengers star went public with her new beau, Saturday Night Live's Colin Jost, during an event at the American Museum of Natural History in New York City (per HuffPo).
Seven months into their relationship, the couple got engaged. There's a long list of things in life worse than being Scarlett Johansson's fiancé, so kudos to Jost. But how did the "Weekend Update" co-anchor meet one of the biggest movie stars in the world? Unlike mere mortals, it was easy for Jost: she hung out with him at his job. "The first time she hosted was the first year I was a writer on the show," Jost told ET Online at the 2017 Emmys. "So, we've kind of known each other since then...she's the best."
It also helps when your coworker plays matchmaker. A source told Life & Style that SNL alum Kate McKinnon set them up. "Scarlett and Kate McKinnon are very close pals," the source explained. "Kate was the one who played Cupid and pushed Scarlett and Colin to go on their first date." 
So how did Colin Jost end up at SNL in the first place, anyway? According to Staten Island Live, Jost sent sketch ideas to SNL in 2005 and scored an interview with comedy legend Tina Fey — who hired him on the spot. If Jost could make Fey laugh, is it any wonder Johansson fell for the funny man so quickly? 
"Colin is still head over heels for Scarlett," an insider told Us Weekly. "He thinks she is incredible, kind, beautiful. He is beyond doting to her and loves showing her off when they're out." The feeling is mutual. The source added, "Scarlett loves Colin too, and they are in it for the long haul."
Note to self: get a writing gig on SNL. Scarlett Johansson and Colin Jost's relationship seems to be going great with marriage vows in the future, so the comedian did a lot of work to change Johansson's previous views on marriage. 
"I think the idea of marriage is very romantic; it's a beautiful idea, and the practice of it can be a very beautiful thing," Johansson told Playboy in their March/April 2017 issue (via E! News). "I don't think it's natural to be a monogamous person. I might be skewered for that, but I think it's work. It's a lot of work." Interesting. We now have a lot of questions about Johansson's marriage to Ryan Reynolds.
During a July 2019 benefit in the Hamptons, Colin Jost joked about his pending nuptials to Scarlett Johansson. "I'm getting married, and it's such a crazy thing," he said (via Page Six). "I was so scared of marriage for so long because every time I talked to someone who just got married, or was about to get married, is like, 'Oh my God, you got to do it ... What could go wrong?' Then you talk to someone who's been married for five years, and they're like, 'Don't rush into it ... you have your whole life ahead of you. Don't have kids. They're the worst.' "