Celebs' Most Shady Reactions Caught On Live TV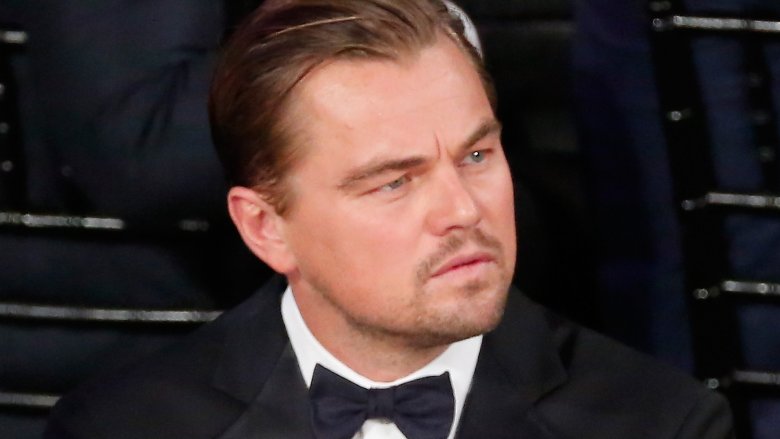 Rich Polk/Getty Images
Getting a true glimpse of a star's personality outside their public image can be hard — but when they go on live TV, all bets are off. The pressure of a mass audience, no retakes, and even a hostile interviewer can make the most media-savvy celeb instantly reveal their shady side. And we have to admit to taking a wee bit of pleasure in it ... because who knew that Taylor Swift could suddenly curse like a sailor, or that Drake legit loses his mind over pro basketball? 
On the other hand, it's not always unexpected when actors gets heated, considering some of their movie personas (yes, we're looking at you, Samuel L. Jackson of Pulp Fiction fame). But either way, it's deliciously fun to take a look back at some of those unexpected shows of emotion. With that in mind, we've rounded up some of the shadiest celebrity moments caught on live TV, including two from Mr. Jackson for good measure. 
Did Taylor Swift really shade Harry Styles at the VMAs?
Taylor Swift wasn't thrilled to see her ex, Harry Styles, onstage with One Direction at the MTV VMAs in 2013. Or, so we thought. When they were presenting the nominees for Best Pop Video, Swift rolled her eyes, turned to pal Selena Gomez and appeared to say, "Shut the f*ck up." 
Of course, the internet was ablaze afterwards. But things got confusing when a fan tweeted this pic of Styles, Swift, and Sheeran at a VMA after party — because if Swift was hanging out with Styles, how mad could she be? Sheeran tried to explain, telling an interviewer that Swift's comment was actually in response to Gomez, who was speculating about who would win the award 1D was presenting. He said after Swift realized her sound bite could be misinterpreted, she told him, "I think I messed up."
Despite the speculation, Styles didn't say anything negative — even when asked by Rolling Stone about Swift years after their 2012 courtship (which, mind you, lasted just a little over a month). In 2017, he even went so far as to put a  — dare we say? — philosophical perspective on the famous paparazzi shot of their second date: "When I see photos from that day, I think: Relationships are hard, at any age. And adding in that you don't really understand exactly how it works when you're 18, trying to navigate all that stuff didn't make it easier ... It was a learning experience for sure."
Melissa McCarthy and Anna Chlumsky react to an Emmy surprise
Sean Spicer, President Trump's former press secretary, made a jaw-dropping appearance onstage at the 2017 Emmys, and not everyone in the audience was laughing. First, Anna Chlumsky (from HBO's Veep) could hardly contain her shock, almost leaping out of her seat while looking incredulous. Melissa McCarthy, who famously played Spicer on SNL, was more understated, but still gave him a serious set of raised eyebrows. Both reactions became instant GIFs. 
During his legendary Emmy moment, Spicer walked out on stage with this line: "This will be the largest audience to witness an Emmys, period, both in person and around the world," appearing to mock Trump's earlier claims about the size of his inauguration crowd. The event's host, Stephen Colbert then ushered Spicer offstage with: "Melissa McCarthy, everybody, give it up!"
Like Chlumsky and McCarthy, other celebs threw major shade after the show. Kal Penn, former associate director of public engagement for President Obama (who, let's face it, we all just remember from Harold & Kumar) tweeted: "@seanspicer can normalize himself in good fun, but he still passionately advocated against human rights, health care, & American values." Ouch. Also, there was this from Scrubs' Zach Braff: "I'm not ready to laugh "with" Sean Spicer. I think he is an evil, opportunistic liar that hurt our country." 
Samuel L. Jackson shades his fellow nominee
Contrary to what you might think, Samuel L. Jackson didn't win the Oscar for Pulp Fiction back in 1995 ... and nobody was more shocked than he was at the time. In the showstopping moment, we see Jackson along with the other four nominees for Best Supporting Actor waiting for the winner to be announced. After Martin Landau's name is called, Jackson visibly reacts with, "Sh*t!" as the cameras continue to roll.
Jackson was dead honest about the moment in an interview years later with British GQ, saying: "When I got nominated for Pulp Fiction I kept going to all of these f**king award shows and I wasn't winning and it's kind of like, 'G**damn, what is going on?' By the time we got to the Academy Awards I thought to myself, 'Maybe they'll get it f**king right this time.' When they didn't call my name I just went, 'Sh*t!' and everybody in TV-land read that on my lips and they said that I was the first and only person to have an honest reaction to not f**king winning."
Unbelievably, Jackson hasn't won an Oscar, as of his writing — but it didn't stop him from celebrating genuinely when friend Spike Lee won his first one for Best Adapted Screenplay in 2019.
Drake is the NBA's biggest and shadiest fan
Drake (a Toronto Raptors superfan and now the team's official global ambassador) took full advantage of his courtside seats one night when one of the Indiana Pacers went out of bounds and lost the ball. Leaping out of his seat, Drake sarcastically applauded the turnover ... right next to the player's ear.
This isn't the first time Drake has gotten heated during a game, either. He's been known for his trash talk and other courtside antics. Take the epic staredown he gave Kevin Durant after the Raptors scored a three-pointer on the Warriors, for example. Or, that time he trash-talked Justin Holiday so much that he distracted him from throwing the ball in, forcing a five-second violation and making it the Raptors' ball. Oh, and that time he laughed and danced after Giannis Antetokounmpo missed a free throw. 
Obviously, when it comes to defending his Raptors, Drake doesn't hold back. As the diehard fan told ESPN (via the Associated Press), "I've supported the franchise through our ups and downs. More than anything, I'm a Toronto guy. I'm a city guy. I care about the city more than anything in the world."
Eminem reaction to Moby was a bit much
Everyone knew Eminem and Moby had a beef back in 2002. Things became especially tense between the two artists after Moby had called Eminem, among other things, a "misogynist" and "anti-Semite" at the 2001 Grammys (via EW). Then, after Eminem famously responded by mocking Moby in his song "Without Me" ("you 36-year-old bald-headed f***, bl** me") a lot of us thought it was over. But nobody expected Eminem to go off on Moby the way he did at the VMAs that year. After forgetting part of his acceptance speech for Best Male Video, Eminem suddenly blamed Moby onstage for "[throwing him] out of [his] zone." He then taunted Moby from the podium, calling him "that little Moby girl" and saying, "I will hit a man with glasses." 
Moby's reaction to the outburst was pretty calm, though, all things considered. He posted afterward on his website (via MTV): "The truth is that I honestly, in all sincerity, thought that the whole Eminem thing was done in some semblance of humor until Eminem called me a pu*** (that was off camera) and then threatened to beat me up. I think that Eminem is talented and interesting but I'm kind of stunned at the anger that he has for me seeing as I'd never met him up until last night."
Anderson Cooper's involuntary eye roll = major shade
Ten minutes of interviewing White House counselor Kellyanne Conway was clearly enough for Anderson Cooper, who famously rolled his eyes at her on camera when she was in mid-sentence. Conway had appeared on his show, Anderson Cooper 360, to talk about President Trump's firing of FBI Director James Comey. Questioning Trump's reasoning for the termination, Cooper played several clips of Trump actually praising Comey during his presidential campaign, to which Conway sarcastically responded: "You're conflating two things that don't belong together. Thanks for the trip down memory lane. I was on your show often last fall saying we were going to win Michigan and how we were going to do it, so that was fun." Anderson shot back with the eyeroll.
The CNN host later told Andy Cohen on Watch What Happens Live that he regretted the moment, and that he never wants anyone to feel disrespected on his show. But that didn't stop Conway from accusing him of sexism, saying in an interview on Fox & Friends: "I face sexism a lot of times when I show up for interviews like that. Could you imagine ... having a male anchor on a network roll eyes at Hillary Clinton, at a female representative, spokeswoman for President Obama or President Bill Clinton? I think not."
It's still kind of an honor to get shaded by Prince, right?
Prince fans will remember that he rarely made speaking appearances, so when he presented Halle Berry with an NAACP Image Award, it was a pretty big deal. Clearly though, the actress was as starstruck as the rest of us, because after she stepped onstage and took the award from his hands, she thanked him before anyone else. "As if this couldn't be more amazing, to win an Image Award, but to be ... to have it be handed to you by Prince? I've only loved him my whole life, so, thank you Prince, for honoring me tonight," said Berry, turning to face him while holding up her award. Prince looked back at her in a moment that can only be described as awkward.
Yet, even after all these years — which sadly included Prince's untimely death — Berry still hasn't stopped gushing. She told The Undefeated in 2017 that Prince helped shape her youth: "That man, his music changed my childhood and my teenage years. He got me through some s**t! I was a huge, admiring fan of his, and I became a friend of his during his lifetime." And, of course, there was the beautifully crafted Instagram tribute she posted in 2019, showing a closeup of purple flowers in reference to the artist along with a quote from him: "Purple music can't be judged, it happens naturally."
Leonardo Dicaprio and the eyebrows of doom
When Lady Gaga walked by Leonardo DiCaprio on her way to accept her Golden Globe award in 2016, his cringey reaction made internet history. He later explained the perceived snub by saying, "I just didn't know what was passing me — that's all!" (via ET Online). 
The actor later admitted to ITV 's This Morning (via the Daily Mail) that the whole incident had him flabbergasted. "It's amazing what goes viral these days ... I guess I'm of a different generation now. I have no idea where this stuff comes from or how it's even captured!" said the star.
Considering how quickly the whole thing went viral, Magic Radio asked him if he missed the days in his early career when social media wasn't around. DiCaprio got slightly more serious with that one, musing, "It kind of creates a little bit of a vacuum in your life when you know that there are multiple lenses everywhere ... but who the hell am I to complain? There's been a lot of wonderful advances in our culture as a result of it." He then said later, "It was funny. It was a funny moment."
Aretha Franklin manages to throw shade with no comment
The late Aretha Franklin appeared on WSJ Live to promote her latest album, and was asked to give her "one-word reactions" on various singers in the business. Surprisingly, the legendary singer — who, let's be honest, who was known to be one of entertainment's biggest divas — actually had glowing things to say about ... well, almost everyone. About Adele, she said, "Young singer. Good singer." For Alicia Keys, it was "Young performer. Good writer, producer." She even said "Great gowns, beautiful gowns" for Taylor Swift. But when the interviewer got to Nicki Minaj's name, she completely sidestepped, saying, "Nicki Minaj. Hmm ... I'm gonna pass on that one."
Whether Franklin really meant to diss Minaj, or just literally never heard of her, we'll probably never know. But Minaj eventually got the R-E-S-P-E-C-T she deserved a few years later, when she ended Franklin's 40-year reign for most Billboard 100 hits for a female artist in any genre.
Joan Rivers vs. Fredricka Whitfield: Who shaded who?
When the late Joan Rivers went live on CNN with Fredricka Whitfield to promote her new book, things got tense pretty quickly — but honestly, it was hard to tell who was shading who. Whitfield made several comments that put Rivers on the defensive, which Rivers expertly volleyed back. 
For example, when Whitfield said Rivers' red carpet fashion was "mean," Rivers quipped, "These ladies make 28 million dollars a picture. You really think that Nicki Minaj cares I didn't like her dress?" Next, Whitfield mentioned some jokes Rivers made about sensitive topics like Casey Anthony's baby, asking Rivers pointedly, "Do you feel like there are boundaries ever, even when it makes people uncomfortable, or offends people?" To that, Rivers replied, "Life is very tough, and if you can make a joke to make something easier, and funny, do it." 
So by the time Whitfield oh-so-casually commented on how Rivers wears fur on the cover of her book, even though she "knew there would be animal rights activists" reading it, Rivers lost it. "Are you wearing leather shoes?" she asked Whitfield, who said yes. "Then shut up," she retorted, before ripping her mic off and leaving the set. Amazingly, Whitfield seemed unfazed, smiling and telling viewers afterwards that Rivers was indeed "serious" and had some "rather unflattering 4-letter words" to say to them off-camera.
Sam Jackson's reaction to Sam Rubin's flub was more scorch than shade
It seems Samuel L. Jackson stole a page right out of Joan Rivers' playbook: When an interviewer shows you disrespect, you immediately return the favor. When Jackson stopped by KTLA morning news to promote Robocop, reporter Sam Rubin couldn't wait to ask him all about his career. The problem was, he confused Jackson with another African-American actor, Laurence Fishburne. Right after asking Jackson about his "Superbowl commercial" and seeing the confused look on Jackson's face, he realized his flub and apologized for the mix-up.
Jackson, of course, didn't let this go by without totally taking him down. The whole thing was terribly awkward, with Jackson at one point saying to Rubin, "You're the entertainment reporter for this station, and you don't know the difference between me and Laurence Fishburne?" Rubin sputtered apologies, and later ended the interview by saying, "I'm probably going to get spanked in the most extraordinary way, with good reason." 
A month later, however, Jackson still wouldn't let it go, tweeting a photo of himself wearing a shirt saying, "I'm not Laurence Fishburne." Fishburne himself, however, said that it was a common mistake — and just like how people used to confuse Dustin Hoffman and Al Pacino back in the day, "it's not a bad problem to have."